The anthology horror series, American Horror Story, has inspired a legion of fans with murderous houses, Asylums, witches and even freaks. Now viewers will take a walk through the halls of what is sure to be one of the biggest seasons yet when American Horror Story: Hotel airs. This season will see some major changes, mostly with the series stars, as Lady Gaga headlines the often gruesome series. During San Diego Comic-Con, ahead of the American Horror Story Panel, fans lined up to get their first glimpse into the Hotel, thanks to a special display at the FX Fearless Arena.
Lady Gaga may be heading up the new season of American Horror Story, but we're pretty sure the main star will be the hotel itself. This season will be the first time we don't see Jessica Lange in a role since the series started, but Lady Gaga should more than fill the shoes as she is stalked through the halls of this mysterious hotel.
Over the weekend at San Diego Comic Con, fans got the chance to walk through the hotel, and see a glimpse of what waited them when they checked in this fall.
Video-Check in to American Horror Story Hotel

The hotel was really just a set piece, part of the FX Fearless Arena. There were bellhops, a front desk, and a key rack, full of room keys.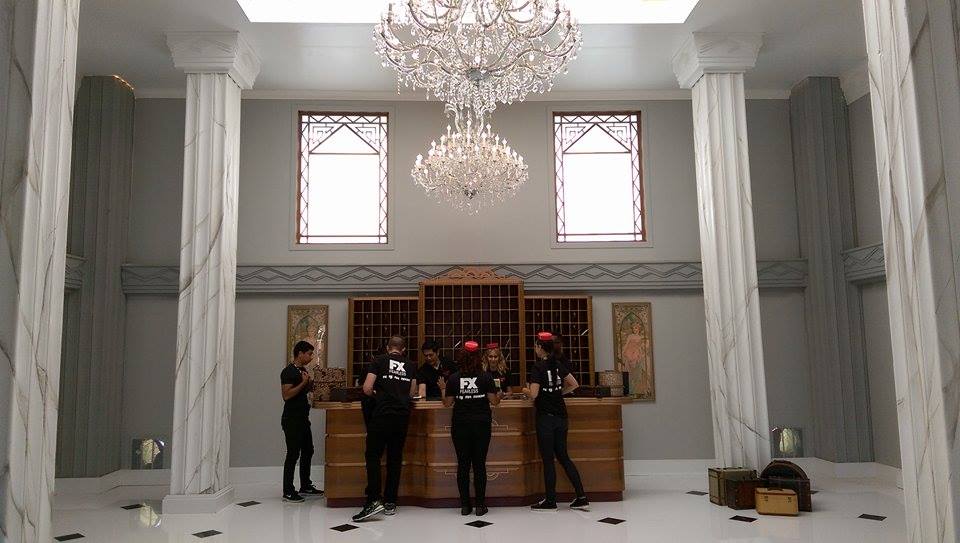 The hotel just gave off a creepy vibe, which will be interesting to see what exactly plays out with it when the season kicks off this October.
Slideshow-Check out even more pictures from the American Horror Story Hotel

There will be even more as the American Horror Story Panel hits later Sunday at San Diego Comic Con!
Stay tuned for more Comic Con goodness, and be sure to get social with us on Facebook, and follow along with us on Instagram and Twitter @BehindThrills for the latest updates!