Disney seems to be getting more and more aggressive with their Infinity line every year. The video game allows players to create worlds, then play in them using Disney characters. Last year the jump from Disney characters went big, as Infinity 2.0 introduced Marvel Characters. This year, Disney Infinity 3.0 will launch on August 30th, and it will go bigger than they've ever done. The all new version of the game will take players to a galaxy far, far, away…and into the deepest recesses of your mind, as Star Wars and Inside Out will take center stage when Disney Infinity 3.0 rolls out. We got the chance to stop by the Pop Up Shop at San Diego Comic Con to take a look at some game play, first hand, and some of the awesome new figures.
The new figures were all out on display, and there certainly seems to be a lot. The focus is definitely on Star Wars, but there's tons of other great new options for Marvel, Pixar and even Disney films, with characters like Mulan. The new game is like the others, in that older figures will only work in the Toy Box, but there are some awesome new features that will make the Toy Box even more fun than before.
There will be two expansions, Toy Box Takeover, and Toy Box Speedway. It brings an actual gaming experience to the Toy Box, and allows you to use your characters from the previous versions like never before.
The game play is really quite fun. We had the chance to check out the Inside Out pack, and just the level of graphics and challenge really makes it feel like an old school Nintendo game…only better. Old school Nintendo games just had that level of fun and adventure that is sometimes missing from the games of today, but Infinity seems to tap into that fun and adventure perfectly.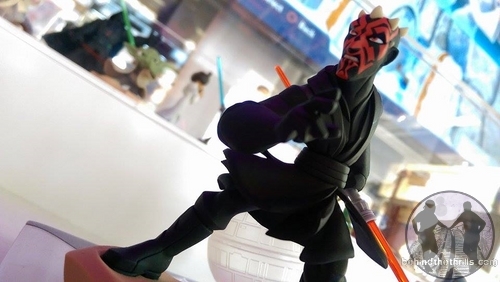 Video-Get hands on with Disney Infinity 3.0!

The figures, however are what we were most excited about. Who wouldn't want to play as a Hulk Buster from Iron Man? Or how about jet around the galaxy as the most badass bounty hunter ever created? Yes, you'll be fighting over who gets to be Boba Fett.
Here's a rundown of some of the features that you'll be able to see in Disney Infinity 3.0
 Star Wars™ Twilight of the Republic Play Set (Anakin Skywalker and Ahsoka Tano figures included) for players who choose to digitally download the Disney Infinity 3.0 Edition Software; additional standalone figures (Yoda and Obi-Wan Kenobi) and Power Disc Pack
Star Wars Rebels™ figures (Kanan Jarrus, Ezra Bridger, Sabine Wren, and Zeb Orrelios)
 Disney•Pixar's Inside Out Play Set (Joy and Anger figures included) and additional standalone figures (Sadness, Disgust and Fear)
 Disney figures (Mickey, Minnie, Mulan, Olaf, Sam Flynn and Quorra)
 Tomorrowland Power Disc Pack
We will have video up later of the gameplay, as well as a chat with some of the developers of the game, so keep checking back.
Stay tuned for more Comic Con goodness, and be sure to get social with us on Facebook, and follow along with us on Instagram and Twitter @BehindThrills for the latest updates!