The Walking Dead is quite possibly the biggest thing on TV right now. The season five finale of the show was the most watched season finale of all time. Now the show is getting a huge companion series, and while you think you may know The Walking Dead…this ain't the show you know. Fear The Walking Dead is making a big impact at San Diego Comic Con, not only with the panel, but with the experience that takes you inside the show.
Fear The Walking Dead will take place in Los Angeles, a completely different type of place than in The Walking Dead. The story will also fill in the gaps of what happened, how it happened, and how it spread. Basically, it will fill in the gaps from the time that Rick was in a coma.
When we first saw the Walking Dead, we saw just a glimpse of the real world…then we were thrust into the world of the Walkers. Here we won't see so much carnage and horror at first. The show will start out as a family drama, and then morph into the terror that we know…only we'll see it from a much more raw and emotional standpoint.
The Walkers will also be a lot different than they have been in the main show. They won't be decomposed, gory or grotesque…at first. It will be regular people who look sickly, on drugs maybe. Crossing the street, you won't know they are infected, but you'll find out fast.
The show will run from August 23rd until October 4th, just one week before the start of season six of The Walking Dead.
Video-Check out the full SDCC Trailer for FEAR THE WALKING DEAD!

The other major thing happening is the Fear The Walking Dead Experience. It takes guests right inside the show, and shows you a little bit of the life that some of the survivors are leading.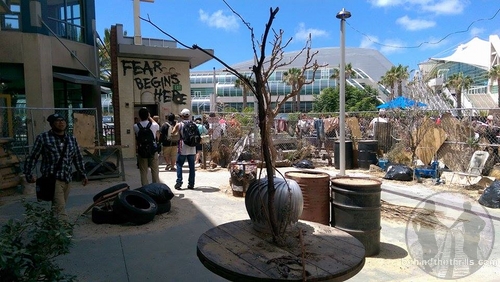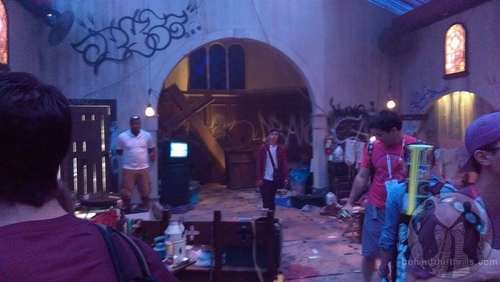 The experience showcases a set that you'll see in the show. There's tons of graffiti everywhere, and you get a real sense that things are going bad real quick.
Video-Take a walk through the Fear The Walking Dead Experience 


The one thing you don't see? Woods. There are no woods, probably because there will be no woods in the show. There will also be no crossover of the two series any time soon.
Slideshow-Check out even more from Fear The Walking Dead Experience 

Check back a little later for video from the FEAR The Walking Dead Experience.
Stay tuned for more Comic Con goodness, and be sure to get social with us on Facebook, and follow along with us on Instagram and Twitter @BehindThrills for the latest updates!