The mega park that is Shanghai Disneyland just got a lot bigger,  as Bob Iger announced huge details on the all new resort. It will be a park full of firsts for Disney, including the first time Disney has crafted a park around the culture of the area. The park not only dives into Chinese culture with amazing detail, but it also will feature some of the most ambitious new attractions that will mark a first for any Disney park. Attractions based on Tron, Pirates,  Marvel and even Star Wars to name a few, will be appearing when Shanghai Disneyland makes it's debut. We have a few of the details about the new park, and they are flat out amazing.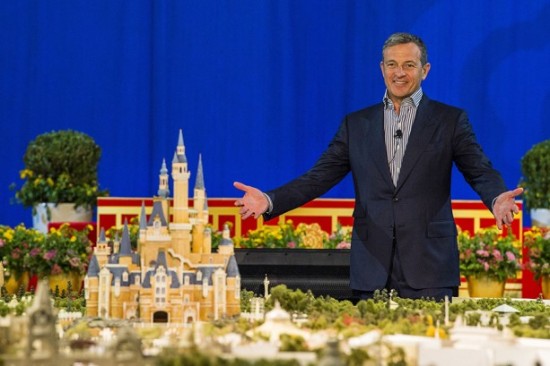 The park will be a huge departure for Disney, as it will leave out several key elements that have made up almost every other Disneyland park around the world. The first will he the exclusion of a Main Street area. Instead, the first entry point will be Mickey Avenue, and will be a whimsical area where guests will be able to see all their favorite Disney pals like Mickey,  Minnie,  Pluto and Goofy. It will also feature a huge tribute to Steamboat Willie with a huge new fountain,  as well as new restaurants and shops.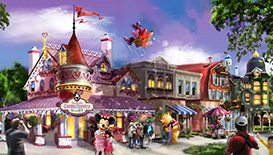 Here's some of the new offerings for Mickey Avenue:
Avenue M Arcade

The biggest business in town and the largest shop in Shanghai Disneyland, Avenue M Arcade will offer guests a selection of apparel and accessories, gifts, home décor and jewelry. The Arcade's specially designed façade honors its most famous residents, who are represented as universal virtues on mosaic panels: Mickey Mouse (hospitality), Minnie Mousewith Figaro the cat (compassion), Goofy (optimism), Donald Duck (worldly), DaisyDuck (friendliness), Pluto and Fifi (generosity) and Chip & Dale(friendship). Even the checkout area is themed, as the First Bank of Scrooge McDuck.

Mickey & Pals Market Cafe  

Mickey & Pals Market Café, a counter-service restaurant, will offer localized Chinese and international menus plus views of the nearby gardens, Fantasia Carousel and Enchanted Storybook Castle. Guests will gather here with family and friends, choosing a table in one of four themed dining rooms: Mickey's Galley, Tony's (from Lady and the Tramp), Daisy's Cafe and the Three Caballeros.  The Market Cafe, designed like an open-air market, will feature four exhibition kitchens and a mural celebrating the agricultural heritage of Mickey Avenue, with scenes of Mickey and his pals planting, harvesting and sharing happy times together.

Rémy's Patisserie

A French-inspired bakery based on characters from Ratatouille, Rémy's Patisserie will offer a variety of breads, pastries and muffins, along with fresh desserts from the restaurant's kitchen. Wooden shutters, flower boxes, sidewalk seating and French café-inspired graphics distinguish the exterior of the shop. The tiny scaffolds and ladders that line the wall are reminders that Rémy the rat, who loves to cook, is preparing something special in the kitchen.

Sweethearts Confectionery

Sweethearts Confectionery represents the childhood home of Minnie Mouse. Created in a Queen Anne-style, the house is a candy store that celebrates Disney's first couple, Mickey and Minnie. Inside the shop, guests will find murals and sweet scenes that tell the story of this couple's courtship. Recurring design touches include flowers, hearts, bows and elements inspired by Minnie's ubiquitous red-and-white polka dot dress. Guests will also find freshly handmade treats here, inspired by some of their favorite Disney characters.
Gardens of Imagination
This area is the first garden themed land in a Disney park and will feature areas dedicated to Chinese Culture. Things such as the Fantasia Carousel will he exclusive to Shanghai Disneyland.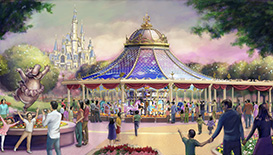 Here is a sampling of what guests will experience, with more details to come.
Mickey's Storybook Express

"Mickey's Storybook Express," a spectacular daytime parade, will transport fantasy, romance, music and merriment throughout several lands of Shanghai Disneyland. Traveling along the longest parade route in a Disney park, the parade will be led by a whimsical locomotive. A line of themed "train cars" will follow, each with its own exciting musical soundtrack and colorful cast of performers. Each train car will feature the characters, story and music of a favorite Disney film. With magical surprises, "Mickey's Storybook Express" will bring the park to life with joyful energy.

Garden of the Twelve Friends

Garden of the Twelve Friends makes its global premiere at Shanghai Disneyland, starring Disney and DisneyžPixar characters in Chinese Zodiac style. This whimsical garden features 12 larger-than-life mosaic murals, each depicting a Disney or Disney Pixar character representative of a Chinese zodiac animal symbol. A plaque explains the personality traits of each character. Guests will enjoy finding their own character and taking photos in front of the mosaic wall, created by Chinese artisans.

Storytellers Statue

At the entrance to this land, a tall bronze sculpture of Walt Disney and Mickey Mouse will welcome all travelers to this happy place, Shanghai Disneyland. The statue is expected to be a popular photo location for guests, who may be inspired by Walt and Mickey's spirit of friendship, and Walt's dream of creating entertaining stories for all.

Fantasia Carousel

Fantasia Carousel was created especially for Shanghai Disneyland, with characters and symphonic music from the groundbreaking Disney film, Fantasia, including Mickey dressed as the Sorcerer's Apprentice. Created by Chinese artists, this grand carousel will feature 62 magnificent, flying horses – Papa, Mama and Baby horses – and two chariots, painted in 72 optimistic colors. It is the first carousel in a Disney theme park to feature multi-colored horses, distinctly different from the traditional medieval-style horses at other Disney parks.

Dumbo the Flying Elephant

A circus has come to the garden, bringing with it one of Disney's most beloved characters—Dumbo, the baby elephant, known for his huge ears. With the help of a magic feather and his friend Timothy Mouse, Dumbo learns to fly – and guests will have the chance to soar along with him. Sixteen elephant vehicles will carry guests through the air, offering a magical sky-high view of Shanghai Disneyland.

Wandering Moon Teahouse

This timeless teahouse honors the restless, creative spirit of China's wandering poets, as well as the diverse and beautiful landscapes that inspired them. The restaurant recreates authentic Chinese architecture, with symbols from the mountains, ocean, desert, forest and rivers. This will be the first time the story of "Wandering Moon" will be featured in a Disney park. Favorite Chinese dishes will be served at this quick-service location.
Adventure Isle
This all new land will take the place of Adventureland,  and will be an amped up version of the huge area, with new experiences that have never been done before. The centerpiece will be a huge river rapids ride, that will leave guests being chased by a giant dinosaur type creature.  There will also be an updated version of Soarin which will take guests on mew adventures.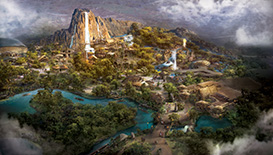 Here are some the highlights of Treasure Isle:
Roaring Rapids

Roaring Rapids will take guests on a white-knuckle adventure through the heart of Adventure Isle. Riding a raft propelled only by gravity and water, anything can happen as guests plunge down a mountain and into a dark cavern where the undiscovered secrets of an ancient tribal legend and the reptilian creature Q'aráq are revealed. Only those who venture into the mountain will encounter the massive, mysterious Q'aráq.

"Tarzan: Call of the Jungle" at Storyhouse Stage

"Tarzan: Call of the Jungle" is an original production starring Tarzan and his friends, included as part of the entertainment at Shanghai DIsneyland. It's a high-energy, musical retelling of the boy who was raised by apes to become King of the Jungle.  Featuring the iconic score from the animated Disney feature film, Tarzan, the stage show is a fusion of theatrics, Chinese acrobatics and a rock concert. It will be performed at Storyhouse Stage, a center of song, art, and dance.

Camp Discovery

Shanghai Disneyland is the first Disney park to offer Camp Discovery, a place where adventurers of all ages and abilities will gather to explore waterfalls, ruins and dig sites in search of ancient tribal relics. They may explore natural wonders and ancient legends, trek past waterfalls and discover tribal ruins in an elevated ropes course created specifically for this land. Guests will be able to choose their own expeditions at Camp Discovery, with some opting for the thrilling natural wonders of Roaring Mountain and others choosing to see the views and become immersed in science, nature, and history.

Soaring Over the Horizon

Anyone who has dreamed of seeing the world or soaring like a bird will enjoy the exhilarating experience at Soaring Over the Horizon, with an aerial tour of the globe never seen before. High above some of the world's most iconic landmarks, Soaring over the Horizon will take travelers on a voyage of discovery that tours every continent. Starting from an ancient observatory nestled in the cloud forest, guests will soar and explore spectacular scenic wonders, with special segments for guests of Shanghai Disneyland overlooking Shanghai and The Great Wall of China.  An ideal attraction for the entire family, it offers an original story, a new walk-through experience and a new aerial tour.  The attraction is an epic re-mastering of the popular attraction at Disney California Adventure, in the United States.

Tribal Table

The Tribal Table, a festive, art-filled restaurant, invites guests to come together for an appetizing meal in a sensory dining experience. Sights, sounds and smells will whet the appetite as guests enjoy the action of live cooking with fiery woks and rotisseries. This ancient gathering house in the Arbori village is the native heart and soul of the land, offering vivid flavors, a friendly atmosphere and beautiful artwork. The murals, artifacts and illustrations will dazzle visitors with scenes from a rich native culture.
Treasure Cove
Treasure Cove will be the first all Pirate themed area, with a huge new Pirates of the Caribbean attraction that will feature boats moving in new directions than in the past, and a huge animatronic Kraken! Plus there's going to be a massive Captain Jack stunt show.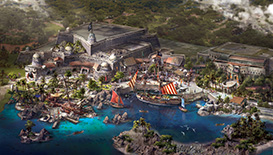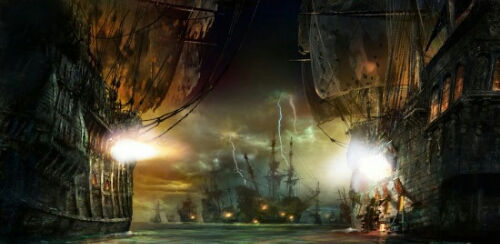 Here's what is in store for Treasure Cove:
Pirates of the Caribbean – Battle for the Sunken Treasure

Pirates of the Caribbean: Battle for the Sunken Treasure is a spectacular indoor boat ride that will take guests on a rollicking adventure with Captain Jack Sparrow to steal the priceless treasure of Davy Jones. Seamlessly blending Disney storytelling and state-of-the-art technologies, the attraction features three large media domes, projected effects, lifelike animated figures, theatrical sets and sophisticated lighting to dramatically take guests on, over and even under the sea on a nautical adventure. With a new, highly controlled ride system, the boats can spin, travel sideways, and even move backwards to create a highly personalized experience. Guests will encounter fearless pirates, mermaids and even a kraken. Disney's patented Audio-Animatronics and recent advancements in robotic technology will bring these pirates to a new level of realistic performance.

Explorer Canoes

Guests will experience a Caribbean island the way pirates first did – from the water – as they paddle real canoes through the waters of Treasure Cove. Along the way, they will enjoy the sights and sounds of the land. With the only propulsion coming from the guests and their paddles, the ride is quiet and stealthy, except when they must dodge attacks from onshore pirates shooting water cannons. Friendly and knowledgeable captains will lead each canoe and point out scenic highlights along the way.

"Eye of the Storm: Captain Jack's Stunt Spectacular" at El Teatro Fandango

The elaborate and exciting stage production, "Eye of the Storm: Captain Jack's Stunt Spectacular," will make its global premiere at El Teatro Fandango. Starring Captain Jack Sparrow, "Eye of the Storm" brings fantastic stunts and swordfights, spectacular scenery, and stunning visual effects straight to the audience. Along with plenty of swashbuckling, the show presents light-hearted humor, a raging storm and a remarkable finale, as Jack fights off a Royal Admiral in a whirlwind adventure.

Shipwreck Shore

Shipwreck Shore is a water play area located onboard the remains of a shipwrecked French galleon and the surrounding beach. Children and Pirate "wannabes" will explore and play "make believe" in an interactive zone where they can spray, splash, squirt and even climb amid random bursts of water, sound effects and animated elements. Shaded seating areas provide a comfortable viewing area for adults and parents to spy on all the fun.

Barbossa's Bounty

One of the largest restaurants in all of Shanghai Disneyland, Barbossa's Bounty is a celebration of the free-wheeling pirate life. A lively, aromatic, colorfully ramshackle "grog shop," it reflects the personality of its owner and namesake, Captain Hector Barbossa. Featuring spicy barbecue from pirate chefs who love to show off their cooking skills in the demonstration kitchen, Barbossa's Bounty also offers guests the opportunity to enjoy their meal in the themed dining room of their choice. Guests may also choose the extraordinary experience of dining inside the thrilling attraction,Pirates of the Caribbean: Battle for the Sunken Treasure.
Tomorrowland
A staple of any Disneyland is Tomorrowland, and Shanghai will have one of the most unique. From Tron, to rocket packs, and even little something extra, this land will be one of the most innovative attractions in Disney history.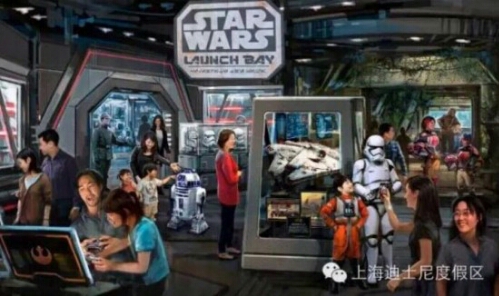 The land will even feature Star Wars and Marvel shops and areas. While there are no full fledged attractions for these two properties, it's a look at what else we can expect from Disney when it's time for Marvel and Star Wars to make their way into Disney parks worldwide.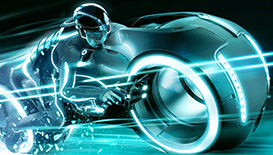 Here's a bit of the future coming to Tomorrowland:
TRON Lightcycle Power Run

With the world premiere of TRON Lightcycle Power Run, the future world comes to Tomorrowland, through the inspiring story of the Disney film TRON: Legacy. Riding atop individual, two-wheeled Lightcycles, guests will be launched across a canopied section of track – the Upload Conduit – before diving high-speed into a mysterious game world of lights, projection and sound effects. Guests waiting to board will have fun imagining the future world as they listen to the evocative soundtrack and watch the Lightcycle trains twist and turn all around them, all under a color-shifting canopy. Even at a distance, guests will marvel at the massive, undulating canopy. Covered in a translucent material, it reveals the pulsing glow of Lightcycle trains as they zip through the attraction. The entire canopy is edged in a dramatic, blue-green ribbon that changes color as it rolls across, over and around the Tron Plaza, like the tail of a dragon.

Buzz Lightyear Planet Rescue

Guests will join a mission to help save the day on Buzz Lightyear Planet Rescue, an interactive adventure inspired by the DisneyžPixar Toy Story films. The immersive, new storyline combined with a new, interactive targeting system will make this one of the most engaging attractions at a Disney park. The attraction features cosmic visuals, animated targets, LED screens and real-time feedback from the targeting system. As the story goes, the Evil Emperor Zurg is threatening to destroy the home planet of the Aliens. Buzz Lightyear calls out for more Space Rangers and park guests become his newest Star Command recruits, boarding their own spaceships and shooting on-board blasters with individualized colors. For every target hit, guests rise higher in the ranks of Buzz Lightyear's elite squadron.

Jet Packs

On Jet Packs, guests will become sky pilots, taking off on transportation of the future. Strapped into individual Jet Packs and with legs dangling, pilots will enjoy the thrill and wonder of flying. At the center of the attraction, the energy sphere will spin faster and faster as the ride progresses. Guests will be able to control how high their Jet Pack goes and, the higher they go, the more the vehicles will pitch forward. From their sky-high vantage point, pilots will have a breathtaking view of Tomorrowland and the rest of Shanghai Disneyland.

Star Wars Launch Bay

In this celebration of the Star Wars Galaxy, guests will meet heroes and villains of the saga, visit iconic intergalactic set-pieces, view props and memorabilia from the most recent Episode, and be immersed in the Skywalker story through a state-of-the-art cinematic experience.

Marvel Universe

Near the entry to Tomorrowland, guests will have an exciting opportunity to encounter some of the popular Marvel heroes and their super-powered tech. Guests will attend a multimedia mission briefing on the thrilling world of Marvel, get up-close with some of their favorite Marvel heroes and learn to draw some of the characters, just like a real comic book artist.

Stitch Encounter

With new humor and content for the Shanghai Disney Resort audience, Stitch – known as "Experiment 626" – engages in unrehearsed conversations, plays games, makes jokes and takes guests for a spin around the galaxy in "Stitch Encounter." This real-time, interactive, live animated show will take place in one of two intimate theaters in Tomorrowland. It stars Stitch, the mischievous, animated alien from the Walt Disney Pictures animated film, Lilo & Stitch.

Stargazer Grill

From the upper concourse of Tomorrowland, Stargazer Grill will offer some of the most spectacular views in Shanghai Disneyland. From the outdoor deck, guests will be able to see the Enchanted Storybook Castle and beyond as they enjoy Chinese and Western food, including a variety of burgers. The largest restaurant in the theme park, Stargazer Grill will celebrate the architectural forms of Tomorrowland with a rippled sculptural design and a mix of futuristic comfortable seating positions. Natural light, sleek technology and the gracefully curved ceiling will create an understated sophistication, while glass orbs of light twinkle from the ceiling like stars in the sky.
Fantasyland
Another staple of Disneyland is Fantasyland. Most of the classic Disney attractions will be located here, as well as some new favorites like Seven Dwarfs Mine Train. Plus there will be some new attractions that are sure to be instant classics. Old attractions will have a new spin, as Peter Pan is turned into an inverted coaster, and guests go underneath the castle.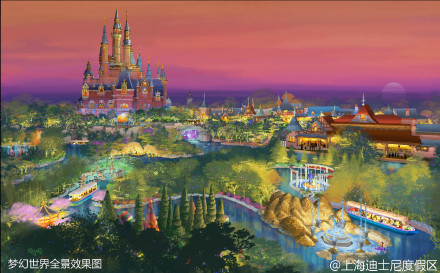 Voyage to the Crystal Grotto

Voyage to the Crystal Grotto will be an enchanting excursion that travels the waters of Fantasyland. Fanciful fountains and sculptures line the water's edge, celebrating classic tales of magic and imagination. At journey's end, guests will glide beneath Enchanted Storybook Castle, into a secret, underground chamber in which fountains of light will leap and dance in shimmering pools, surrounding guests with magic, music and color. The experience is sure to inspire the dreams and imaginations of all who make this wondrous voyage.

Seven Dwarfs Mine Train

Inspired by Disney's classic animated film Snow White and the Seven Dwarfs, this family-friendly coaster will take guests into a fabulous mine glittering with jewels, where the Seven Dwarfs sing happily as they work. Guests ride in a train of mine cars that winds through rolling hills, with views of pools and waterfalls as they leave the mine and dash on toward the cottage of the Seven Dwarfs. Each mine car is mounted in a cradle-like pivot that allows it to swing back and forth as the track turns. Guests will enjoy music from the classic Disney film, along with a cast of animated figures and helpful forest animals.

Hunny Pot Spin

In the Hundred Acre Wood, Hunny Pot Spin is a delightful family attraction where guests ride inside whirling honey pots – in honor of Winnie the Pooh's favorite food. "Hunny" is the way Pooh labels his ceramic jars filled with honey. Beneath a canopy strung with honey-dripping hives, friendly bees hum the Winnie the Pooh song to accompany the twirling guests. How fast each honey pot spins is determined by the guests, who will add speed by turning a wheel in the center of the honey pot. The honey pots, labeled in English and Chinese, are painted in loving detail, and each pot appears to be dripping with honey that oozes down the side.

Alice in Wonderland Maze

Designed especially for Shanghai Disneyland, this maze is the first attraction at a Disney park themed to Tim Burton's live-action film Alice in Wonderland. In the experience, guests will choose their own path as they wind through the delightfully whimsical world of Wonderland on their way to the Mad Hatter's Tea Party. Along the way, they may encounter the Cheshire Cat, the White Rabbit and sculptures of characters, including the tyrannical Red Queen. In a maze of sculpted hedges, stone garden walls, giant flowers, and whimsical sculptures, there's fun at every turn in this delightful family adventure.

Peter Pan's Flight

Aboard a "flying" ship in Peter Pan's Flight, guests will sail through the skies over London and off to Never Land. There, Peter Pan will lead guests through a series of remarkable adventures to confront the villainous Captain Hook and his pirate crew. With an exciting, new ride system, guests will soar as never before into this action-packed story of the boy who encourages imaginations to fly. In this classic attraction, updated for Shanghai Disneyland, new Disney magic brings the ships closer to the action and face to face with the characters, as they are engulfed in Pixie Dust.

"Frozen: A Sing-Along Celebration"

Audiences atEvergreen Playhousewill join their Frozen friends and the villagers of Arendelle for a fun and frosty interactive showcase, packed with a flurry of stories, songs and sing-alongs.Two amusing and engaging Festival Guides will host the celebration and introduce each magical musical number. Well-known characters Elsa, Anna and Kristoff will join the fun and guests of all ages will be encouraged to sing along with a few favorite Frozen tunes

Tangled Tree Tavern

Located in the Fantasyland forest, Tangled Tree Tavern is inspired by the Snuggly Duckling, the pub featured in Disney's animated film Tangled, the tale of Rapunzel. Warped by time and the roots of the large tree nearby, Tangled Tree Tavern is full of rich details and an atmosphere befitting the boisterous ruffians and thugs in the film. Guests will enjoy a hearty meal in this lush woodland environment.
Enchanted Storybook Castle
This is the biggest castle in all of the Disney parks. It's also the first to represent not one single princess, but all of them. It will also house the first interactive Snow White attraction.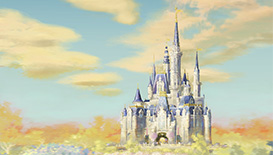 Storybook Court

In this private courtyard inside the castle, guests will have an opportunity to meet Disney princesses, some royal friends, Mickey Mouse and Donald Duck. An elegant sign at the gateway will provide the name of the princess, or royal friends, who are receiving guests that day. The décor in this royal court includes colorful flowers and trailing vines all year long, plus a carved, jade rendering of the Enchanted Storybook Castle. The large rendering is framed elegantly between formal pillars, making an ideal backdrop for a beautiful portrait and a special memory that will last forever.

Storybook Castle Stage and "Ignite the Dream" Nighttime Spectacular

Performers will gather at Storybook Castle Stage to celebrate with song and dance, entertaining guests by day. After sunset, it's time for "Ignite the Dream, A Nighttime Spectacular of Magic and Light," with amazing projections, lasers and enchanting fireworks. When "painted" together on Disney's largest castle in the world, the effects will be mesmerizing. The walls of the castle will transform into stunning new worlds, full of color and motion. During the show, Mickey will find that magical spark that ignites his imagination and sets him free to fly and soar. It's a journey that will ignite the dreams and imagination inside of everyone.

"Once Upon A Time Adventure"

A magnificent, winding staircase in the middle of the castle will lead guests on a "Once Upon a Time Adventure" providing a memorable experience created especially for Shanghai Disneyland. For the first time in a Disney park, guests will interact with an animated version of Snow White as they stroll through scenes of her story. Passing through a "Magic Mirror" portal and into this wonderful fairy tale, guests will meet Snow White's friends, witness the evil deeds of her enemies, and share her dreams through realistic, interactive technology. This "Once Upon a Time Adventure" has special meaning to China since Snow White was introduced as a Disney princess in Shanghai on Feb. 8, 1938, with the premiere of the animated movie, Snow White.

Bibbidi Bobbidi Boutique

At Bibbidi Bobbidi Boutique, everyone in the family will have fun planning a young girl's magical transformation, from picking the hairstyle to selecting the ball gown for her official portrait. The colors and architectural flourishes at this salon are designed to make it feel as if a guest has stepped into the charming world of a princess. The area will feature off-white floral wallpaper with lavender panels, rococo wood framing the doorways, and gold leaf detailing.

Royal Banquet Hall

The regal Royal Banquet Hall, filled with enchanting details such as leaded-glass windows and soaring archways, offers fairytale dining in a storybook setting. Princes and princesses of all ages will enjoy a plated meal served with royal hospitality, as some of their favorite Disney characters visit to sign autographs. Each of the dining rooms will be inspired by Disney princesses, adding a story that allows every meal to end happily ever after. The rooms at Royal Banquet Hall are themed to Sleeping Beauty, Cinderella, Tiana, Mulan and Snow White. Guest reservations will be required.
Disneytown
Disneytown will essentially be WHAT Disney Springs is aiming for. It's going to be a massive entertainment and dining district with shopping, Disney experiences and even a theater that will house massive Broadway style shows.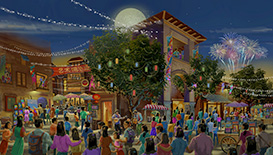 Shanghai Disneyland is setting itself up to be a new standard in Disney parks, and will surely end up being one of the most popular destinations for Disney fans. The park is also aiming to be a massive hit for locals as well, with a strict attention to Chinese culture.
The fun is only just beginning as well, as more details will roll out in the coming months. We'd still love to see a Haunted Mansion type attraction as well, so fingers crossed.
Stay tuned for more Disney fun, and be sure to get social with us on Facebook and follow along with us on Twitter @BehindThrills for the latest updates!