The world is about to be engulfed in Star Wars mania, and it's quite possible it's going to be bigger than ever, thanks to the team at Disney. Disney, who now owns Star Wars creating company Lucasfilm, is looking at smashing records when "The Force Awakens" hits theaters this  Christmas. Disney has announced that next year, when Shanghai Disneyland opens, it will feature a Star Wars Store that takes guests above and beyond the Star Wars experiences that they can currently find in Disney parks, with the "Launch Bay". However, it looks like the Launch Bay could take off in the states before Shanghai admits their first guest, and before the film launches.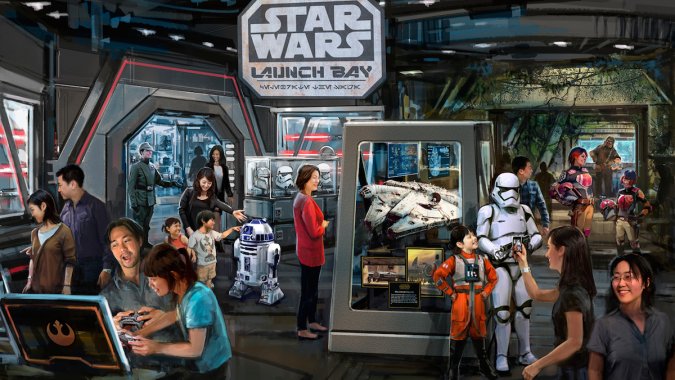 According to Screamscape, The Launch Bay (or something similar) could be opening this fall, just ahead of the December 18th opening of The Force Awakens. The experience will definitely be a gift shop, but it will be a little something more, as there will be roaming characters, interactive displays, and photo opportunities that have never been seen at Disney before. There will also be props and replicas from the upcoming Star Wars film, and exclusives that guests could only find at Star Wars Weekends in the past.
The new shops will reportedly be in the Innoventions building, which has been closed for a few months now, at Disneyland. It is also rumored to appear at Walt Disney World at Disney's Hollywood Studios. That park just closed the massive Magic of Disney Animation attraction, which is now slated to become the Star Wars shop.
Things such as "D-Tech Me" which takes guests and scans their likeness for action figures is expected to be a part of the new shop, as well as all new costumes for kids, such as Stormtroopers and X-wing Pilots. There is also rumored to be walkaround characters such as R2D2, other droids, and Chewbacca. Think of it as a full time extension to Star Wars Weekends.
However cool the shop may sound, it is not scheduled to be permanent, only a temporary fixture until Disney unveils the full Star Wars lands, in which the props and characters will become permanent in the new location. At least that's the rumored plan at Disney's Hollywood Studios. The shop will be a temporary attraction, while the park expands to feature the new lands. The shop will also change, as new Star Wars films are scheduled to be released every year. There's even rumor of an extended preview which will be shown at the shops, either on screens throughout or in a special standing room only theater. As new films come out, these shops will be among the first to get the new trailers and first looks. So, it's likely that next year, after The Force Awakens has left theaters, guests will be the first to get a look at Star Wars Anthology: Rogue One, then at Star Wars Episode 8, then the Han Solo film, and so on.
More information is expected to be announced at the D23 Expo this August, including huge plans for more Star Wars in the parks.
Stay tuned for more from Disney and Star Wars, and be sure to get social with us on Facebook, and follow along with us on Twitter @BehindThrills for the latest updates!
For more information about Disneyland, including tickets, click here!
For more information about Disney's Hollywood Studios, including tickets, click here!