Disney's D23 Expo is expected to be the largest gathering of Disney fans anywhere on the planet. This weekend,  the Expo will kick into high gear with just about everything under the sun that has to deal with Disney. From theme park attractions,  shows, movies video games and even cruises, there will be something for every aspect of fandom at the expo. With so much happening,  how do you know what you can't miss?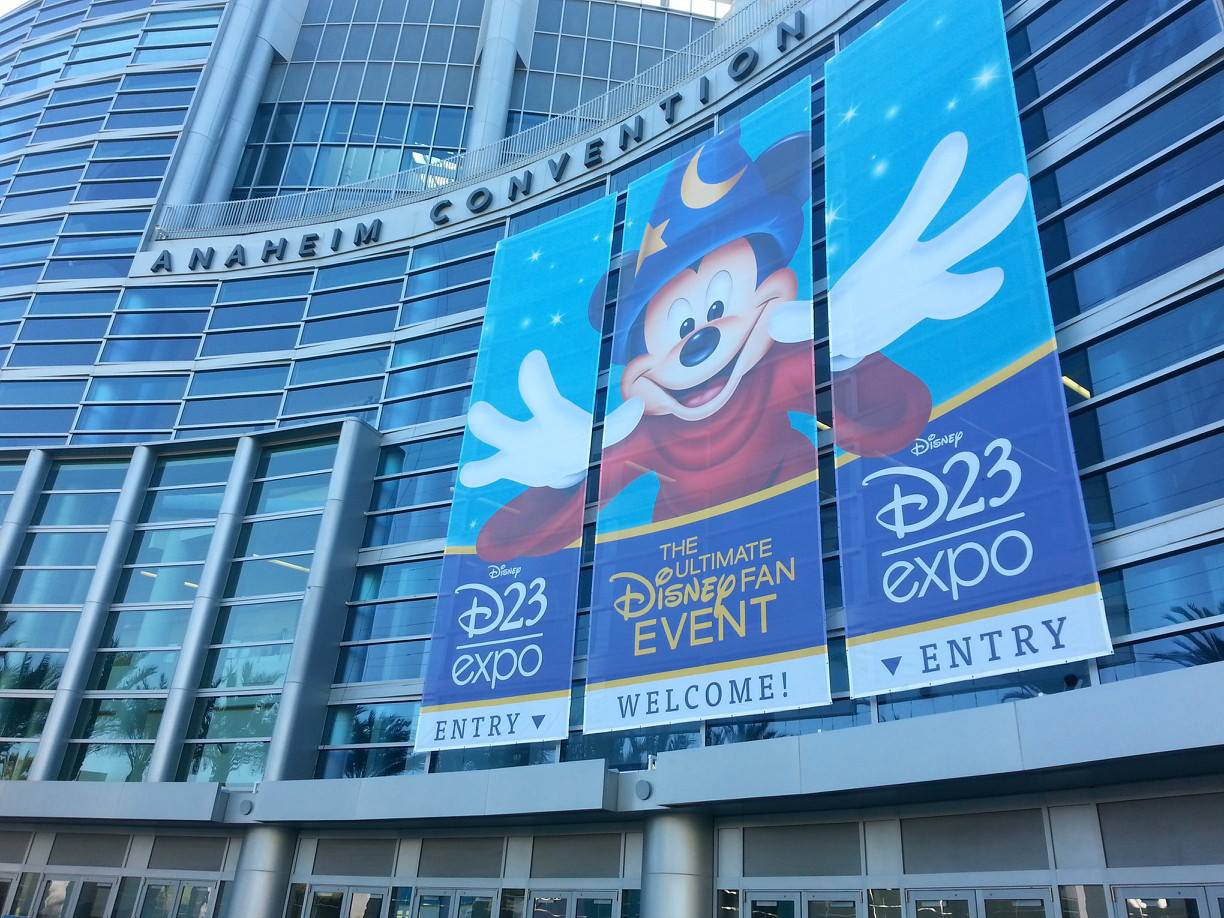 Disney has turned the D23 Expo into their version of San Diego Comic Con, announcing big news and doing huge reveals. In fact, the company pretty much ignored SDCC this past July,  and instead opted to roll out the big guns in August.
So what will.the hige announcements be, and when can you expect them? We'll take a look at this year's line up and show you what you can't miss.
There are several huge locations at the expo, but the majority big the big fun stuff will happen at Hall D23. We'll break down the big stuff, and sprinkle in some other major happenings throughout.
Friday August 15th
Disney Legends, Hall D23, 10-12: The Disney Legends ceremony is pretty much the opening ceremony of the event. This year, the Legends honor will be given to George Lucas, Susan Lucci, Danny Elfman and too many others to name.
Pixar and Walt Disney Animation Studios: The Upcoming Films, Hall D23 3-5pm:
This is a big one. John Lasseter will host the panel, which will more than likely give us our first look at films like Finding Dory, an extended look at The Good Dinosaur,  and several others. The massive panel will also look at Walt Disney Animation Studios,  and their upcoming films. This is where the big news will come from, as several trailers will most likely be announced.
A Goofy Movie 20th Anniversary Reunion! Stage 28 6-7p.m.
This is one we're really looking forward to,  as it celebrates the big anniversary of the first film starring one of Mickey's pals…without having Mickey there to support him. A Goofy Movie was the highlight of an awesome childhood for many, and was one of the biggest traditional hand drawn classics that wasn't a fairy tale. The entire cast will be on stage talking about the film.
Saturday August 16th
"One Little Spark": Marty Sklar Presents "Mickey's Ten Commandments and the Road to Imagineering", Stage 28, 10-11 a.m: The legendary Marty Sklar and special guests as they discuss their various paths to becoming Imagineers! The group will provide insights into the world of Imagineering, some of their most interesting projects, and anecdotes featured in Marty's new book, "One Little Spark: Mickey's Ten Commandments and The Road to Imagineering."
Worlds, Galaxies, and Universes: Live Action at The Walt Disney Studios, Hall D23,  10:30-12:30
This is another big one. Quite possibly the biggest one. Disney will talk about bringing movies to the big screen from their own Walt Disney Studios,  Marvel, and Lucasfilm. We'll be expecting to see huge previews from films like Pirates 5, Alice in Wonderland 2, maybe Beauty and the Beast. We also think there's a chance of seeing more Star Wars, some Captain America Civil War,  and tons of other stuff. It's definitely going yo be one of the most talked about panels all over the world.
Welcome to Zootopia, Stage 28, 1:30-2:30:
Welcome to Zootopia, a magnificent mammal metropolis, and home to Walt Disney Animation Studios' next feature, the comedy-adventure Zootopia. Join directors Byron Howard (Tangled, Bolt) and Rich Moore (Wreck-It Ralph), producer Clark Spencer (Wreck-It Ralph, Bolt), and artists from the incredible production team as they introduce rookie rabbit-officer Judy Hopps, con-artist fox Nick Wilde, and a host of dynamic animal characters, sharing footage and behind-the-scenes stories with D23 EXPO-goers.
Walt Disney Parks and Resorts, Hall D23,  3-4:30p.m:
This is the granddaddy of the panels, the one we hope will make D23 worth every second we've been speculating about. Here's where the company talks about what's happening,  and gives sneak peeks about the things coming to the resort. This is where,  if it's going to happen,  Star Wars Land will be announced.
Aladdin – The Making of a Classic, Stage 28 6-7 p.m:
Join Walt Disney Animation Studios filmmakers––including legendary directors John Musker and Ron Clements, animators Eric Goldberg (Genie) and Mark Henn (Jasmine), as well as Jasmine herself, Linda Larkin, and the two actors who gave life to the character Aladdin, Scott Weinger and Brad Kane––as they unveil the stories behind one of the great Disney classics, Aladdin, a film that led to a "whole new world" for animation.
Sunday
Disney Kingdoms, Stage 28, 10-11 a.m. 
Learn about Disney Kingdoms, a joint collaboration between Marvel Comics and Walt Disney Imagineering. Discover how these popular series of comic books got started, the theme park inspirations behind them, and the creators behind these popular titles, including Seekers of the Weird, Figment, and Big Thunder Mountain Railroad.
Disney in Concert: A Silly Symphony Celebration, Stage 23, 11-12:15
Experience the world premiere of Disney in Concert: A Silly Symphony Celebration––a live concert performance featuring a 32-piece orchestra celebrating the Silly Symphony short films that transformed the art of animation, hosted by film historian Leonard Maltin. Fans will delight in watching selected Silly Symphony shorts from Disney's archives while the music is performed live in synchronization with picture, presented using high-quality, newly restored digital film masters. The music will be performed as it would have been recorded during those historic days at the Disney Studio on Hyperion Avenue in the 1920s and '30s. This very special concert event will showcase the music of Three Little Pigs, The Old Mill, Flowers and Trees, and many other classics.
It's Game Time: Disney Interactive Takes the Stage, Hall D23, 11-12 :
Get ready for a trip across the Disney and Star Wars™ gaming universes featuring three of Disney Interactive's most anticipated games: Disney Infinity 3.0 Edition, Star Wars™ Battlefront™ from Electronic Arts and Kingdom Hearts III from Square Enix. Fans can look forward to never before seen gameplay and trailers, special guests and surprises and limited-edition Hall D23 exclusive giveaways for the entire audience.
Experience the World with Disney: Adventures by Disney, Aulani, Disney Cruise Line, and Disney Vacation Club, Stage 28, 3-4p.m.
Do you want to travel the world? Get a behind-the-scenes glimpse into how Disney is creating new vacation experiences for families all around the world. The first 400 guests in attendance will receive a D23 EXPO-exclusive gift.
There will be tons of other stuff happening at the D23 Expo, but these are just a few of the MUST SEE panels happening. If you're not going to be at the Expo, no worries, we will be tweeting, and shooting everything at the Expo.
Stay tuned for more from D23, and be sure to get social with us on Facebook, and follow along with us on Twitter @BehindThrills for the latest updates!
For more information about the D23 Expo, and the full schedule, visit the official website by clicking here!