The D23 Parks and Resorts Presentation had exclusive looks at new attractions from all over the world, coming to Disney Parks both soon, and in the future. Hong Kong Disneyland is making the future now, with the huge Iron Man Experience. The attraction will open in 2016 at Hong Kong Disneyland, but guests were able to get a sneak peek at the new experience now, complete with an appearance by the Generalismo himself.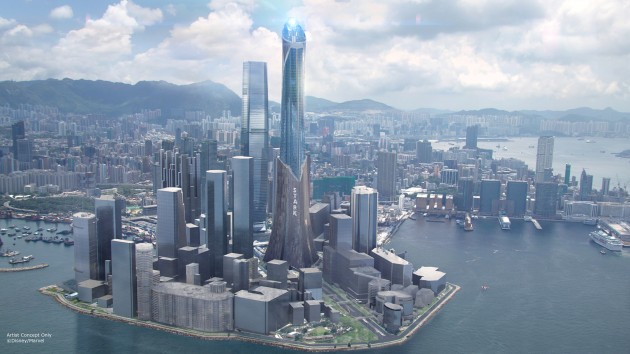 The new ride will be the first Marvel ride that Disney has made, and will put guests into special vehicles where they will fight along side Iron Man. The new attraction will bring the Stark Expo to Hong Kong, as Tony Stark helps to bring the future. The new Stark Expo is brought to Tomorrowland, which will allow guests to see new and exciting technology, coming to Stark Industries.
Guests will get a full look at some of the cool new technology, including a look at the Iron Wing. The Iron Wing is an all new vehicle, that gives you the sense of what its' like to be inside a REALLY BIG Iron Man suit. You'll get to go on a tour of the all new Stark Tower-Hong Kong and get a look at the World's biggest Arc Reactor. It's from here that Stark can produce renewable, clean energy.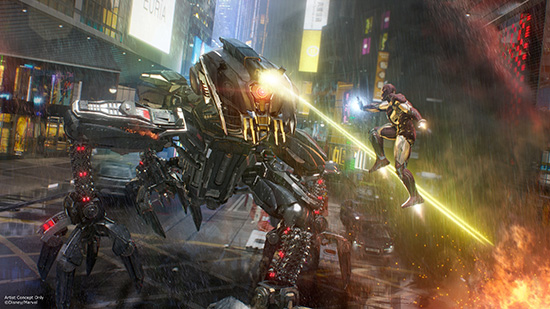 Iron Man must face off against the evil agents of Hydra, and tons of other villains, putting you right in the cross fire, as Hydra has come to steal the arc-reactor. The ride will give a look at some never before seen Hydra villains, and some familiar Marvel heroes as well.
The footage shown was very short, but it did feature Robert Downey Jr. as Iron Man, and it was full of some great action. And be on the lookout for a cameo by none other than Stan Lee, the king of Marvel cameos.
Video-Check out the FULL Iron Man Presentation at D23


The Iron Man walk around character will be a full replica suit, and will be able to interact with guests. He came out with Stan Lee during the presentation, with a programmed set of responses. It was the ultimate Stan Lee Cameo. Iron Man will be a walk around character at Hong Kong Disneyland in the Iron Man Experience.
Be sure to get social with us on Facebook, and follow along with us on Twitter @BehindThrills for the latest updates!