What do we do? We swim, swim, swim! That's just what she did, she just kept swimming. The Pixar portion of the animation panel at D23 was filled with some great new looks at Pixar's line up, but of course the one everyone wants to know about is Finding Dory. The film doesn't hit theaters until June 17th, 2016, but we have a few new details about the all new sequel, including some new characters. The panel also gave first looks at the Good Dinosaur, an Inside Out Short, Toy Story 4 details…and much more!
The sequel to the smash hit, Finding Nemo had some amazing footage screened at the D23 animation panel. Pixar has an amazing line up for films in the coming years, but Finding Dory is definitely one of the highest on the list. Some of the cast including Ed O' Neill, Ty Burrell, and in a surprise appearence, Ellen Degenres appeared on stage during the panel.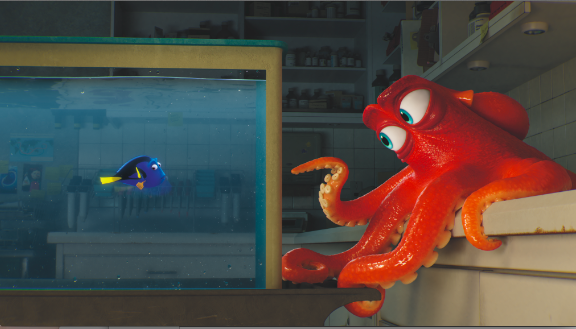 The new characters include Ed O'Neill from Modern Family and Married with Children, as an octopus with an attitude. It also includes Ty Burrell as a Beluga Whale who thinks he has a head injury, due to his squishy melon.
A sequel for this year's Inside Out has not been announced yet, but the panel did get the chance to see the entire new short, Riley's First Date? The new short will be attached to the Inside Out DVD release on November 3rd. The short film will focus more on Riley's parents, and how their emotions deal with Riley growing up.
Get a sneak peek at this clip…fo sheezy.

ABC Latest News | Latest News Videos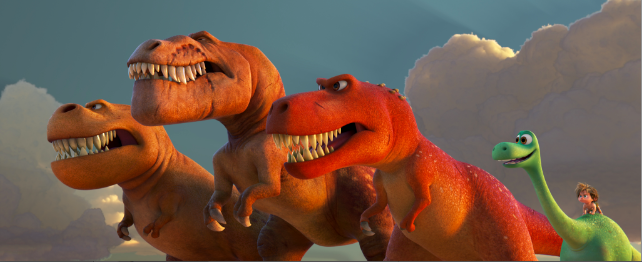 The Good Dinosaur is the next outing from Pixar, hitting theaters this Thanksgiving. Given the big year with dinosaurs, and Jurassic World, it's a safe bet to say that The Good Dinosaur will be huge. The new footage gave us our first look at three T-rexes, voiced by Sam Elliot, Anna Paquin and AJ Buckley. The new story tells of a dinosaur and his boy, in a world where the huge asteroid didn't wipe out all the dinosaurs.
The previously untitled Day of the Dead film, had some details revealed, including the name. CoCo will center on a 12 year old Mexican Boy named Miguel, and will focus on the holiday in a round about way. Test footage was shown, and while it was absolutely gorgeous, it still had a way to go. The new film also hasn't gotten a release date, but we're going to guess it will be sometime in at least 2019.
Finally, John Lasseter came out with an army, Bo Beep and more as the crew announced the 20th anniversary of Toy Story. It's hard to believe that 20 years has passed since we've found our friends in the toy box. In June of 2017, we'll get an all new full length Toy Story film, with Toy Story 4. Details have been kind of tight, but the big story is that Bo Beep and Woody will somehow have their story, and relationship.
While there are posters out for Cars 3,  and Incredibles 2, there were no release dates announced.
Stay tuned for more from D23, and be sure to get social with us on Facebook, and follow along with us on Twitter @BehindThrills for the latest updates!