The poor fools at Howl O Scream have stumbled onto something…evil. During a construction project, crews found something that was supposed to stay buried, but now they are unearthing it. It's part of the huge new Howl O Scream viral campaign happening at all three Howl O Scream events, and what they are going to unearth is going to be pure and simple evil. We'll follow along, take you deeper and even try to make some predictions about what we're going to see at this year's Howl O Scream.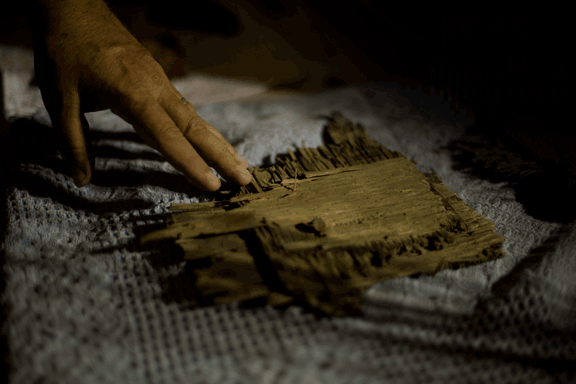 It all began back in June when crews stumbled on something wooden and man made under the soil. Things started getting a little weird when the object was unearthed, but nothing too major. The park discovered that there was actually a structure underneath the construction site, and to make sure they abided by all state regulations, they brought in a team of specialists.
A.U.R.A., the American Underground Research Archaeology was brought in to see if the need would arise to bring forth any excavation…naturally it did.
Update 1

The video update showed off an underground structure, what is sure to be the featured house for all three Howl O Scream events. The team will have to dig a little deeper and see what the house actually is.
If you're at all familiar with Busch Gardens Williamsburg, this looks like a sketch of the old Drachen Fire station, the place where Howl O Scream houses have been set up before.
Update 2
The second video shows a team digging into the house, and talking about a local legend. This definitely sounds like we have our main icon, as they tell the tale of Scarlett. There's mention of several familiar stories that have taken place, and even some awesome looking "minion" creatures.
If you look at the picture, fans of Howl O Scream will see a familiar face as Jack stares at them from a card. Jack O'Lantern was an original icon at Busch Gardens Williamsburg, and SeaWorld Texas. He was a family friendly ghoul, which has been tossed aside as the event gets darker and more grown up.
Could Jack be making a comeback, only as a dark and demented soul?
Update 3
Here's where things start getting eerie, and familiar. We see things in the house that are seemingly linked to a few of the past few years at Howl O Scream.
We see a jar full of eyeballs, as well as a portrait of a couple. The eyeballs are the first thing fans should remember, as they have been prominent at Howl O Scream for years now. The couple is a little less known, as the storyline of a zombie bride and groom were cut a few years back. BUT, the lady of the Gardens has been around. Could these two be Scarlett and Jack…and could the story be linking themselves together after all these years?
This is actually a very cool level of storytelling that we haven't seen from Howl O Scream, and it's pretty exciting to see what they could have in store.
We will update this post as more updates happen.
Stay tuned for more from Howl O Scream, and be sure to get social with us on Facebook, and follow along with us on Twitter @BehindThrills for the latest updates!
For more information about Howl O Scream, including tickets, visit the official website by clicking here!