Scarlett has been Unearthed, and she's not happy about it. Howl O Scream at Busch Gardens Tampa has released their final house, and a badass new icon. The entire event will revolve around this new entity that has been buried for years. Now that she's been Unearthed, all hell will break loose.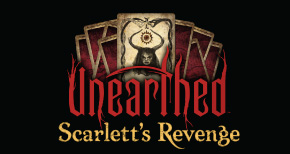 Unearthed: Scarlett's Revenge is the final piece in the Howl O Scream pure at Busch Gardens Tampa. Guests will come face to face in this all new nightmare, and will be immersed in a terror created by a producer of the Blair Witch Project, Robin Cowie.
Here the full line up for this year's event:
Unearthed- Scarlett's Revenge- Guests venture into mysterious centuries-old house filled with secrets, and terror awaits all who dare to enter as Scarlett summons demons and collects body parts to reincarnate her dead husband. 

Dead Fall: Thirst for Blood – Humans and plants entwine with an insatiable thirst for human blood, as guests attempt to escape the nightmare that has taken over this Victorian garden and greenhouse.

Zombie Containment Unit 15:  MovingTargets – Armed with only a Z.E.D. (Zombie Eradication Device), guests must hold off an undead mob in this interactive zombie hunting experience.

Death Water Bayou – Deep in the bayou the Voodoo Queen transforms wanderers into her evil servants. Those who enter must escape her dark magic before falling victim to her spell.

The BASEMENT – Momma's Meats' award-winning recipe has always been a family affair that's only created in The BASEMENT. ..guests must escape before becoming the secret ingredient.

Circus of Superstition: The Last Laugh –  A lifetime of avoiding black cats and sidewalk cracks won't save guests from this house, as the bad luck of childhood superstitions catches up with them in new demented ways.

Zombie Mortuary – Led by their queen, zombies infest this small town funeral home and satisfy their hunger with fresh flesh and brains.
In addition to the seven haunted houses, Fiends will once again return for a night full of laughs, music and pink nurses. There will also be a signature club, Club Unearthed.
Guests can enjoy VIP tours, Fright Feast and more, when added to your Howl O Scream ticket.
Stay tuned for more from Howl O Scream, and be sure to get social with us on Facebook and follow along with us on Twitter @BehindThrills for the latest updates!
For more information about Howl O Scream at Busch Gardens Tampa, including tickets, visit the official website by clicking here!