Rumors have been swirling for the past few months about the future of Marvel Superhero Island at Universal Orlando's Islands of Adventure.  While the island will not go anywhere, one major attraction will, as it sees some huge new enhancements and upgrades. I think this time it's going to work, everything looks good!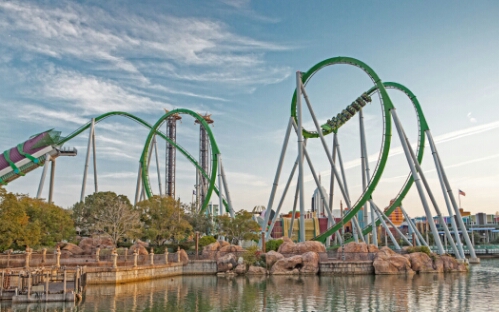 Universal Orlando has confirmed that the Incredible Hulk coaster,the massive green monster,  will go down for rehab starting on September 8th. That means it will be down for the busy Christmas season, Spring Break and will not open until Summer if 2016.
So what work will be done on the green Monster? So far permits have been filed to do work on the launch motor, as well as the queue. Hulk was never a real "launch coaster" from B&M standards. The company made some modifications to the lift, and never really counted it as a launch coaster. It's possible that we will see a huge new launch system installed on Hulk, similar to what B&M has on the all new launch coaster, Thunderbird.
Universal has promised some high tech new upgrades, which we can only assume means the queue. The existing queue is good, for what it was, but an upgrade would definitely be welcomed.
So, does that take the better part of nine months? Not likely.
We have been told that not only will the launch motor and queue get upgrades, but our rumors have suggested that a complete upgrade to the track could bring the Hulk back to its original glory. That could mean anything from a re-tracking to just a complete sand down and repaint.
Update
According to responses on the official Universal Orlando Facebook Page, we can expect to see "new enhancements to its storyline, ride vehicles and overall experience."
Not much to go on, but that does answer one question, the ride vehicles are getting refurbed as well. Things like new wheels will definitely have a huge effect on the smoothness of the ride.
Regardless of whats going on,  it's going to be a lonely few months without the green Monster hurling us through the track.
Stay tuned for more from Universal, and be sure to get social with us on Facebook and follow along with us on Twitter @BehindThrills for the latest updates!
For more information about Universal Orlando, including tickets, visit the official website by clicking here!