Jurassic Park has been smashing, roaring and stomping the records left and right. Now it wants one more! The film is returning for one week, so if you missed your chance to see these monsters in action, you'll get one more opportunity. The new film star Chris Pratt, Bryce Dallas Howard, and her amazing high heels. It's a return to form for the Jurassic Park franchise, and the start of an all new adventure in the world of dinosaurs.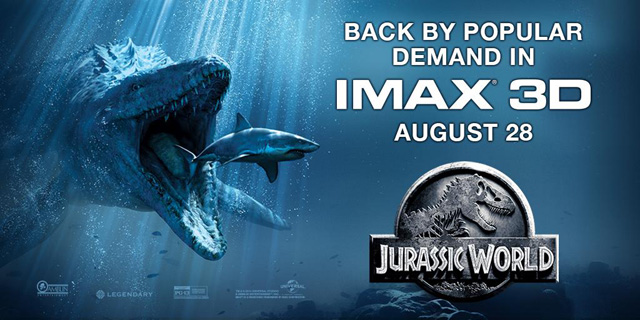 For just one week, beginning August 28th, fans can catch Jurassic World in IMAX 3D for one last time before it moves out of theaters completely. The film has earned over $1.5 billion dollars at the box office, and a sequel is scheduled for 2018.
"Starting with its record-shattering debut in IMAX theatres around the globe, Jurassic World truly has become a cultural phenomenon," said Greg Foster, Senior Executive Vice President, IMAX Corp. and CEO of IMAX Entertainment. "We're proud to have been a part of this ground-breaking release and now we look forward to offering audiences another opportunity to experience Jurassic World in IMAX."

"The extraordinary success of the IMAX release of Jurassic World was driven by audiences who needed to become immersed in every wondrous and heart-racing scene in the film," said Nick Carpou, President of Distribution, Universal Pictures. "We are proud to partner with IMAX once again to give moviegoers what they have demanded: another chance to see Jurassic World this summer in this incredible format."
On top of that, Universal has rolled out Jurassic World mini-attractions at several of their parks, including Universal Orlando's Islands of Adventure.
Raptor Encounter has brought huge crowds with the hopes of seeing one of these amazing raptors up close and personal.
Video-Come up close with a Velociraptor at Raptor Encounter at Universal Orlando

The new film's success has lead to tons of speculation about new attractions, and will even lead to an all new "Aviary" roller coaster at Universal Studios Japan for 2016. The new attraction will take guests on a flying coaster ride, and have them soar around an enclosed aviary with other flying dinosaurs.
More attractions are rumored to be on the way for other parks, with Orlando and Hollywood each getting their own version of a new Jurassic World ride.
Stay tuned for more from Universal, and be sure to get social with us on Facebook, and follow along with us on Twitter @BehindThrills for the latest updates!
For more information about Universal Orlando, including tickets, visit the official website by clicking here!