The triumphant return of King Kong is imminent at Universal Orlando! The all new attraction will be open in the summer of 2016, and fans are getting anxious about it. New work on the attraction has been done, showing off a glorious return of one of Universal Orlando's original attractions. The park is continuing it's building spree, with not only Skull Island, but also the all new NBC Sports Grille and Brew, as well as the all new Sapphire Falls and Volcano Bay Waterpark. We take a look at the new projects in this weeks' update.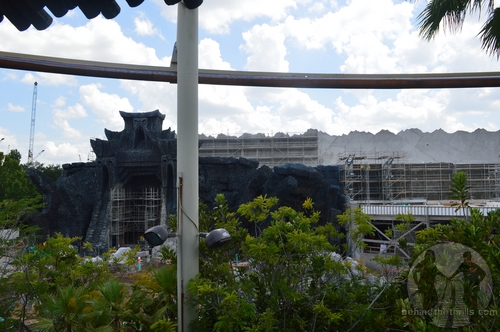 Kongstruction is continuing in a huge way, as the massive ape continues to dominate Universal Orlando. The construction is now visible from across the way in Jurassic Park, as the massive temple spreads across the huge landscape. The construction project is so massive and large that construction walls have been pushed out, leaving a single lane for crowds to get by.
Video- Go for a walk through Universal Orlando
Construction is ramping up around the project with massive new levels.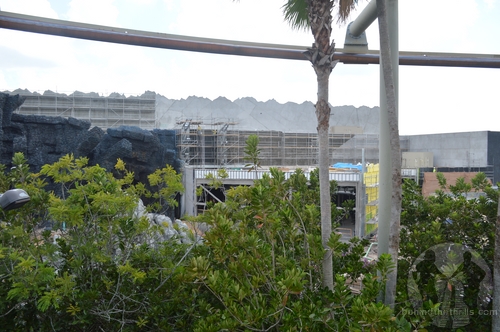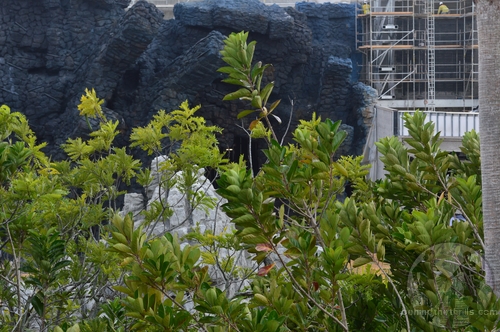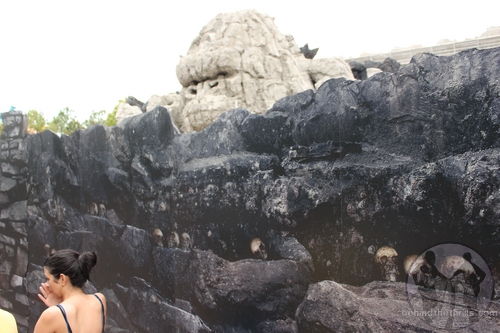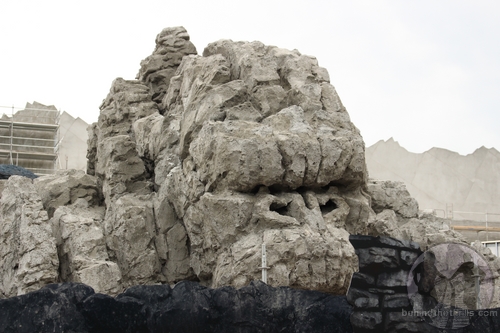 Still, the coolest thing so far about the project has just been revealed, as huge stone heads now peer at guests over the wall. As we walked by, we heard many people saying it was "Indiana Jones", as the entire temple gives off that same kind of vibe. Not many details have been released about the attraction yet, except that guests will embark on jeeps through a newly discovered island. While they try to catalog and document the new species on the island, things will go horribly wrong, and guests will come face to face with the massive Kong.
The ride will use screen technology, along with huge sets. There are even rumors that a massive animatronic Kong will also be on display for the new attraction.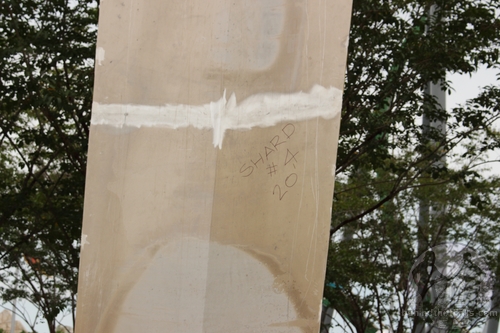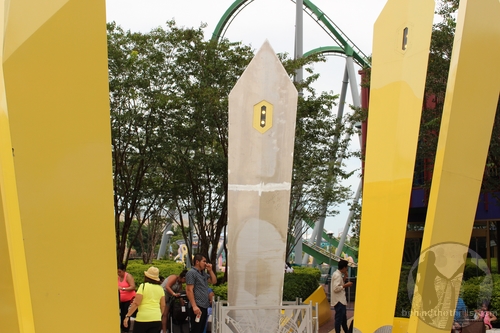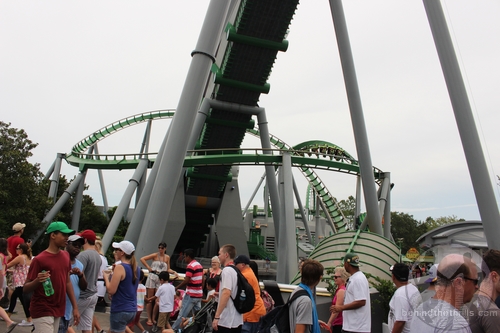 While we aren't exactly sure about what's happening in Marvel, the huge steel beams that use to have pictures of Marvel characters on them are being stripped down, and look like they're being prepped for removal, or at least repainting. Meanwhile rumors and permits say that Hulk will go under the knife later this year for a huge rehab. The rumors are that the coaster is getting a new launch motor, and some major queue work done. There are also rumors out there that the entire coaster will get some major work, with a re-track being suggested. That would be a massive project, and would leave the coaster down for some months, but at this point, it's just a rumor.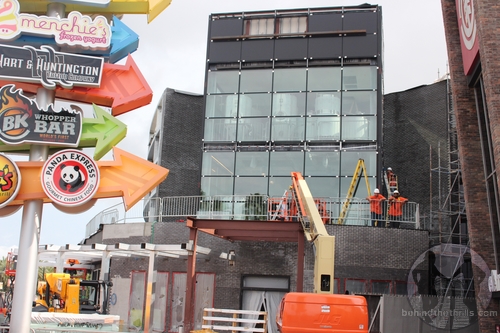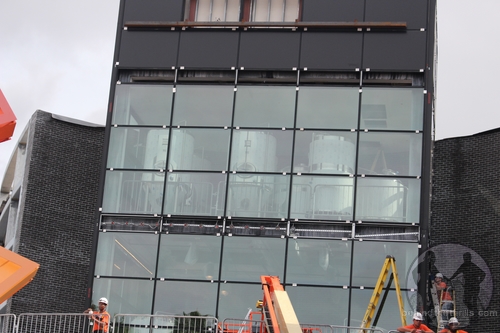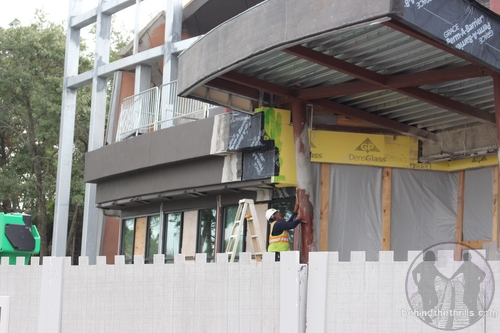 Meanwhile in CityWalk, work on the new NBC sports restaurant continues at an amazing pace. You can see the giant beer kegs going into place, as well as massive new supports for the huge screens that will go up. The new restaurant will open this fall, with tons of televisions, and dozens of beer choices. It's sure to be a popular hang out for locals, as well as those wanting to get caught up with the sports scores on vacation.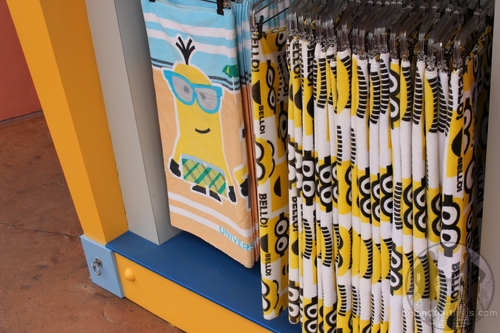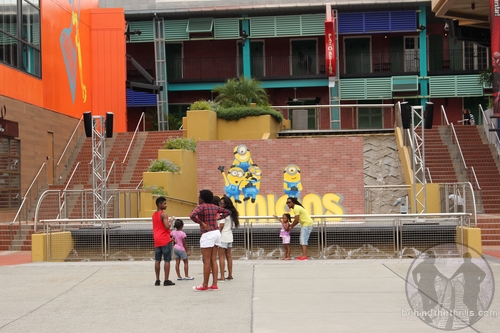 All over the park, Minions have taken over, as their stand alone movie continues to be wildly popular. The film has pulled in over $900 million worldwide, and has been a huge hit at Universal with their massive "Minion Scavenger Hunt". There are also new cool Minion items for sale like "Bee doh! Bee doh's!" which are fiery cinnamon cookies.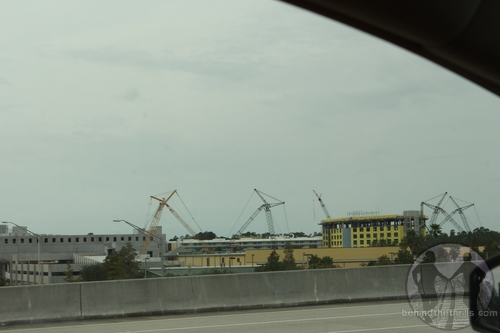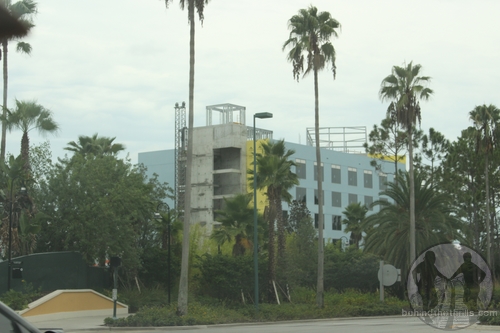 Work on Sapphire Falls continues to progress at an amazing rate. The hotel just announced a July opening date, and guests can start booking their stays now! The new hotel will feature 1,000 guest rooms and will be themed to the Caribbean mountain and river regions.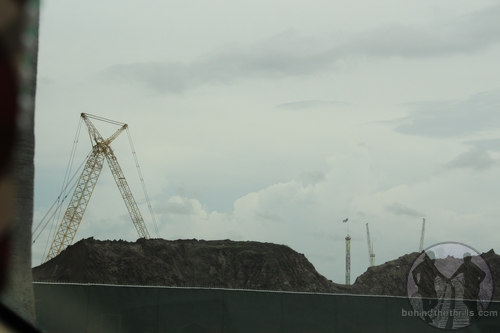 Lots of work also continues on Volcano Bay, as cranes have begun erecting steel for the massive project. Massive mounds of dirt, and pipes are all over the site, but it is slowly starting to come together. We expect this project to go slow at first, then spring to life rather quickly.
Slideshow-Check out even more pictures from around Universal Orlando

Click here if you can't view the slideshow
There are tons of amazing things happening throughout the park, with more on the way. Construction is happening on Halloween Horror Nights preparations, which will continue to progress throughout the month. A sure sign that Bill and Ted is returning, is the closure of Fear Factor Live, and the covering up of the sign. There is construction happening in backstage areas, but they're backstage, and pretty much off limits to guests. More rumors suggest that we'll see Lucy: A Tribute, and Twister go under the knife very soon for huge updates. Twister is rumored to be a flying attraction, which will take us around different areas with Jimmy Fallon. Meanwhile Lucy has been rumored to be many things, including the new Hello Kitty store.
Stay tuned for more from Universal Orlando, and be sure to get social with us on Facebook, and follow along with us on Twitter @BehindThrills for the latest updates!