A man has died after being hit by a coaster at the popular amusement park, Cedar Point, in Sandusky Ohio. The incident happened around 5 p.m. EST on Thursday afternoon. The coaster was immediately shut down, and the park responded to the incident immediately. An investigation is ongoing.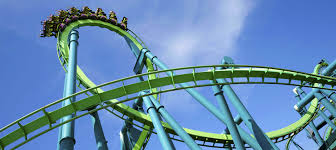 Reports are still coming in, but apparently the man was struck by Raptor at Cedar Point after entering into a restricted area. The coaster is a B&M Inverted coaster, in which riders hang below the track. The coaster reaches top speeds of 57 mph. Fully loaded, the cars weigh around 10,000 pounds.
The park immediately responded:
At 5 pm, a guest entered a restricted, fenced area of Raptor and was struck by the ride. Our thoughts and prayers are with the family.

— Cedar Point (@cedarpoint) August 13, 2015

The coaster opened at the park in 1994, and was one of the top attractions when it opened. There is no word on when the attraction will reopen. Our thoughts and prayers are with the family during this difficult time.
While accidents on coasters are extremely rare, they do happen. Statistically your chances of being injured on a coaster are less than being struck by lightning, bitten by a shark, and winning the lottery.
Unfortunately, it appears that this was the fault of the guest, as preliminary reports have the guest in a restricted area.
A similar incident happened in 2008, when a teen scaled a fence to retrieve his hat in the restricted area of Batman: The Ride. The coaster is also a B&M Inverted coaster.
Update
According to authorities, the man was 45 years old, and entered the area to look for a cell phone that had apparently dropped during the ride. No other guests were hurt during the incident, and very few had noticed something was wrong.
Stay tuned for more from Cedar Point, and be sure to get social with us on Facebook, and follow along with us on Twitter @BehindThrills for the latest updates.
For more information about Cedar Point, including tickets, visit the official website by clicking here.