Happy Coaster Day! Sure, there aren't any greeting cards, and the only proper greeting for National Coaster Day is the sound of screams as riders hurdle over the rails, but National Roller Coaster Day gives us a reason to celebrate what most coasters already know. Coasters are awesome. To celebrate National Roller Coaster Day, we asked you to vote for the coaster you thought was The Great American Coaster, and you did! So what coaster was the most voted? What other coasters made the top ten? Let's run down the list of the top ten "Great American Coasters" as voted by you!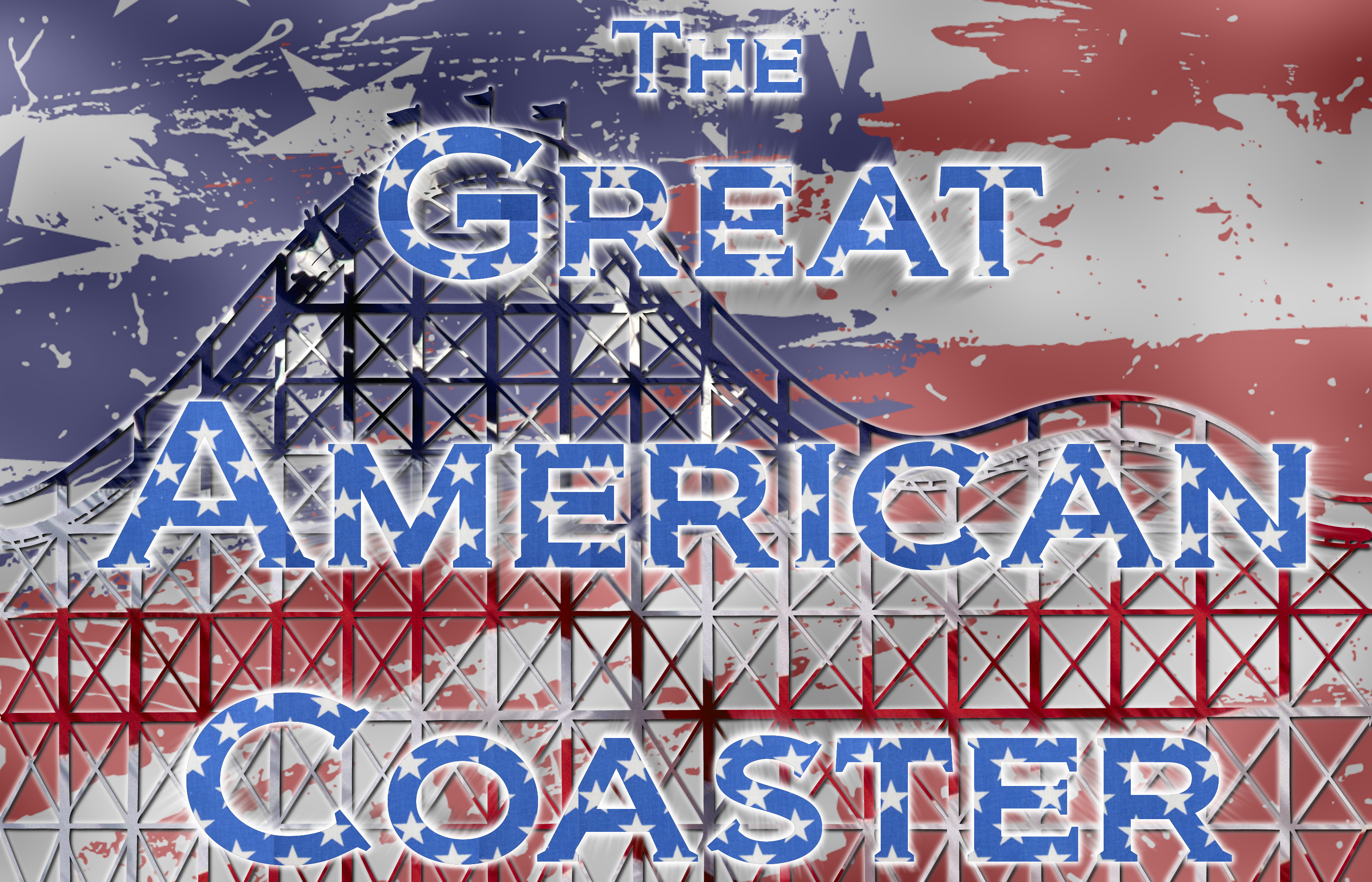 To celebrate National Coaster Day, we took 100 coasters from lists of all kinds. From other awards, to great coaster lists, and even searches here on BehindtheThrills, we gathered the top 50 coasters from both the steel and wooden category, and asked you to vote for your favorites!
Each coaster is located right here, in the United States, and is currently operating. Those were the only two qualifications to be included in the poll. We definitely would have liked to nominate all 684 coasters that call the US home, but we narrowed it down to these 100 coasters. Which ones did you choose?
10. White Lightning: Fun Spot America
Double up, double down. This fun little wooden coaster, smack dab in the middle of Orlando is the ONLY wooden coaster in Orlando. It packs a punch, and is fun for the entire family.
9. Fury 325: Carowinds
This baby is literally, a baby. It's making a huge impact though, as the tallest coaster in the Southeast. At 325 feet tall, and a smooth ride, Fury 325 at Carowinds has made it's mark on the list.
8.The Beast: Kings Island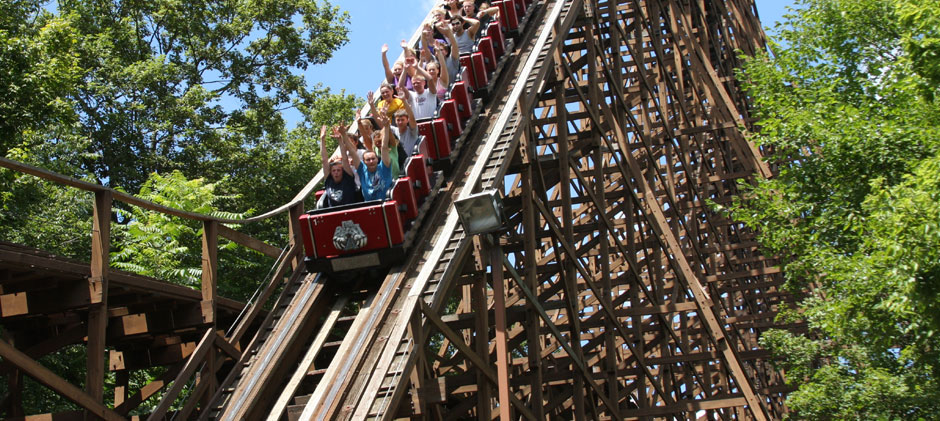 He is the granddaddy of all wooden coasters. Longer, faster, meaner than many coasters today. The Beast is a masterpiece hiding in the woods of Ohio. Can you tame it?
7. Racer: Kennywood
In a park full of classic coasters, Racer is one of the oldest. The coaster was originally built in 1910, before it was torn down, and later rebuilt in 1927. It's one of the oldest coasters in America, and one of the coolest, taking riders on a side by side journey through the park.
Visit the Kennywood site here!
6. Phantom's Revenge: Kennywood
Like most coasters at Kennywood, Phantom's Revenge has a very long history, changing names, and layouts a few times. Since 2000 it is in a consistent battle against other coasters on the top ten list for fastest steel coaster.
Visit the Kennywood site here!

5: Phoenix: Knoebels

Phoenix was reborn at Knoebels in 1985, after being at another park by another name. It is consistently in the top rated wooden coasters in the world.
Visit the official Knoebels Website!
4. Jack Rabbit: Kennywood
Yet another classic Kennywood coaster, Jack Rabbit was built in 1920. Not much has changed about the classic woodie over the almost 100 years since it's construction, and it still remains a favorite.
Visit the Kennywood site here!
3. Millennium Force: Cedar Point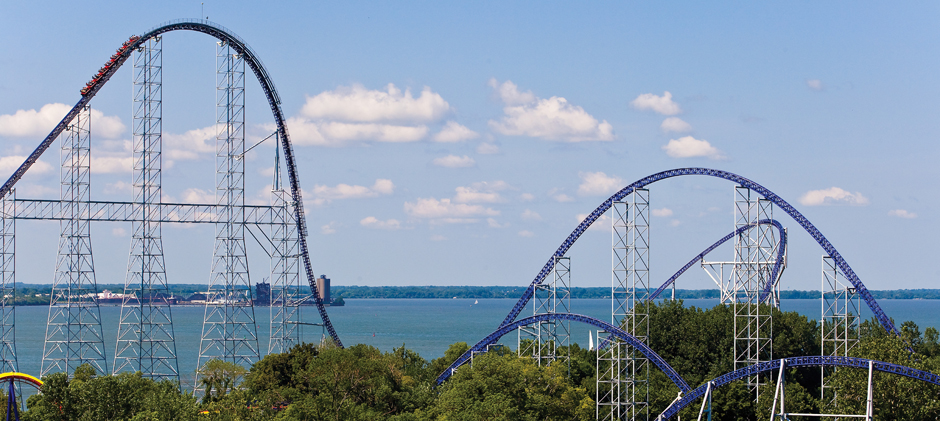 It climbs over Lake Erie to a height of 310 feet, before making a 300 foot drop back down at 93 mph. It was the world's tallest and fastest for just a very short time, but it's been rated #1 on several coaster lists consistently for over a decade.
Visit Cedar Point's website here!
2. Thunderbolt: Kennywood
Apparently Kennywood's fans love them some Thunderbolt. Another great wooden coaster that has seen it's share of rides through the Pennsylvania park. Thunderbolt took the number two spot, ahead of 99 other wooden coasters, including many from it's own park, Kennywood.
Visit the Kennywood site here!
1. Outlaw Run: Silver Dollar City
It's fast, it's steep, it's wood…and it goes upside down! For the second year in a row, Silver Dollar City has taken home the title of The Great American Coaster! It reaches top speeds of 68 mph, after screaming down an 81 degree drop, down 162 feet. It's an insane wooden coaster with three inversions!
Video-Go for a ride on the Great American Coaster: Outlaw Run!
Visit the official Silver Dollar City website by clicking here!
Congratulations to all the winners, and thank you everyone who voted!
We hope you have a great National Coaster Day, and get to enjoy riding the rails on your favorite coaster!
Stay tuned for more coaster fun, and be sure to get social with us on Facebook, and follow along with us on Twitter @BehindThrills for the latest updates!