Are you a Star Wars fan? Are you heading to the New York Comic Con? If you didn't have plans to do so, you might want to change them. Lucasfilm and Disney XD has announced that they will be showing a very special sneak preview of the hit animated show, Star Wars Rebels. The show will return this fall, but fans at the show can see the premiere a little early.
Fans attending New York Comic Con on Thursday, October 8th will receive an exclusive sneak peek of what's to come in the second season of Star Wars Rebels with a panel featuring special guests plus a preview screening of two new episodes from the series.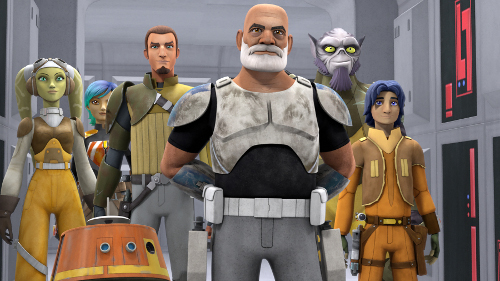 As the second season of Star Wars Rebels opens, the crew of the Ghost is now considered a very real threat to the Empire and has caught the attention of Darth Vader himself. Undeterred, the rebels seek out old friends and add powerful allies to their cause, forming the beginnings of a more formidable alliance against the Empire. To stop them, Vader will dispatch new agents to hunt down their growing coalition, determined to snuff them out before they can ignite a galaxy to rebellion.
The Star Wars Rebels panel will take place on the Empire Stage from 1:30-2:30 p.m. and will be followed by an exclusive screening of two new episodes later on the same stage, from 5:30-6:30 p.m. These all-new episodes will feature the series debut of Captain Rex, Captain Gregor and Commander Wolffe – three clones from the previous Star Wars animated series, Star Wars: The Clone Wars. They join another fan favorite from The Clone Wars – Ahsoka Tano – who made her Star Wars Rebels debut in the final episode of season 1.
Stay tuned for more from Star Wars, and be sure to get social with us on Facebook, and follow along with us on Twitter @BehindThrills for the latest updates!