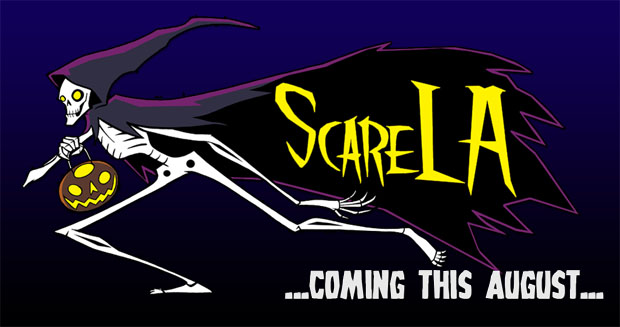 Since ScareLA began just a few short years ago, it has quickly become the go-to convention for Halloween and horror lovers on the west coast. This year is no acception with panels from industry leaders such as Halloween Horror Nights and Knott's Scary Farm, two of the biggest Halloween events on the planet who all plan on showing off the latest and greatest in themed horror.
Saturday August 8, 2015
12:00 PM – The Legend of Disneyland's Hatbox Ghost (Main Stage)
Disney Legend Tony Baxter, renowned artists Kevin Kidney and Jody Daily, and Walt Disney Imagineer Daniel Joseph take to ScareLA's Main Stage to discuss the lore and legend of the Haunted Mansion's most infamous resident, the Hatbox Ghost. Baxter saw the original Hatbox Ghost in The Haunted Mansion when it opened in 1969 and will share his memories. Kevin and Jody created a full-sized Hatbox Ghost for film director Guillermo del Toro. Daniel Joseph was responsible for overseeing the development and installation of Disneyland's new Hatbox Ghost for the park's 60th Anniversary. Legend of Disneyland's Hatbox Ghost will be moderated by the owner, producer and host of the Season Pass Podcast, Doug Barnes.
With the triumphant return of Disneyland's Hatbox Ghost, interest in the lored character has never been higher. In this panel, secrets will be revealed and long awaited questions will be answered. This is a MUST for Haunted Mansion fans.
1:30 PM – Making Monsters: THE ART OF TERROR (Main Stage)
Following in the footsteps of last year's unprecedented Making Monsters panel, ScareLA welcomes Art Directors from Southern California's largest Halloween events; Universal Studios Hollywood's Halloween Horror Nights, Queen Mary's Dark Harbor, Six Flags Magic Mountain's Fright Fest, and Knott's Scary Farm. Theme Park Adventure's Rick West moderates the discussion between these industry professionals regarding their techniques and processes in designing the largest Halloween attractions in the world.
Based on one of last year's most popular panels. Making Monsters returns with a more in-depth look behind the scenes at some of Southern California's largest Halloween events.
3:00 PM – Extreme Haunt Survivors (Main Stage)
In 2013, ScareLA hosted a controversial panel featuring the most extreme haunts in the world. This year, we're bringing them back, along with their victims, with the panel Extreme Haunt Survivors. Extreme haunters Russ McKamey (McKamey Manor), Josh Randall (Blackout), and JT Mollner (Freakling Bros. Victim Experience) are joined on stage by extreme survivors Hannah Kaplan, Russell Eaton, and Tal Beauvais (a psychology major dedicating his thesis to the subject of extreme haunts) to discuss each experience, the challenges, and the emotional aftermath these attractions deliver. Moderated by Theme Park Adventure's Rick West.
If you've ever toyed with the idea of participating in one of many new Extreme Haunts that have been popping up this may be the panel for you. An obviously controversial topic makes for some of the best discussion at ScareLA. Definitely worth your time.
4:30 PM – Universal Studios Hollywood's Halloween Horror Nights (Main Stage)
Need we say more? Who know's what John and Chris will bring with them this year. Maybe an announcement and special guests? We won't be missing this one….
—————————————————————————————————————————————————————————————————
Sunday August 9, 2015
11:30 AM – QUEEN MARY'S DARK HARBOR PRESENTATION (Main Stage)
Find out what scares are in store for this year's haunted attraction on board the world's most haunted ship.
Kicking of Day 2 of ScareLA, Dark Harbor reveals what's in store for this year's huge event. Dark Harbor has solidified its presence in recent years as one of the top Halloween events not to be reckoned with.
4:00 PM – Knott's Scary Farm Presentation
The granddaddy of theme park haunts brings their creative team back to ScareLA to give a taste of the new thrills are store for guests this fall, and how they continue to be one of the most innovative haunts in the world. Panelists include Knott's designers Jon Cooke, Lara Hanneman, Gus Krueger and Daniel Miller.
Knott's returns to ScareLA with a look at this year's very secretive Halloween event. Not much is known what this year will have in store, but perhaps the first gorey details will begin to emerge during this year's panel.
This year's ScareLA looks to be the biggest and baddest ever. With a brand new venue twice the size of last years. This is going to be a must-do for Horror fans in Southern California.
Stay tuned for more from ScareLA including LIVE Coverage, and be sure to get social with us on Facebook and follow along with us on Twitter @BehindThrills for the latest updates!
For more information about ScareLA 2015, including tickets, visit the official website by clicking here!