Welcome to Theme Park 101, where we teach you all we know about everything you need to know about planning your theme park trips. Whether it's picking the right park for your family, finding the right hotel, or beating the crowds, we'll give you the tools needed to make the most of your theme park experience.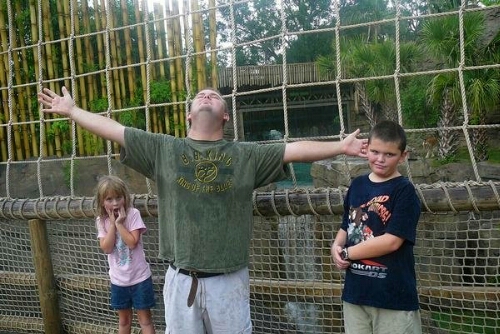 Rainy days at Central Florida theme parks
Today, August 3rd, 2015, Busch Gardens Tampa announced that they would not be open for the day due to inclement weather. Oh no! The day is ruined, it's raining!
Welcome Florida! Phenomenal winter weather, very wet summers. It's a fact of life that summertime in Central Florida is going to be hot, and there's a good chance if you venture out to a park, you'll get wet somewhere in the course of the day…and we're not even talking about water rides!
Most Central Florida theme parks stay opened during inclement weather, that's simply because rain usually comes and goes so fast in Florida that it's just a matter of waiting it out. Thunderstorms roll in anywhere between early afternoon to early evening. Usually, the thunderstorms last about an hour, and move put quickly. In some cases you just get a rainy day.
So should this be a cause to cancel your theme park trips? Heck no!
Rainy days and thunderstorms are the best days to visit theme parks, simply because most people run from the rain. The parks usually become ghost town at the first sign of rain. Unfortunately, Florida is one of the biggest capitals for lightning as well, which means that when the rain moves in, so does the thunder and lightning. As a result, parks will shut down all major outdoor attractions, such as roller coasters, drop towers and water rides.
Parks like Busch Gardens, and SeaWorld have the majority of their attractions outside, so there really is nothing to do, except find shelter, catch a show, or grab some food and wait for the rain to pass.
Other parks like Universal and Disney have tons of rides indoors, so it's just a matter of staying as dry as possible as you go from attraction to attraction.
While most Central Florida theme parks are open 365 days a year, there are occasions when the weather forces them to shut down either early, or for the day. Those cases usually happens when bad weather bis set in for the day, and could cause things like flooding, or has an increase in thunderstorms. Those days, it's just not worth the safety of the park guests, or employees to open.
So what do you do on a rainy day?
Here are our tips to have the most fun if the weather looks bad.
-Take a dry pair of clothes, and keep them somewhere that will stay dry.
-Wear the right footwear. Sneakers are great, but when your feet get wet, they can be a real drag. Try sandals, or Crocs.
-Ponchos actually work pretty well. They're big garbage bag like jackets, with enough room to poke your head through. They keep your head and torso dry, but leave your legs and feet exposed.
-Wait it out! If the rain comes suddenly, wait it out, and watch the crowds run away
Rainy days are a fact of life in the Florida summer, but they don't have to take the fun out of your theme park trips.
Stay tuned for more Theme Park 101, and be sure to get social with us on Facebook and follow along with us on Twitter @BehindThrills for the latest updates!