In what seems to be a twist straight out of the movies, Universal Studios Hollywood has confirmed that 'This is The End', starring James Franco, Seth Rogan,, Jonah Hill, Danny McBride, as well as an army of celebrity cameos and raunchy humor will become a brand new maze at Halloween Horror Nights Hollywood this year. The adaptation of a comedy movie is a first for Halloween Horror Nights as the event usually tends to focus on dark gritty horror and slasher flicks. Fear not however as this movie has potential for some of the best startle scares at the event this year.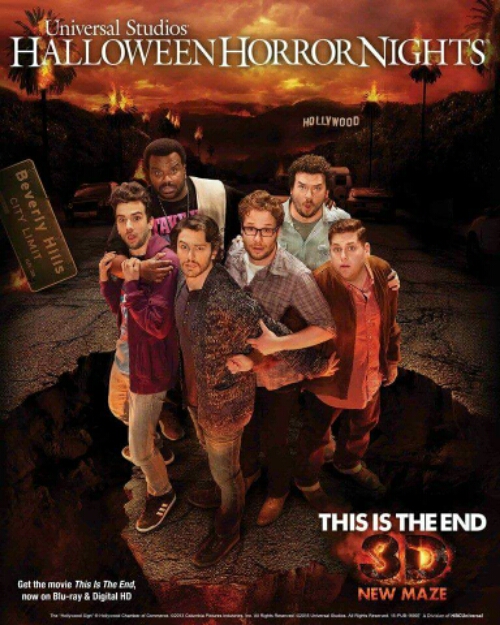 Creative director John Murdy has always wanted to a maze based on the Book of Revelations (a large aspect of the film) and featured a few bits in many of his past works, especially Alice Cooper Goes To Hell 3D which shared many demonic and occult-like similarities with Revelations.
This is the End brings a new dimension of fear to 'Halloween Horror Nights' by fusing the best of two extreme worlds-horror and comedy- to create a literal and figurative three-dimensional experiential version of the film," said John Murdy, Creative Director at Universal Studios Hollywood and Executive Producer of "Halloween Horror Nights."  "Our collaboration with James Franco, Seth Rogen and Jonah Hill to transform this outrageous movie into a terrifying maze underscores the impact of 'Halloween Horror Nights' as one the most influential Halloween events around."
This makes 'This is The End' an absolute perfect fit for HHN Hollywood as John Murdy can now dig deep and bring us a truly mind-blowing revelations experience. This also raises another question, since the film is mainly a comedy this also raises the question as to how they'll work humor into the maze. One scene comes to mind where Jonah Hill is being exorcised while spewing offensive and witty remarks to his cast-mates.
The film also includes demonic genitalia, Channing Tatum in a very provocative role, and Emma Watson (Hermione from Harry Potter) shouting expletives. If half of that is in the maze in Hollywood, it's going to be the surprise hit of HHN.



The house will not only be the comic relief, but also be a 3D house, where all the action jumps out at you. Given the film, 3D should be an amazing fit, with plenty of opportunities for great scares.
This is The End joins an all-star line up of properties for this year's Halloween Horror Nights Hollywood event including Crimson Peak, The Walking Dead, Insidious, and Halloween. A brand new show starring the Jabbawokeez dance crew has also been announced.
Stay tuned for more from Halloween Horror Nights, and be sure to get social with us on Facebook, and follow along with us on Facebook, and Twitter @BehindThrills for the latest updates!
For more information about Halloween Horror Nights Hollywood, including tickets, visit the official website by clicking here!