The terror is just 30 days away, as Halloween Horror Nights Hollywood gets ready to roll out one of the biggest years yet. Tickets for the event are now on sale, and full dates have been released. The event will feature six haunted mazes, four scare zones,  a new Terror Tram experience,  as well as an all new show.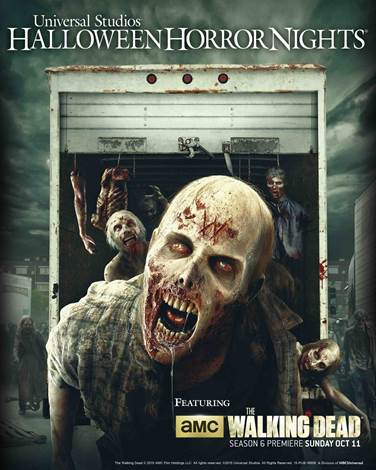 The event dates will kick off on September 18th and will also be on September 19, 25, 26, 27, October 1, 2, 3, 4, 8, 9, 10, 11, 15, 16, 17, 18, 22, 23, 24, 25, 29, 30, 31, and November 1, 2015.
Houses
"Guillermo del Toro Presents Crimson Peak: Maze of Madness" Inspired by the visionary filmmaker who directed, co-wrote and produced the upcoming October 16 Legendary and Universal Pictures feature film. The three-dimensional living replica of the film is designed to send guests spiraling through the chilling world and into the footsteps of Crimson Peak's lead character, Edith Cushing, first as they venture from her home in America, then to the decaying and haunted Allerdale Hall mansion in a remote English countryside. With a foreboding "Beware of Crimson Peak" message that echos from Edith's past, guests will navigate a labyrinth of paranormal tortured souls who have born witness to the estate's dark history of unspeakable acts…and who continue to reside in vengeful, ghostly forms.
 Insidious: Return to the Further investigates unexplained phenomena in the Lambert family's eerie Victorian home as guests find themselves at a séance that unleashes chaos and horror. They'll journey into "The Further" – a supernatural realm that houses tormented spirits – and face deadly ghosts and demons like the Woman in Black and Oxygen Mask Demon, that will stop at nothing to infiltrate the world of the living.
"The Walking Dead: Wolves Not Far" Inspired by season 5 of AMC's critically-acclaimed, Emmy Award®-winning television series, this all-new maze will feature twice as many walkers in the longest and most gruesome maze ever built at Universal Studios Hollywood.  Following in the footsteps of "The Walking Dead" cast, guests will begin their journey at the Terminus safe-haven compound, where an unspeakable hunger has consumed the demented souls of those dwelling within. As the chaos ensues, guests will encounter even greater atrocities as they stumble upon dismembered "W" walkers, witness the horror of victims besieged by the living dead, and step onto the loading dock of the Del Arno Food warehouse to face hordes of "W" walkers.
"This is the End 3D" will come to life in hypnotic 3D. The end of the world will begin as guests head to the ultimate A-list party at James Franco's new Hollywood Hills home before the Apocalypse strikes, and they find themselves trapped in a life-or-death struggle against the demons of the underworld.  With the fate of humanity at the crossroads of heaven and hell, "This is the End 3D" will offer defining moments for those guests brave enough to tempt the devil as their destiny hangs in the balance to be damned for eternity or raptured to heaven engulfed in a sea of blue light.
"Halloween: Michael Meyers Comes Home" will take guests through the tormented town of Haddonfield, where on one fateful Halloween night in 1963, a six-year-old child by the name of Michael Myers inexplicably and brutally stabbed his sister to death with a kitchen knife. Guests will relive the terror that a maniacal Michael Myers inflicted upon the once quiet town after his escape from a psychiatric hospital to take bloody revenge on new and unsuspecting victims.
"AVP: Alien VS. Predator" is back by popular demand to entangle guests in the middle of an epic and primal war between the universe's most deadly species in a horrifying haunted attraction inspired by the Twentieth Century Fox cult sci-fi franchise.  This menacing maze will bring to life the violent creatures cohabitating our world as it pits two rival alien species in a fight to the death with Earth as their battleground.  "AVP:  Alien vs Predator" will uncover a dangerous alien spaceship carrying a race of hunter aliens known as Predators and a threatening new alien life form that uses human hosts to propagate its species.  After crash landing in a remote section of America and escaping to the countryside, the Alien and Predator become hunter and prey with guests caught in the crossfire.
Terror Tram
Terror Tram: Survive the Purge inspired by Universal Pictures' blockbuster film series, invites guests to a disturbing "Purge Party," luring them with exclusive access to the world-famous backlot and thrusting them into the film's depraved world in which all crime is declared legal as part of the government's annually sanctioned 12-hour Purge, and where citizens take to the streets to dispose of the country's less desirable humans without fear of retribution. Recognizing that not all citizens choose to hunt during The Purge, the newly endorsed "Purge Party" welcomes guests to honor this proud national tradition by watching the night's dramatic events unfold on large video screens set up around the famed Universal backlot – until the experience quickly turns into an unforgettable living nightmare.
Shows
Jabbawockeez, the highly-accomplished, award-winning hip hop dance group and universally recognized as America's best dance crew, will bring their innovative choreography, intricate synchronized style and signature white masks to Universal Studios Hollywood in an electrifying all-new show created exclusively for "Halloween Horror Nights." Currently starring in the acclaimed "PRiSM" show at the Luxor in Las Vegas, and following up with a newly reimagined performance at MGM Grand Las Vegas this fall, the Jabbawockeez are considered dance movement pioneers, having shattered the glass ceiling for dance groups worldwide as the first dance crew to ever headline their own show in Las Vegas.
Scare Zones
"The Purge: Urban Nightmare," inspired by Universal Pictures' disturbing blockbuster films, will greet guests with pure unadulterated fear, bringing to life the turmoil and pandemonium that awaits those vulnerable to masked vigilantes in search of new victims during the government's annually sanctioned killing spree.
"Exterminatorz" introduces hideous hybrid creatures—part pests, part human—spawned from years of dangerous chemicals recklessly dumped down the drains by irresponsible humans. These now persecuted pests arise from the cesspools to turn the tables and retaliate on their human oppressors.
"Corpz" features an army of decaying World War I soldiers known as "The Lost Generation," who have risen from their dank, muddy graves to haunt the streets of old Paris.
Krampus, the demonic Christmas Devil, returns in "Dark Christmas," a Pagan-themed scare zone where demonic creatures hunt disobedient children and drag them to hell.
---
Tickets to Halloween Horror Nights Hollywood can be purchased at the gate or online by clicking here. Ticket options include single night tickets, a "Killer Deal Nights" option that offers up to $25 savings and includes a Front of the Line option. Purchasing tickets online in advance is highly recommended as Halloween Horror Nights is known to sell out.
In addition to all the horror that Universal has to offer during Halloween Horror Nights, many of Universal's most popular rides and attractions will also be open during the event.
For more information about Halloween Horror Nights, visit the official website by clicking here.
Be sure to follow us on Facebook, Twitter, and Instagram for more news and theme park fun!