It's Six Flags announcement day! It's the day where coaster fans, and adrenaline junkies all over the country find out all the new insane adventures coming to their favorite coaster park chain, Six Flags! Six Flags Magic Mountain will be bringing an all new attitude to the classic Revolution coaster. The classic coaster is getting a facelift, and some special new trains for 2016.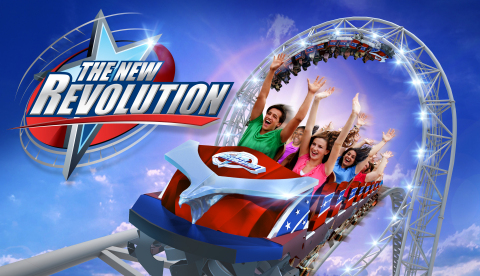 The 40 year old coaster is getting some serious love for 2016, as the park will repaint the coaster with a brilliant new red white and blue scheme, give it new coaster trains, and take away the shoulder harnesses. The New Revolution will debut as part of Magic Mountain's 45th anniversary celebration.
The coaster will get a rehab on the track, trains and provide a much smoother ride. The old version of the ride will get a farewell voyage on September 7th, before being put down for the rehab.
"We are thrilled that one of our signature coasters is getting the innovative ride updates that Six Flags is known for. With the new trains and beautiful paint colors, The New Revolution is certain to be around for many more generations of coaster fans to enjoy," said park president Bonnie Weber.
Stay tuned for more from Six Flags, and be sure to get social with us on Facebook, and follow along with us on Twitter @BehindThrills for the latest updates!
Happy Six Flags Day!
For more information about Six Flags, including tickets, visit the official website by clicking here!