The Whopper is getting all decked out for Halloween, and it's something you have to see to believe. The all new Whopper, which originated in Japan, has made the debut for the Halloween season, and it's just as gruesome as you might think…but it doesn't taste as terrible as you might hope. The new Whopper is out for a limited time, and though it has nothing to do with theme parks, we had to try it, after all…we love Halloween!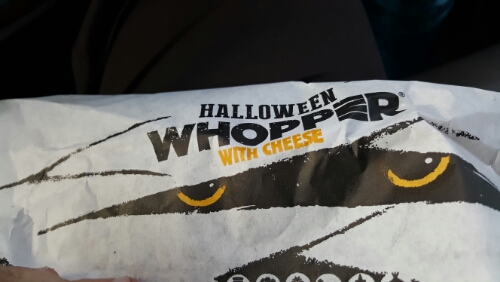 The new Whopper is inspired by the Black Burger from Japan which made its debut last year. The Japanese have a much different palate than we do, so the idea of black everything…even cheese, dyed with squid ink and bamboo charcoal wasn't too bad for them. American audiences would have it. The Halloween Whopper takes your average Whopper, and gives it a black bun…that's it.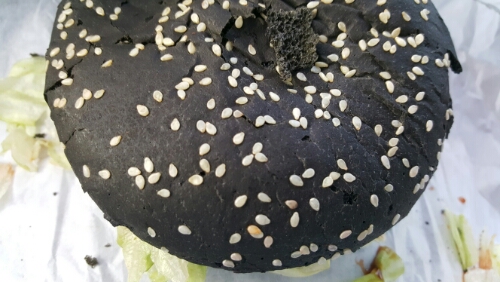 The Halloween Whopper still uses yellow American cheese, but the black bun is what throws it off for most. It looks weird, and most people have the "Green Eggs and Ham" mentality if something looks "yucky".
Video-Taste test the all new Halloween Whopper
The Whopper uses A1 Steak Sauce infused with the bun, and uses the sauce on the sandwich itself. It's not bad, really! It's actually quite good.
Burger King also rolled out the obligatory Oreo Pumpkin Spice shake. It has a great flavor…at first, but just morphs into candle wax. The shake isn't as good as it should be, but it's a good effort.
The Halloween Whopper is the latest fun good idea from Burger King, which has rolled out tons of items that aren't typical for fast food chains. It's definitely worth a try, if only to gross out your more cautious friends.
Stay tuned for more fun, and be sure to get social with us on Facebook and follow along with us on Twitter @BehindThrills for the latest updates!
For our latest theme park videos please be sure to subscribe to us on YouTube!