Our friends Midnight Syndicate are back with an all new album just in time for Halloween. Of course, it's just not Halloween without Midnight Syndicate, so it's the absolute perfect time for a Christmas album. If you know Midnight Syndicate like we do, then you already know that this won't be your typical Christmas album, filled with good tidings. Instead of Holiday Cheer, fans of the new album can expect Yuletide Fear.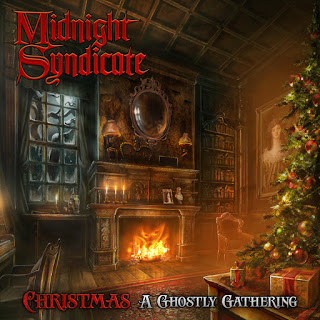 A Ghostly Gathering is the latest studio effort from Midnight Syndicate. It features holiday inspired music, done with the signature Midnight Syndicate sound and style. All of Midnight Syndicate's albums tell a story that you make up in your gead, but this time they give you a more definitive setting, with the holidays.
Their preview track, Up on the Housetop, uses the familiar tone with chains, chants and a darker background than is done traditionally.
http://www.youtube.com/watch?v=XUjpTv6sm3E
  "Our goal was to treat each song in a way that would merge familiarity with originality," said Gavin Goszka. "There are definitely recognizable elements, but plenty of additional original material as well. It also incorporates the widest instrument palette we've used to date and represents what we consider to be the most varied collection of songs we've ever released. There are serenely beautiful moments here alongside more intense, darker tracks, and the end result is a thoroughly compelling and involving listening experience."
"With so many Christmas-themed albums out there, we wanted to make this collection uniquely our own," added Edward Douglas. "I think we were able to do that."
 The new album is available on CD now, and will he available for digital download on October 1st.
Stay tuned for more from Midnight Syndicate, and be sure to get social with us on Facebook and follow along with us on Twitter @BehindThrills for the latest updates!
For more information about A Ghostly Gathering, or to order your copy, visit the official website by clicking here!