It's one of the most beloved stories of all time, that has already had a live action adaptation. However, this new version has the distinction of being directed by Iron Man Director, Jon Favreau, with an all star voice cast that includes Bill Murray, Scarlett Johansson, and the always amazing Idris Elba, not to mention a slew of other super amazing actors. The Jungle Book has had a huge debut already at D23, which was not made available to the public. A new trailer has found it's way online, and it's full of some great visuals, but it doesn't keep that Disney magic.
The trailer for the all new Jungle Book is full of action, adventure, and some really great looking animals. It tells the classic story of Mowgli, a boy raised in the Jungle by wolves, and how he becomes the target for Shere Khan, the tiger.
The trailer does the job of telling you the film is coming, and shows some really great action sequences. It's the first live-action Disney Jungle Book film that has the animals speaking to Mowgli, just like in the animated classic. It also seems to follow the story, with all the great characters, and manipulation of Mowgli by essentially things that want to eat the boy, and use him for their own gain. One great sequence that seems to be captured perfectly is that of Kaa, the snake, voiced by Scarlett Johansson.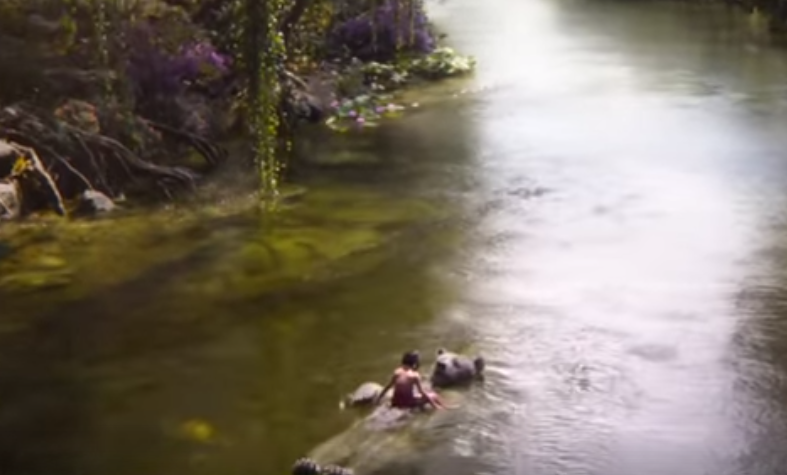 Another great sequence is Mowgli and Baloo floating down the river. However, we have to tell you that the D23 presentation was a much better look, with an instrumental version of "The Bear Necessities" overlaying the entire thing. It was longer, had more animals, and yes…had that Disney magic that we hope to see.
This isn't the first Jungle Book film, or even the first live-action Jungle Book film. Disney tried with a big-screen live action version, then a direct to video version in the 90's. Of course, the most beloved is the classic Disney animated version, but another great version is the 1942 live action film starring Sabu, and directed by the Korda Brothers. It was criticized for being too far from the original story, but was a great film for the time, and featured a very unique take on the film.
The Jungle Book hits theaters on April 15th 2016, andpromises to be an amazing new spin on the classic tale.
Stay tuned for more from Disney, and be sure to get social with us on Facebook, and follow along with us on Twitter @BehindThrills for the latest updates!