Halloween Horror Nights is a brand that is recognized all over the world, thanks in large part for the legacy of horror that Universal  has been building since the days of the classic monsters. This year, Universal Orlando celebrates 25 years of bringing horror to life, and creating their own brand of horror icons. We had the chance to check out this year's line up, and see what terrors lurk in the nine mazes, five scare zones, and two shows. It's a massive line up, but that's only fitting for a quarter of a century of terror.
The evening started off with a special appearance by the first icon that Universal created, the Clown Prince of Chaos,  Jack. Jack has been a staple of Halloween Horror Nights since 2000, when he was created by a team of Universal Creative that included J. Michael Roddy and Kim Grommol, among many others. His personality, voice and his being was and has always been James Keaton, who seems to have been born to be the evil ringmaster. Together, Universal has once again brought Jack back to the forefront of HHN.
Video-Jack arrives at HHN 25
Of course it wouldn't be a celebration without some special guests to help get the party started. Director John Landis, Producer and head of KNB Effects,  Greg Nicotero and Chandler Riggs from The Walking Dead joined Universal Creative Jim Timon and Michael Aiello for a Q&A session, as well as insight on the event, movies, fatherhood and horror.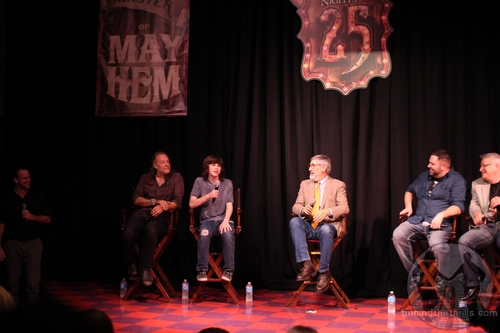 Video-Full HHN opening night panel

The real attractions, however are the nine mazes that change almost every year. We stayed almost, because for the first time ever Universal Orlando has brought back a maze in a way that is almost the exact same as it was when it first premiered two years ago.
We're going to give you a brief rundown of the mazes, scare zones and shows. We're also going to stay as Spoiler free as possible. We'll tell you what we liked, didn't like, and what worked.
Mazes
As has been mentioned, there are nine mazes this year at HHN. That is more than ever, and honestly it makes the need for extra planning, and extra comfortable shoes. Also this year's line up is extremely diverse. There are so many different themes at play, that there is so much for just about every taste. It's one of the most diverse and interesting years to date. There is also a huge visible push to shut the fan complaints down with throwback houses, and mash ups of characters, and new ideas while keeping newcomers happy with big name horror franchises.
*Special Note-Filming is not allowed in houses at Halloween Horror Nights. We were given special access to film highlights of two mazes at the event. We've teamed up with a few other websites, and are bringing you their videos to help give you an idea of what to expect at HHN 25. Again, filming is not allowed in houses/mazes at HHN in Orlando.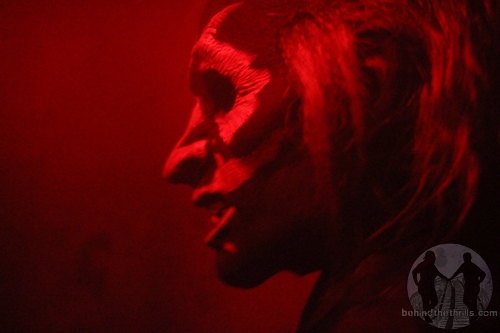 Insidious
Universal once again proves that you don't need a huge Soundstage to make a gorgeous and effective house. This maze takes place in the realm created by all three Insidious films, and sees guests come face to face with demons, monsters and ghosts as they go into the Further. It has a great vibe that the movies created, and uses some great special effects.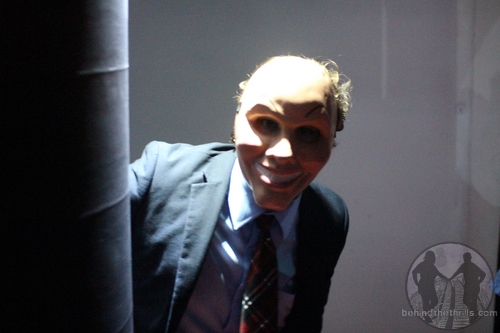 The Purge
While this house doesn't take place in any one film, it definitely plays in the world of the films, where everyone is basically just out to be as insane, and as bloodthirsty as possible. The house definitely uses some of the elements from the film, but doesn't stick to a story, because of that, it's rather hard to follow what exactly is going on…but you don't have to know what's going on to have the hell scared out of you.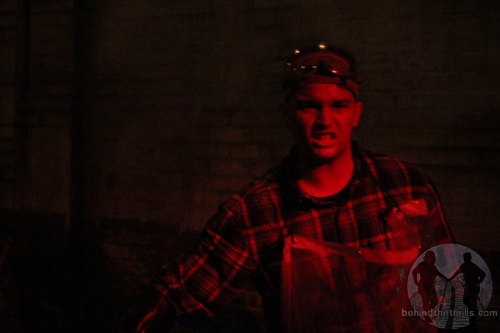 The Walking Dead:The Living and The Dead
The popular zombie series returns yet again, for a fourth year at Halloween Horror Nights. This may be a little upsetting, or disappointing to long time fans of Halloween Horror Nights, but plain and simple, this maze isn't made for you. It's made for those who love the show. This year's entry takes guests through Terminus, and into the bowels of the processing center. It also takes guests through the flooded food bank, and into Alexandria. There are larger set pieces, which shove you into small walkways, making for a more claustrophobic experience, as Walkers come at you from all angles.
Video-Check out highlights of The Walking Dead: The Living and the Dead at HHN 25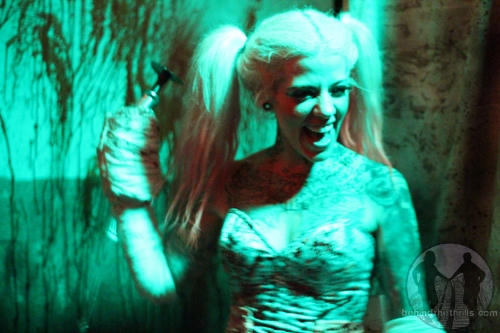 RUN:Blood, Sweat and Fears
This house is a nod to a house from 2001 in which chainlink fences and Eddie tormented guests. It was based on a game show then, but now the theme has taken on an all new life, as it's based in a society where the Cuban Missile Crisis was never negotiated…nope, we just blew up Cuba. Now the United States is a corporation, and TV is run by the government. The most popular show is RUN, where Reapers hunt down guests on the quest for fabulous prizes. This is also one of the cooler mashups, with RUN taking place in Hellgate Prison from HHN 14. While there's not much of the prison, besides bars, RUN does take on a lot more fun, with killers from each country trying to kill you in every room. It's a fun concept that could get a lot more fun as the event "RUNS" on.
Video-RUN with Micechat through Blood, Sweat and Fears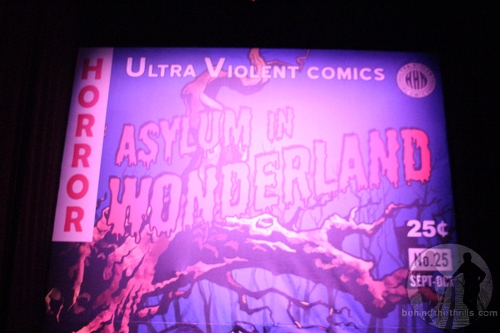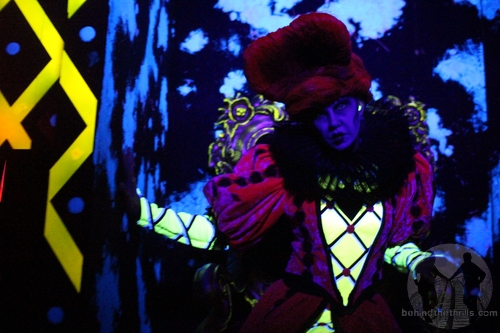 Asylum in Wonderland in 3D
How far down the rabbit hole are you willing to go? We go inside of an "Ultra Violent" comic to the Asylum in Wonderland. It's a 3D blacklight take on the whole story of Alice in Wonderland, and it's also a great way to get some really weird scares. Now, unlike other versions that HHN has told before, this isn't extremely violent…I mean, in a way it is, because all of the characters seem to want to kill you, but there ins't a whole lot of blood…until you reach a certain point in the maze. It's definitely fun, and has some great theatrics behind it. It also uses that cool, spinny, vortex thing to the utmost potential. At the end we're left wondering if Alice actually went down the rabbit hole, or if she's completely insane. The house definitely has a fun feel to it, and is played more for spectacle than scares, which completely works…because the house is extremely gorgeous in it's interpretation of Wonderland.
Video-Check out Asylum in Wonderland from Inside The Magic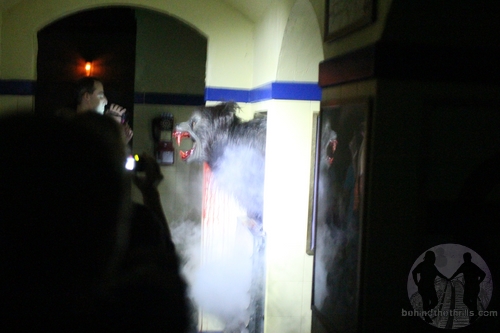 An American Werewolf in London
This maze was such a huge hit when it first came out two years ago that the designers and creative team at HHN decided to let the maze have one more run. For the most part…it's the same exact run. There are little things that have changed over the two iterations, but essentially it's the exact same. While it's great for those who have never experienced the maze, for those who have, it offers very little to surprise. The only really noticeable difference is that the wolves are much larger, more aggressive, and bloodier. It makes everything seem more intense when you have these huge animals lunging at you in the dark.
Video-Check out An American Werewolf in London 2015 from MiceChat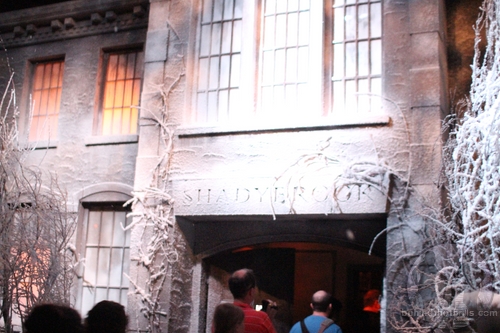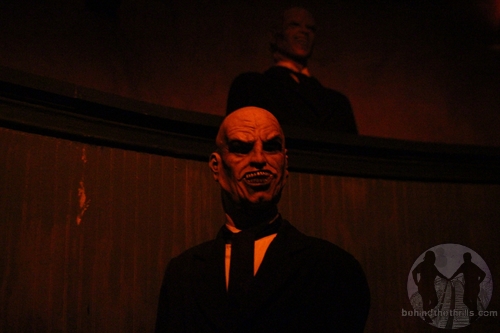 Body Collectors: Recollections
This house is such a great idea that could be perfect if given just a few more tweaks. Once again, HHN toys with two great original ideas, and mashes up Body Collectors with Psychoscarepy. Both houses have had several iterations at the event, and both tell great stories. Now we get to a new chapter in the story that not only shows how the Body Collectors are created, but also how Shadybrook could have turned into a place where bad things always tend to happen. The house does a great job of setting up the story from the get go, of a sanitarium that is caught in the real life blizzard of 1888. Everything is covered in snow, and it's as cold as you can get in a soundstage house that is shared with other houses. It's not freezing, but it's definitely colder than normal. Body Collectors are running rampant, and free to conduct their experiments, while the blizzard rages on. There are several of the Body Collectors staples at play here, including the ultra violent "spine girl" scene. Always a favorite. The one thing missing, however, is any bathroom scene that smells like the original Psychoscarepy. Of course, we're pretty sure it's because things haven't deteriorated that far…yet. Still a great house that can better over the course of the event. Maybe more "gentlemen"?
Video-Check out a clip of Body Collectors from Inside the Magic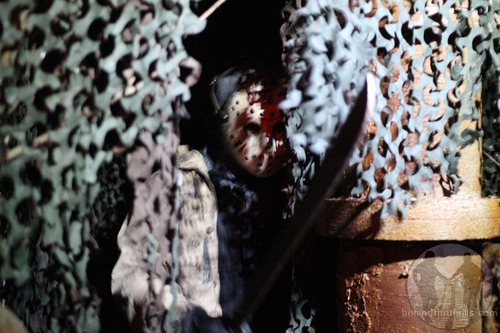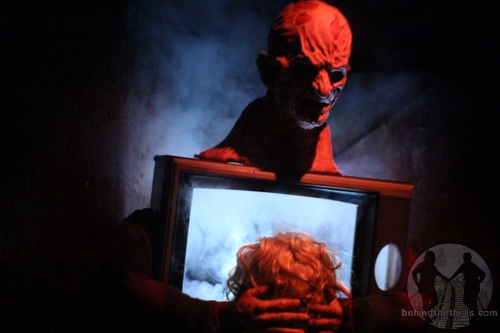 Freddy vs. Jason
This maze is a lot more fun than it should be, probably because it doesn't follow the Freddy vs. Jason film. Instead, it seems to take place in both franchises (Friday the 13th, and Elm Street) and brings the worlds of both characters to life. We visit Camp Crystal Lake, and see Jason in action, and then we visit 1428 Elm Street to see Freddy in action. Then we see them both drag each other into nightmare worlds, and have one final battle. This house uses all the tricks, including huge screens. It's a little bit about timing, but they do some crazy stuff. It also helps that Jason is HUGE, with the actors playing the machete maniac measuring over 6'3″, so they tower over most. There's also some very sick scenic elements, with all of your favorite kills from each killer. Also, the winner changes every so often, so you're not sure just how it's going to end.
Video-Check out the epic battle of evil vs. evil in Freddy vs. Jason!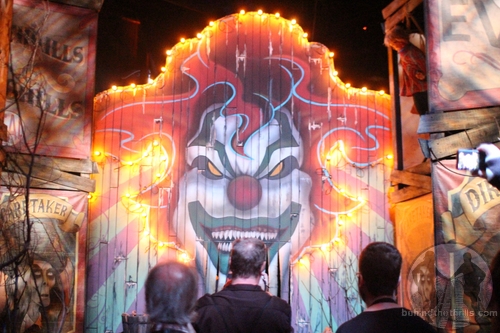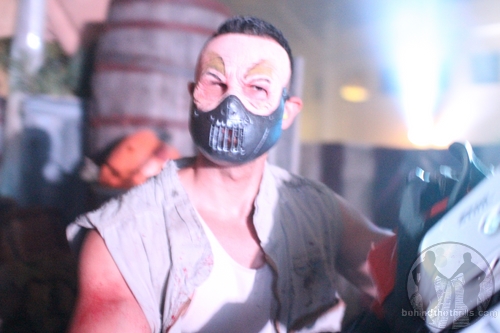 Jack Presents: 25 Years of Monsters and Mayhem
So this is the one that every single HHN fan has been waiting for…ever. This huge house (and it's the longest of the event) has it's lips firmly planted on the cheek of every single fan. It's the sweet kiss and thank you for being fans for so long. It has all of the best parts of the last five years, as well as the best characters from the past 25 years. You're talking huge mashups of characters and sets, icons all over the place…and of course Jack out the yang! The house is a collection of creatures and monsters, but instead of everything just being kind of all over the place, it all kind of has a purpose…and kind of bleeds into each other. You'll have the Caretaker in the basement of the house from Dead End (the funeral parlor), and the tank from Nightingales crashing through the Cathedral in Gothic. It's all here! Sure, there are some favorites missing, but for the most part all of your favorites get very heavy nods here…even some of the forgotten icons. Fans will be giddy looking at all the cool stuff, and those who are new will have the hell scared out of them by some of the best in the 25 year history of the event.
Video-Check out Jack Presents: 25 Years of Monsters and Mayhem from Attractions Magazine
Scare Zones
This year there are five scare zones, most of which have something new throughout the night. It's a lot of fun to go through multiple times and see what changes, and it's also a challenge to try and get the little shows that pop up periodically throughout the night.
HHN Icons
This scare zone takes four of the main icons of the past 25 years, and puts them in little vignettes all their own. We basically see recreations of their commercials throughout the night, and we get to see some great stories told out over the night. There are also tons of different characters roaming around throughout the night, all from the past. It's a great photo op scare zone, but also a great place for scares as guests are posing for pictures.
Video-Walk through with the Icons of HHN
Evils Roots
This scare zone mixes a few scare zones, and brings out some great traditional characters. You also get some really amazing scenery with pumpkins, lanterns and scare crows all over the place.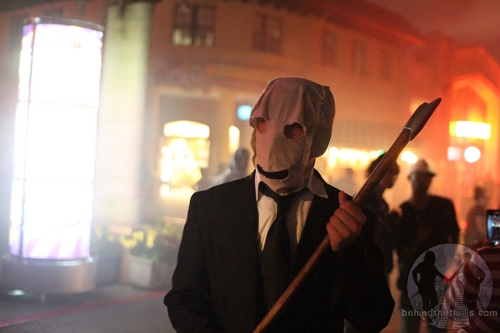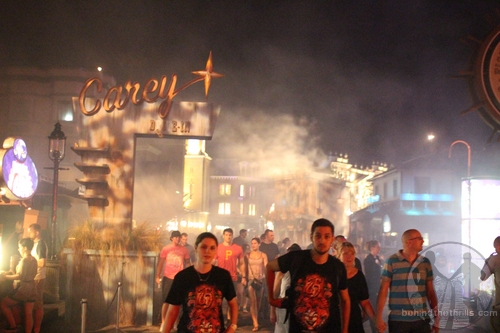 All Nite Die-In
This is a fun scare zone. The Carey Drive-In theater is home to both modern horror films, as well as classic monsters. The classic monsters all are done in gray scale paint, so that you have a true black and white look. The modern horror films are done in full color. Both rotate throughout the night, and you really never know just who you'll see roaming around.
Scary Tales-Scream Punk
There definitely could have been a little more to this scare zone, but for what it is, it's really pretty cool. Characters roam around, just scaring the hell out of guests, looking for victims. Twisted takes on fairy tales, with some unique steampunk twists.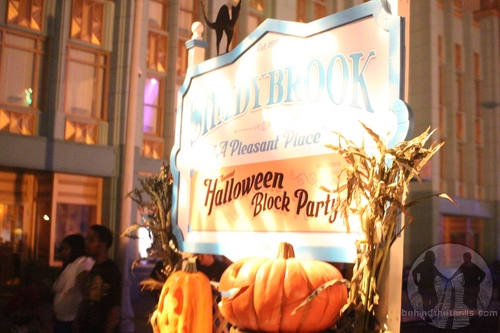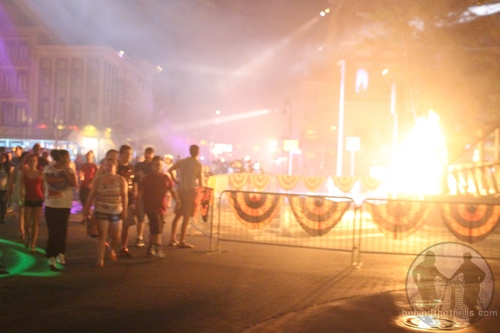 Psychoscarepy-Unleashed
This one is more fun than it should be. The backdrop of New York is pretty effective, and the roaming characters get from Mummy, all the way over to Transformers to play in. Sometimes, that wide area makes for sparse scares, but over all it's a blast. There are costume contests, apple bobbing and pumpkin carving, all done in that "special" Shadybrook way. It's also the first time that Shadybrook has taken to the streets.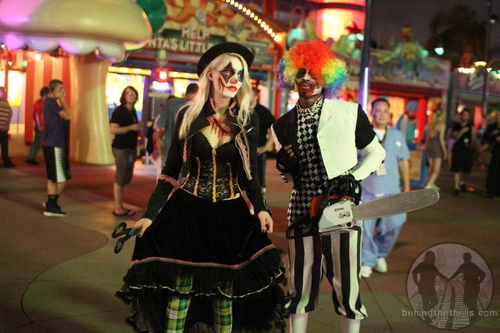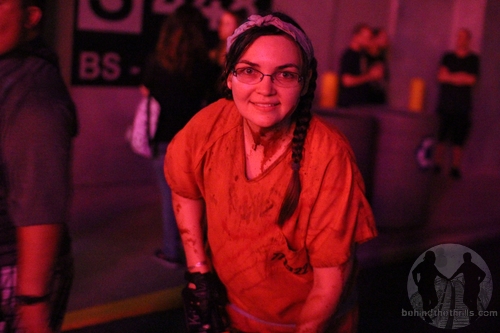 There are also roaming hoards of chainsaw maniacs roaming around. From the standard Chainsaw Drill Team, to female prisoners with chainsaws to psycho clowns…with Chainsaws, there are chainsaws everywhere this year!
Shows
Two huge shows this year, both insanely fun…one just insane. Jack's Carnage Returns sees the pretty cool, insanely gory magic type show go unchecked, and it's flat out amazing. It's gory, it's bloody, it's offensive, and damn is it good to see Jack back!
Bill n Ted are back, and they've brought some really cool old friends. They're also a little more offensive this year, than usual…and that's pretty good with us. The show is very self aware, and makes jokes at themselves, and others (looking at you Disney). It also takes some great stabs at pop culture, and the upcoming presidential race. There are a few returning jokes, which are honestly even funnier this time around…somehow. (Knock, knock! Who's There? Tail Sex, boop! )The gang is just having a ton of fun, and it shows. Besides, it's just not Halloween without Bill and Ted!
Slideshow-Check out tons of pictures from HHN 25!
Click here if you can't view the slideshow
Overall this year is the perfect mix of original content, and IP properties. It's also very nice to have a central icon back, even if he isn't bridging the entire story together. It's something that we hope continues in the future. The house line up is pretty solid, but it's the streets and the shows that help knock it out of the park. This is by far one of the better events in years, and if you miss it, you're really missing out on one of the legendary years of HHN lore that builds legions of fans.
Stay tuned for more from Halloween Horror Nights 25, and be sure to get social with us on Facebook, and follow along with us on Twitter @BehindThrills for the latest updates!
For more information about Halloween Horror Nights at Universal Orlando, including tickets, visit the official website by clicking here!