It's that time of year again, haunt season has returned, and this year it comes back to Universal Studios Hollywood with a vengeance. The annual bloody, gory, and amazingly detailed event that is Halloween Horror Nights returns to Universal Studios with what could possibly be the strangest and most eclectic mix of mazes, scare zones and shows to date. From psychopathic killers, to a house that holds on a little too much, to even Armageddon, there is a completely different feel to Halloween Horror Nights Hollywood this year that just simply works. We had the chance to check out the event on opening night, and we'll take you through every maze, scare zone, and put you right in the middle of the all new show, directly from Vegas.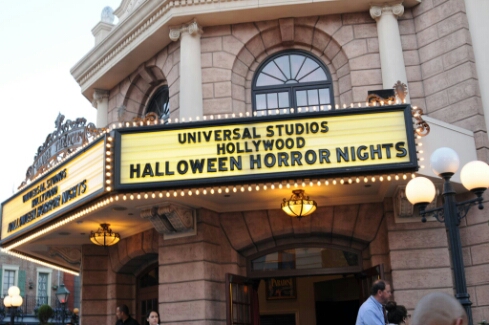 When you think of Halloween Horror Nights, you definitely know there will tons of great new mazes, and just insane amounts of detail. This year takes that expectation to an all new level with five all new mazes, and a returning favorite from last year. The event also marks the return of a show to the event, after the closing of Bill and Ted's Excellent Halloween Adventure in late 2013. If that wasn't enough Terror Tram takes you through the gritty, and unhinged world of The Purge, while scare zones pack the streets with bugs, Christmas and sexy dancing girls who want to eat your heart out…literally.
Mazes
The mazes this year are probably the most unique and fun line up in recent memory. There is no rhyme or reason to these mazes, they're just here to scare the hell out of you, and in some cases make you laugh. That's exactly what they do with just an eclectic mix of hilarity, brutality and carnage. We're going to take you through the mazes, and keep you as spoiler free as possible.
This is the End 3D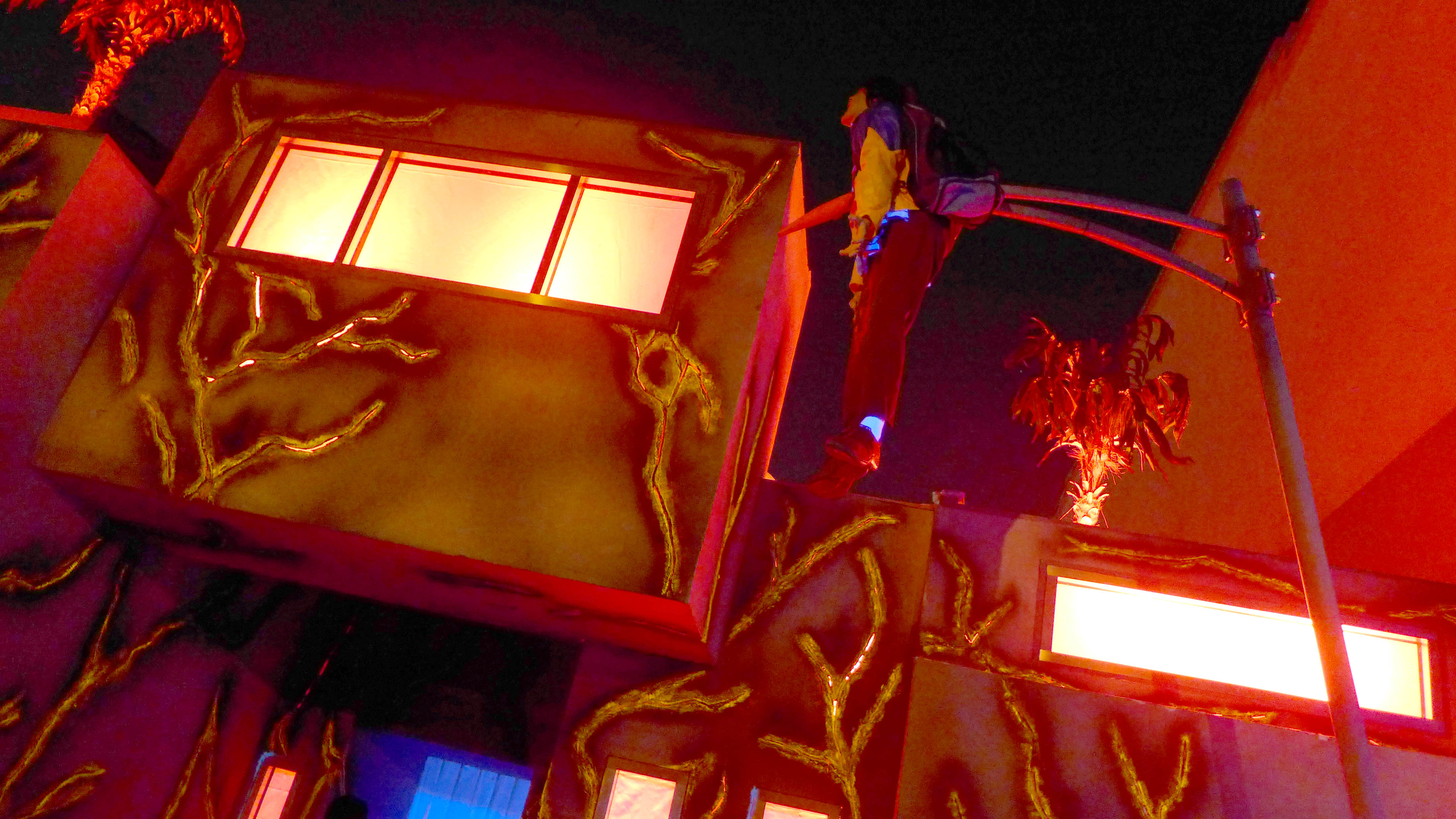 This is the end was a head scratcher that had people puzzled. How in the world could you get horror out of a comedy? Well, they've been doing it for years at Universal, and this one just seemed to fit. This is the End is essentially a tale about the end of the world, biblical style. It's unique in the fact that it uses actors, playing themselves, to tell the story and make fun of themselves. The maze, however could have gone either way…and surprisingly it works. Everything from the raunchy movie is here, though toned down a bit and censored a little for a hard Pg-13 crowd. It's definitely one of the edgier mazes in HHN history, and it pays off huge. It doesn't exactly follow the film 100%, but it is a lot of fun, and 3D makes it pop.  Welcome to Heaven Motherf*#$&rs!
Video-Battle your way to heaven in This is the End at HHN Hollywood!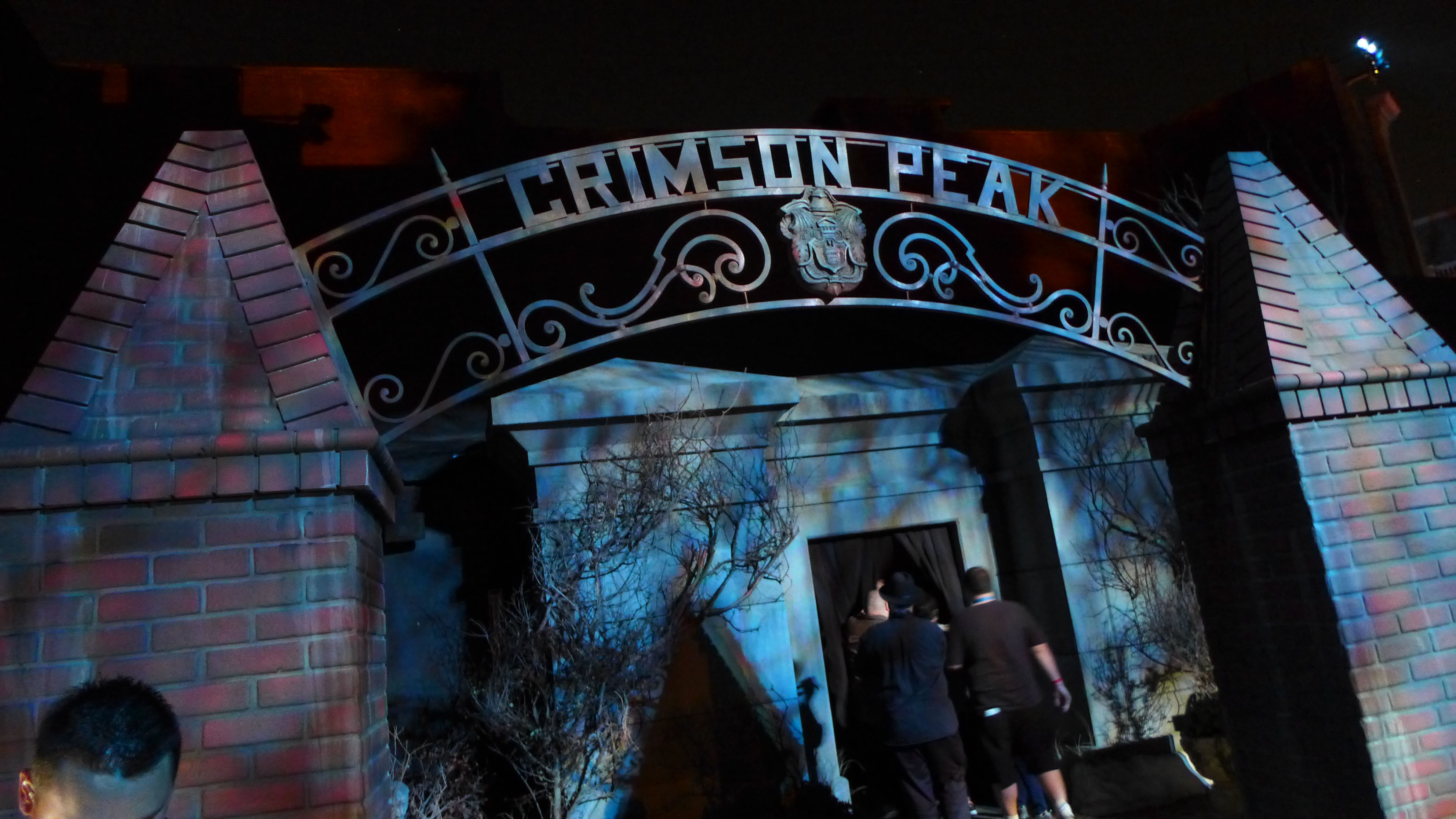 Crimson Peak: Maze of Madness
Let's hope the maze is an indication of how insane and intense the movie will be. For the second year in a row, Universal teamed up with Legendary to bring their huge new horror film to theaters before it's even released in theaters. This year it's Guillermo Del Toro's Gothic chiller, Crimson Peak. The all new maze puts guests right into the tale of a marriage gone horribly, horribly wrong, when a new bride moves into her husbands family home, only to find that sometimes the house just doesn't let the past go.
Video-Walk through the madness of Crimson Peak
AVP: Alien Vs Predator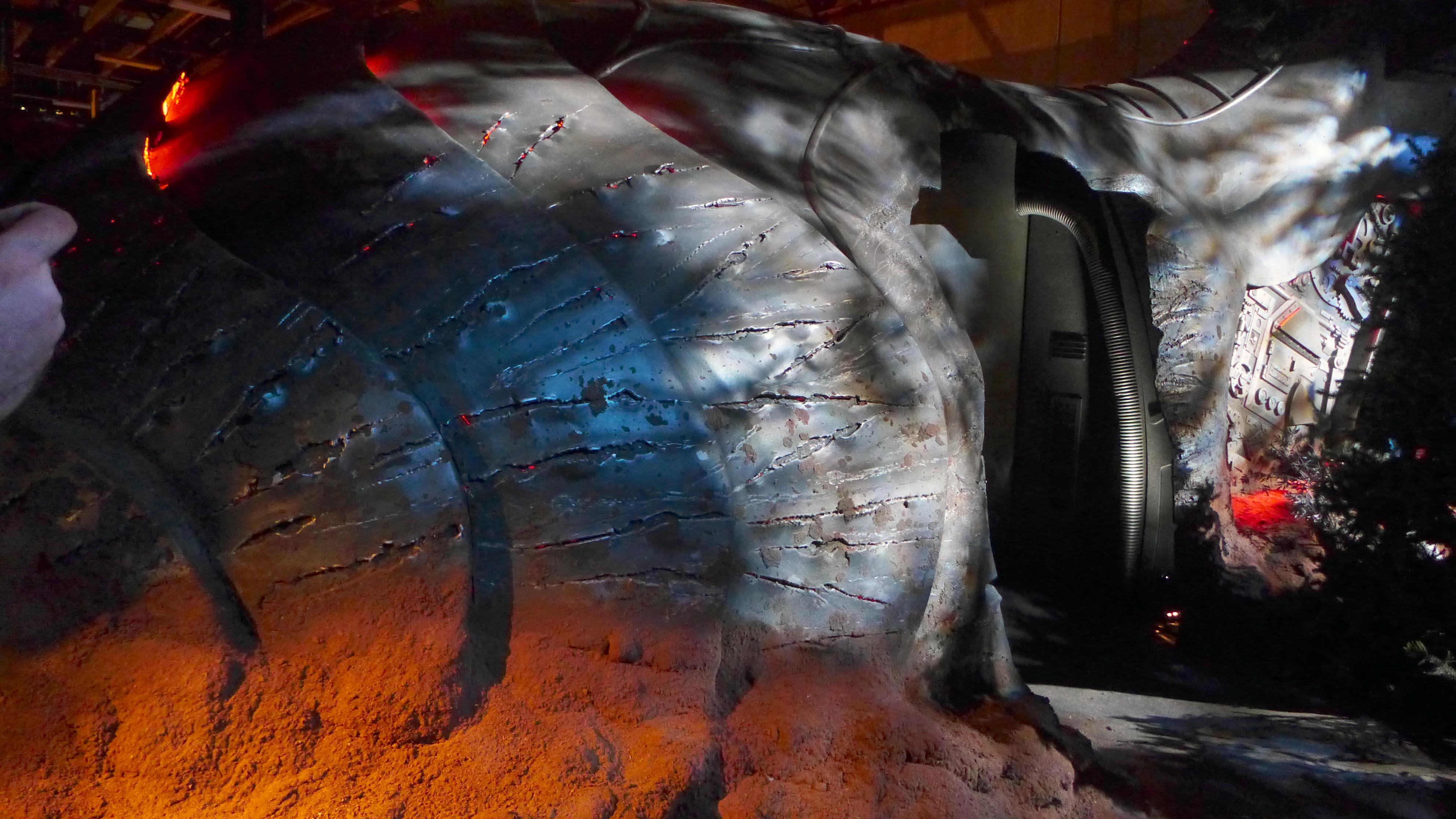 Yes, the bitch is back! This mean mother was designed to be a two year house, simply because it's too big, too beautiful and too intense to only have it one year. Alien vs. Predator puts guests into the epic battle of evil vs. evil when two galactic forces crash land on earth. It is a little familiar for those who have seen it last year, but the maze has gotten tweaks on lighting, sound and some touch ups on the puppets that make them all the more terrifying.
Video-Battle for your life in AvP!
Halloween: Michael Myers Comes Home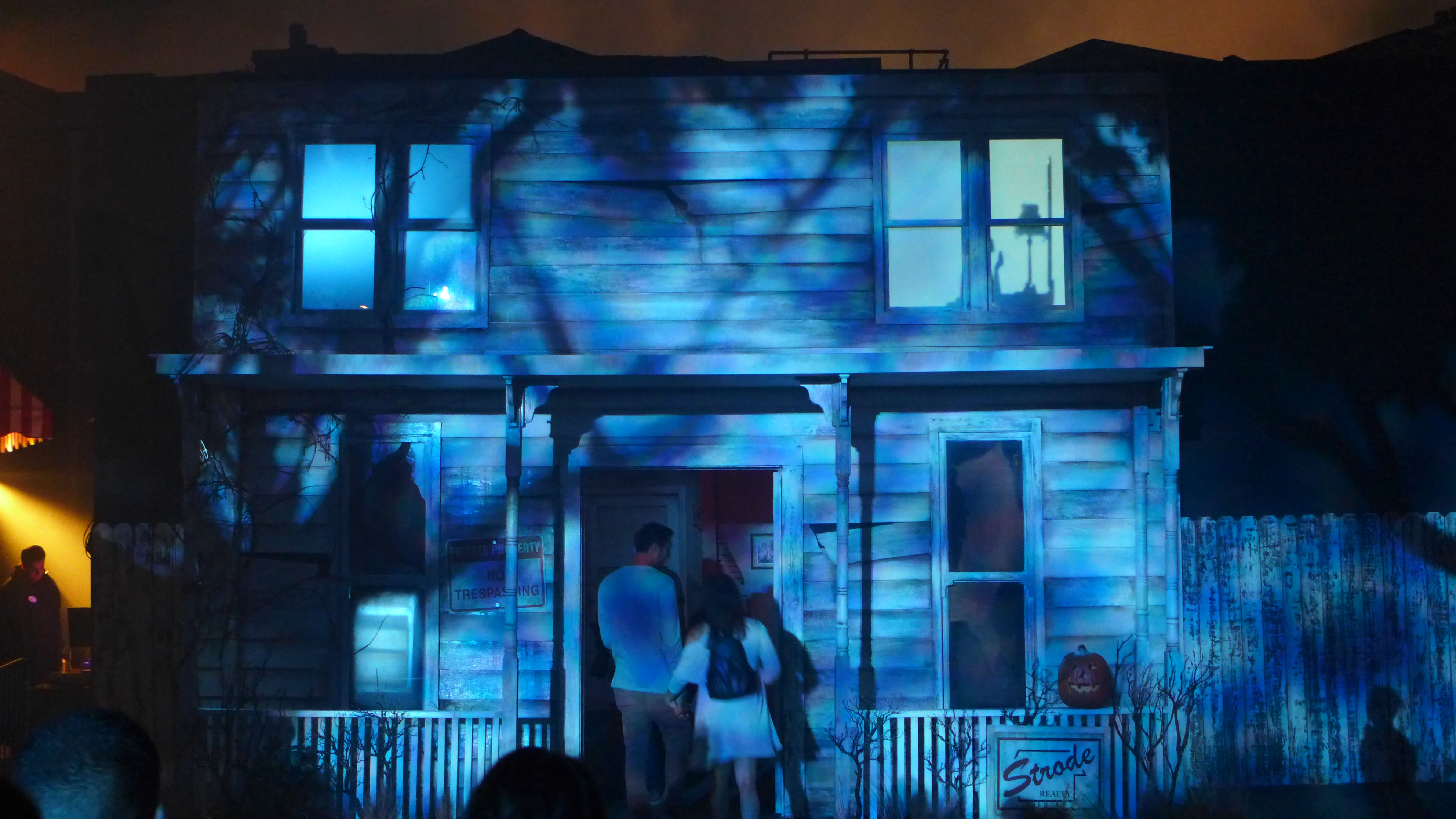 The most recognizable name in horror comes from the movie with the name of the most horrific holiday. Halloween: Michael Myers Comes Home isn't the first foray into the film franchise for HHN Hollywood, but it's the most detailed, and most faithful to the original film. The maze takes you into the movie and pushes you through all of the famous scenes, and kills of the first 1978 classic film from John Carpenter. It's not a pure retelling of the film, but it definitely touches on the key important scenes, and does an amazing job with the set and the scares.
Video-Come face to face with terror as Michael Myers comes home to HHN
The Walking Dead: Wolves Not Far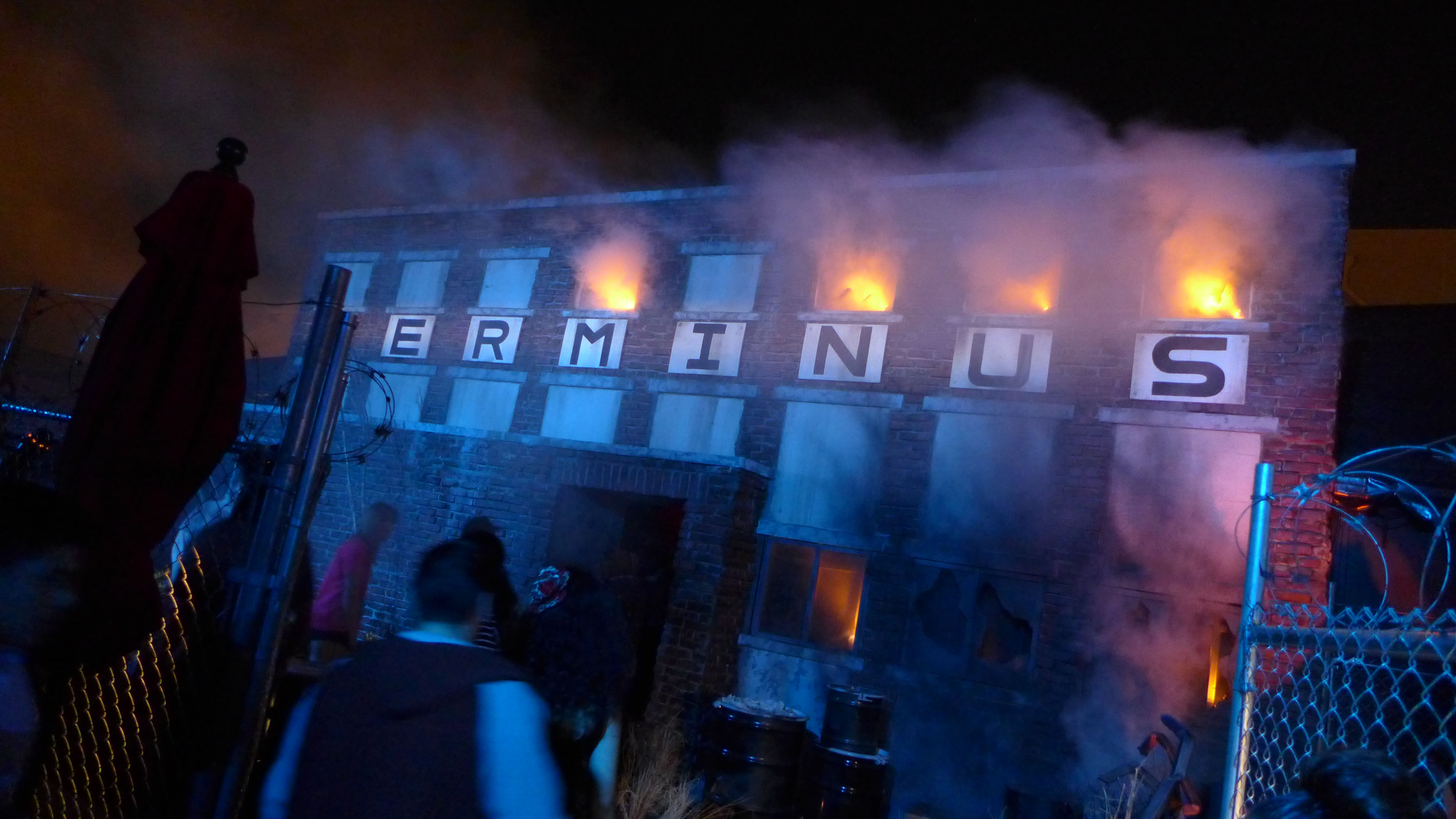 It is the longest house in HHN Hollywood History, and I'd wager it's the longest house in all of HHN history all over the world. The annual trip into the Walking Dead is meant as a big love letter for the fans, as the series marks it's fourth year at HHN. However, it is really damn good! The scares are non stop, and the effects are just on point. You go from Terminus in the beginning of season five, and it's on fire…things aren't right, as Carol has just torched the place. You get to see why she did it, and you get to see things go from bad to worse, to hell. It's all here, everything form season five, and it's surprisingly intense.
Video-Fight Walkers with The Walking Dead: Wolves Not Far
Insidious: Return to the Further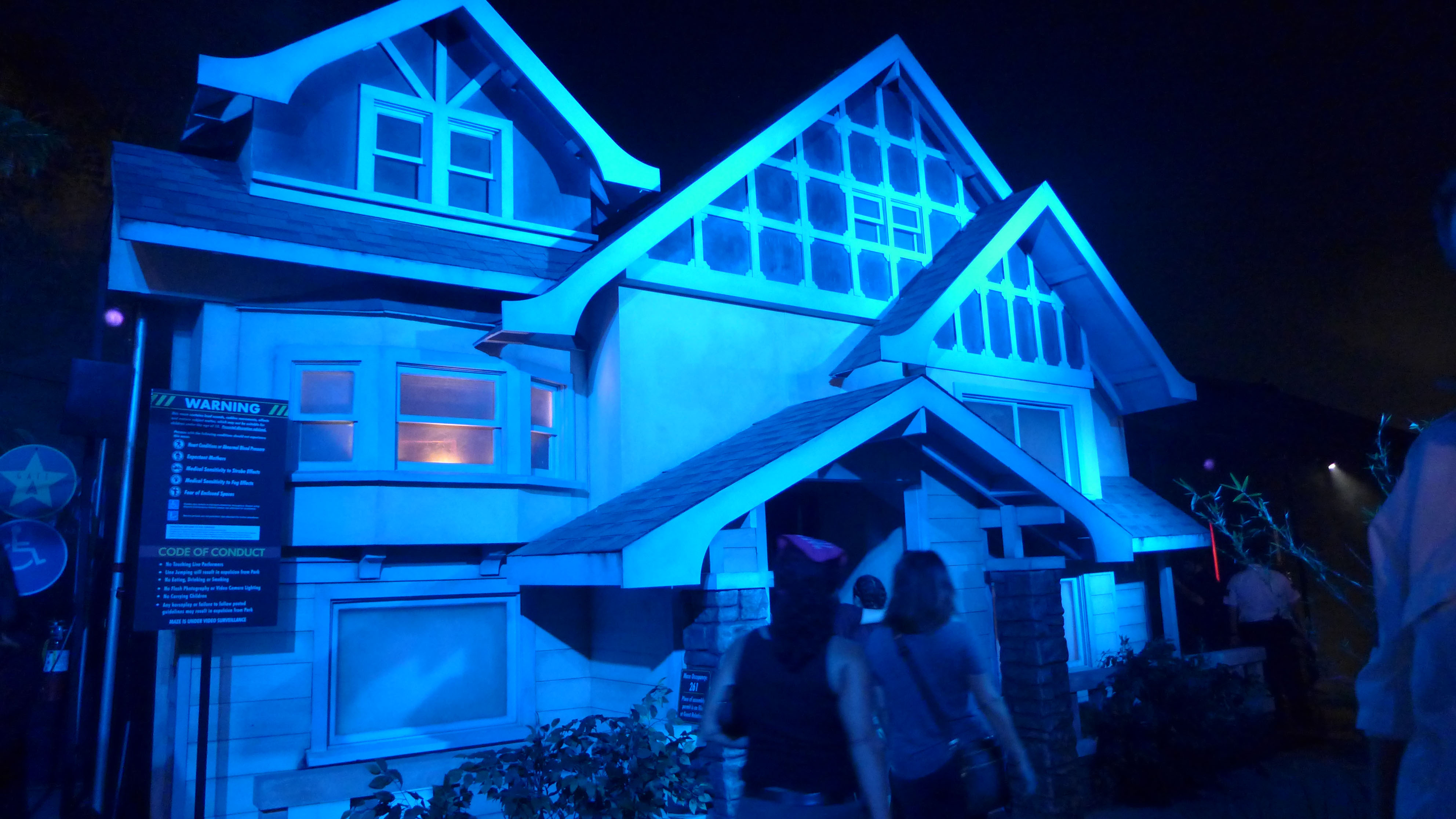 Three films, and one of the most terrifying and atmospheric film franchises in horror history is going very strong. The new maze takes guests through all three films, and brings them face to face with all the terrors within, such as the lipstick demon, and the breathing man. This is the second time for Insidious at HHN, and it's even creepier than before with more demons, more in your face scares and more Tiny Tim!
Terror Tram: The Purge
It's your right given to you by the New Founding Fathers. It's a right you should exercise, because everyone needs to unleash the beast. If you're not into Purging, have no fear, there is a special party just for you…just take the tram…the Terror Tram. The Purge returns for the third year to Halloween Horror Nights with a Terror Tram makeover featuring the Purge. It's inspired by the events of the film, and includes tons of great characters. It also features some new ones, and it's all very much, in your face.
Video-Bless the New Founding Fathers as you are given your right to Purge
Overall, the mazes are extremely solid this year. Surprisingly, The Walking Dead takes the cake in intensity and scares. Crimson Peak also delivers a very unsettling look at the film, that makes us even more excited than before. The team has done an amazing job bringing everything to life, and pushing the envelope this year.
Scare Zones

This year, the Scare zones are just all over the place, and it makes everything a little more fun that way. There are purgers, giant bugs, and an army of the dead. The park also celebrates the holidays in a way that was so much fun last year, that the park had to try to stay on the naughty list.
Exterminatorz
One of the weirdest and eclectic scare zones of all time has got to be Exterminatorz. It's a collection of bug that have just had enoughstomping, squishing and bug spray, and now they're out for you, to turn the tables a bit.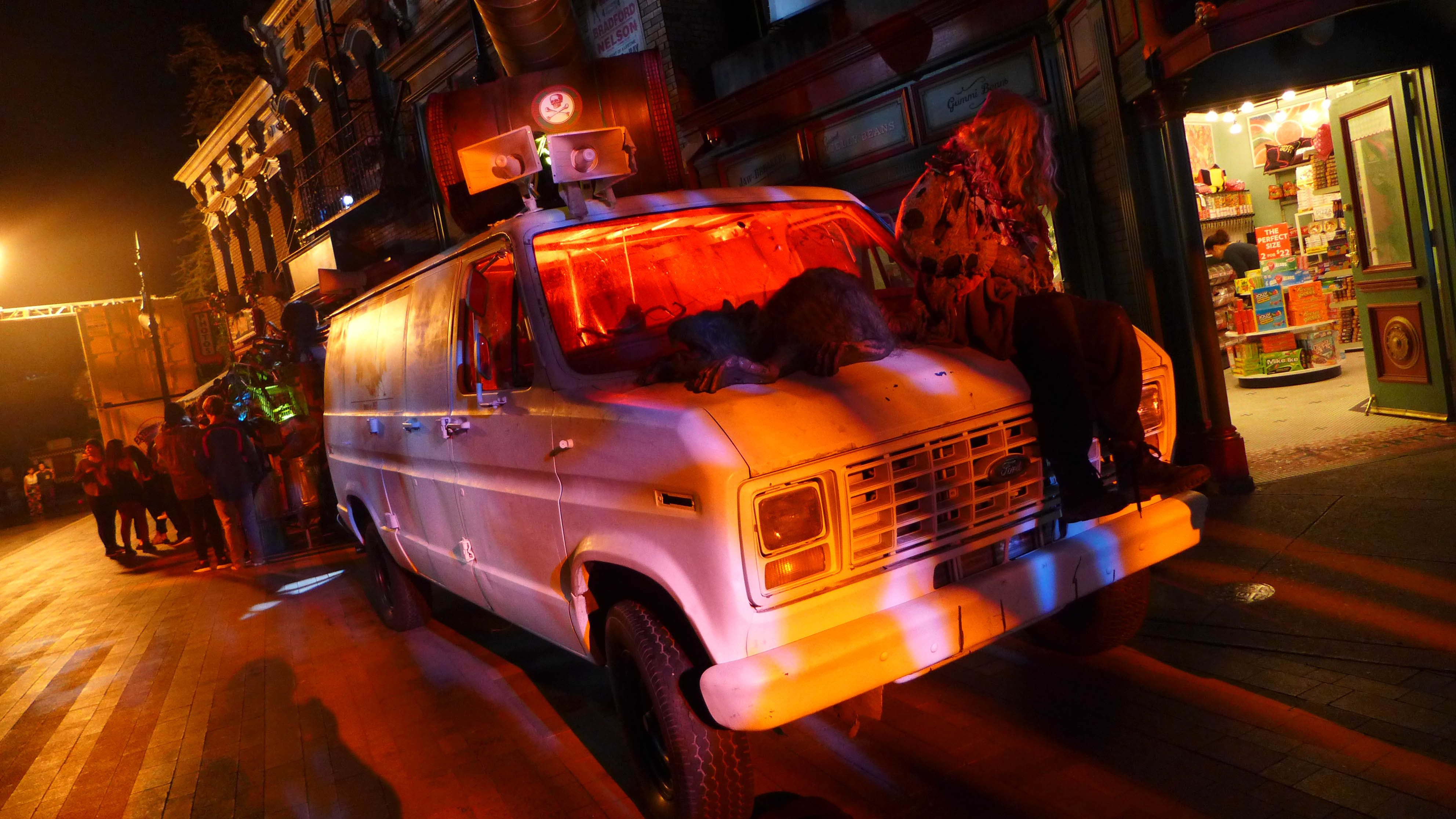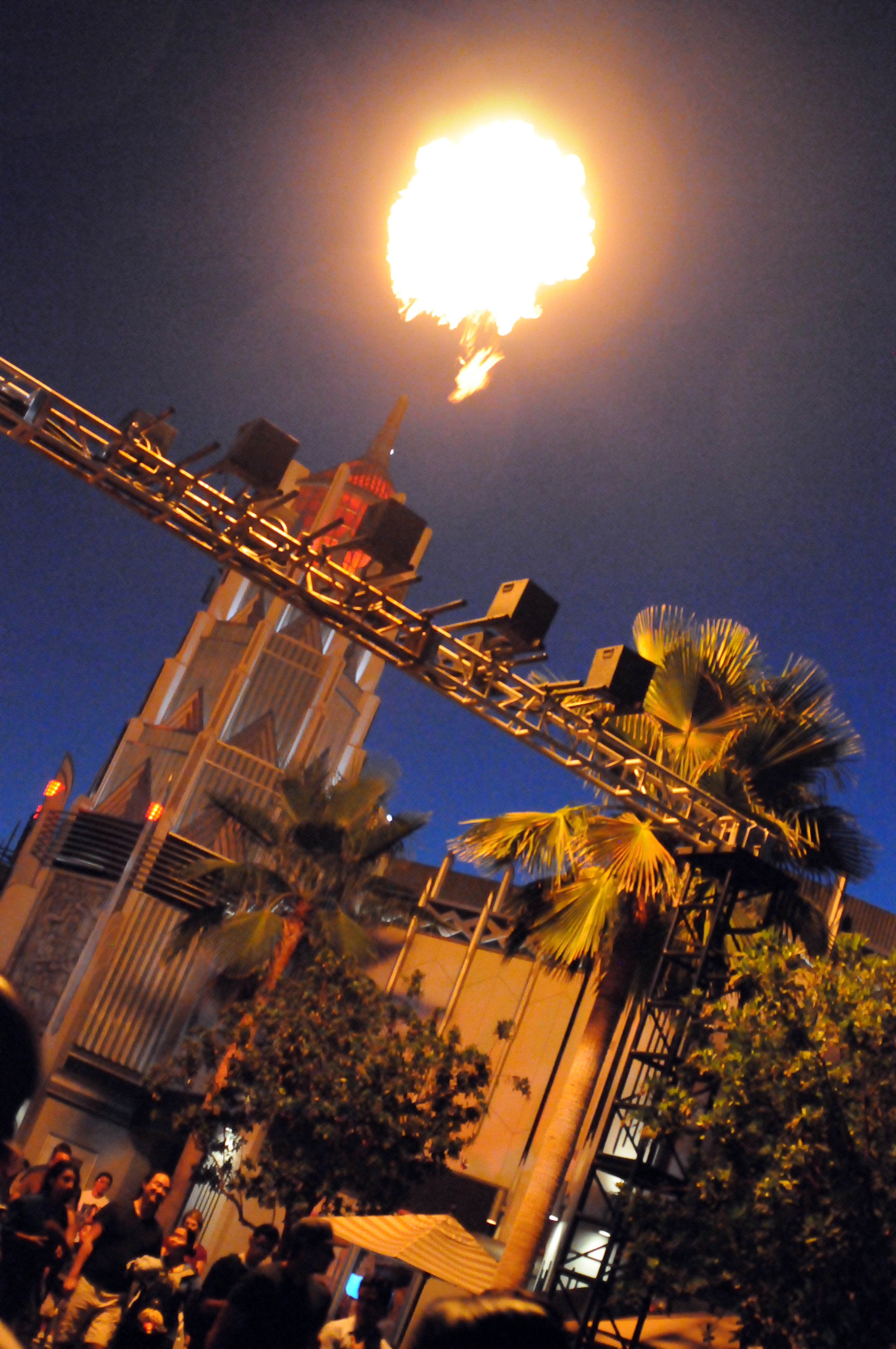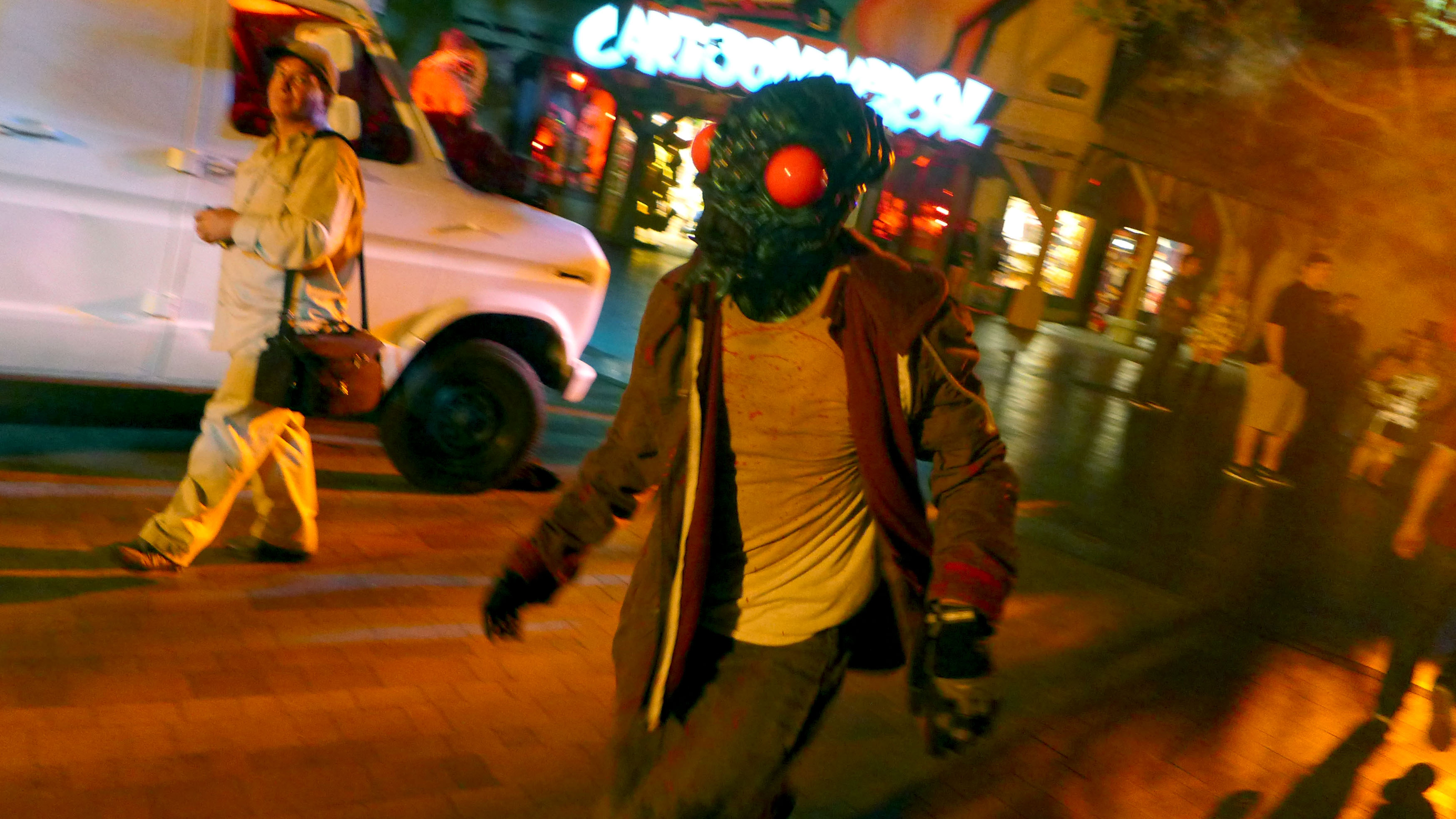 It is a hell of a lot of fun, simply because you don't realize how terrified some people are of bugs. It's a person in a mask…but guests freak out when they see that giant bug creeping towards them.
Video-Get squished in Exterminatorz
Dark Christmas
You better watch out, because Santa isn't the only one watching you. The terrible minions of Christmas have had it, and return in Dark Christmas.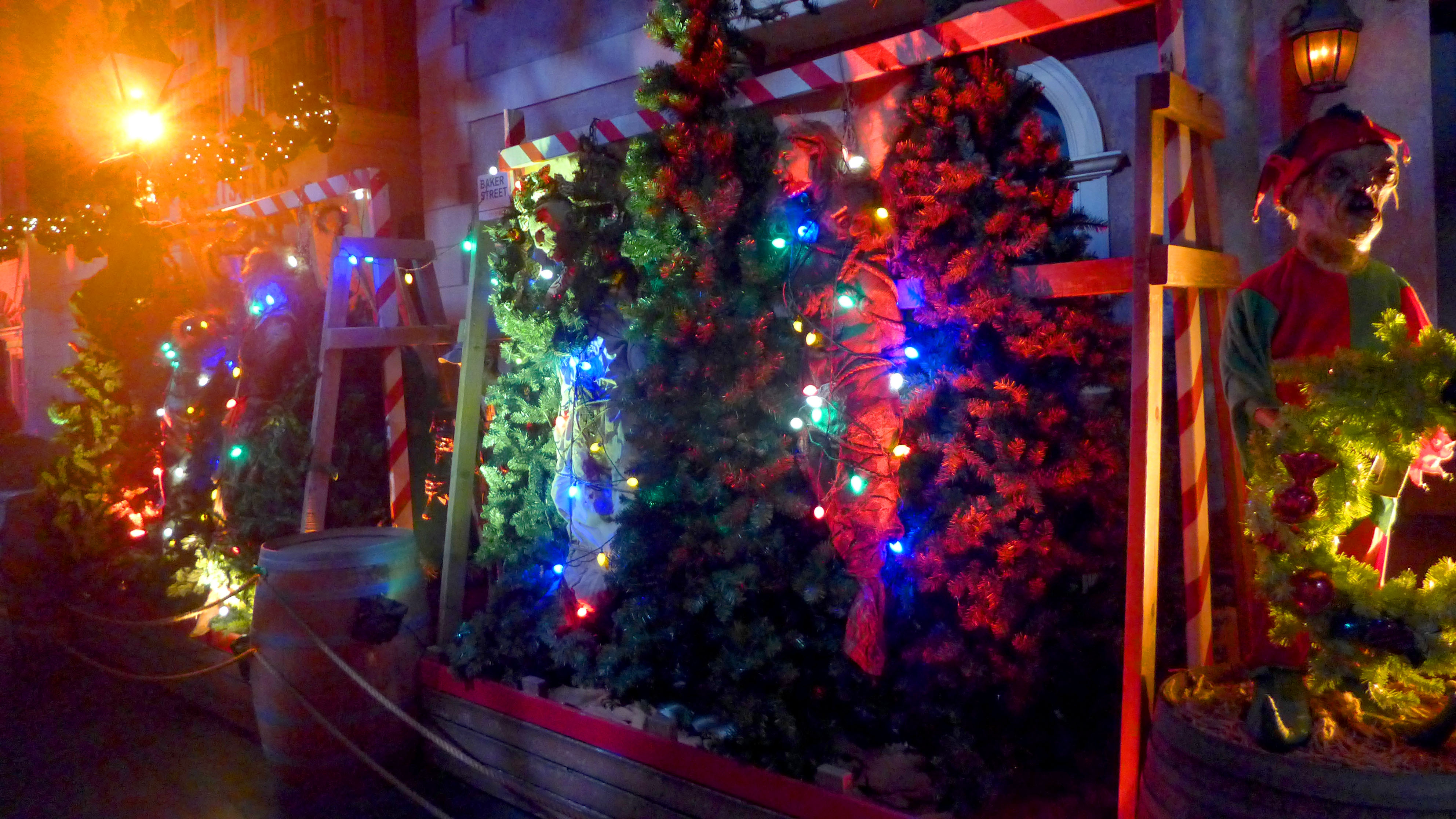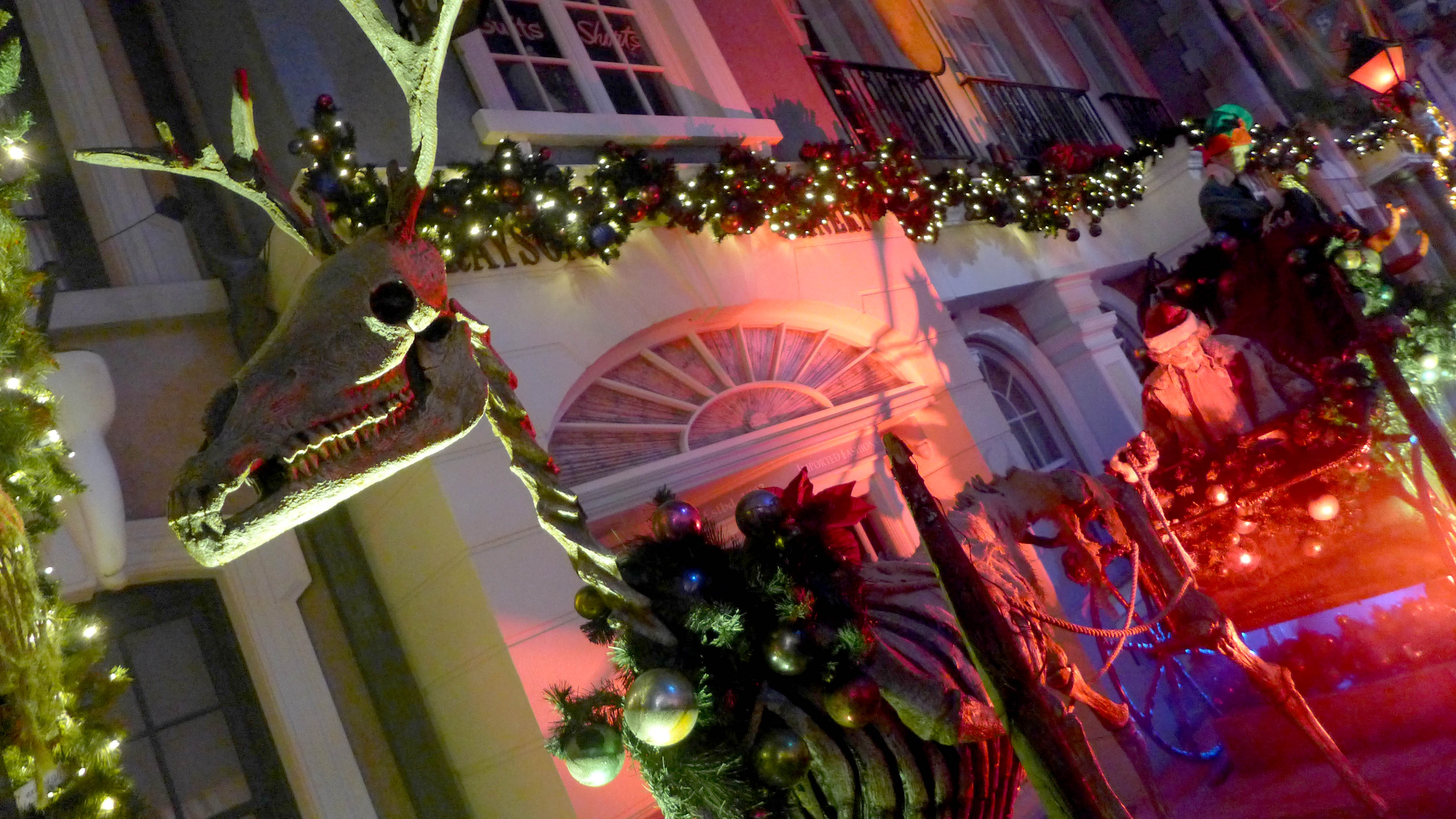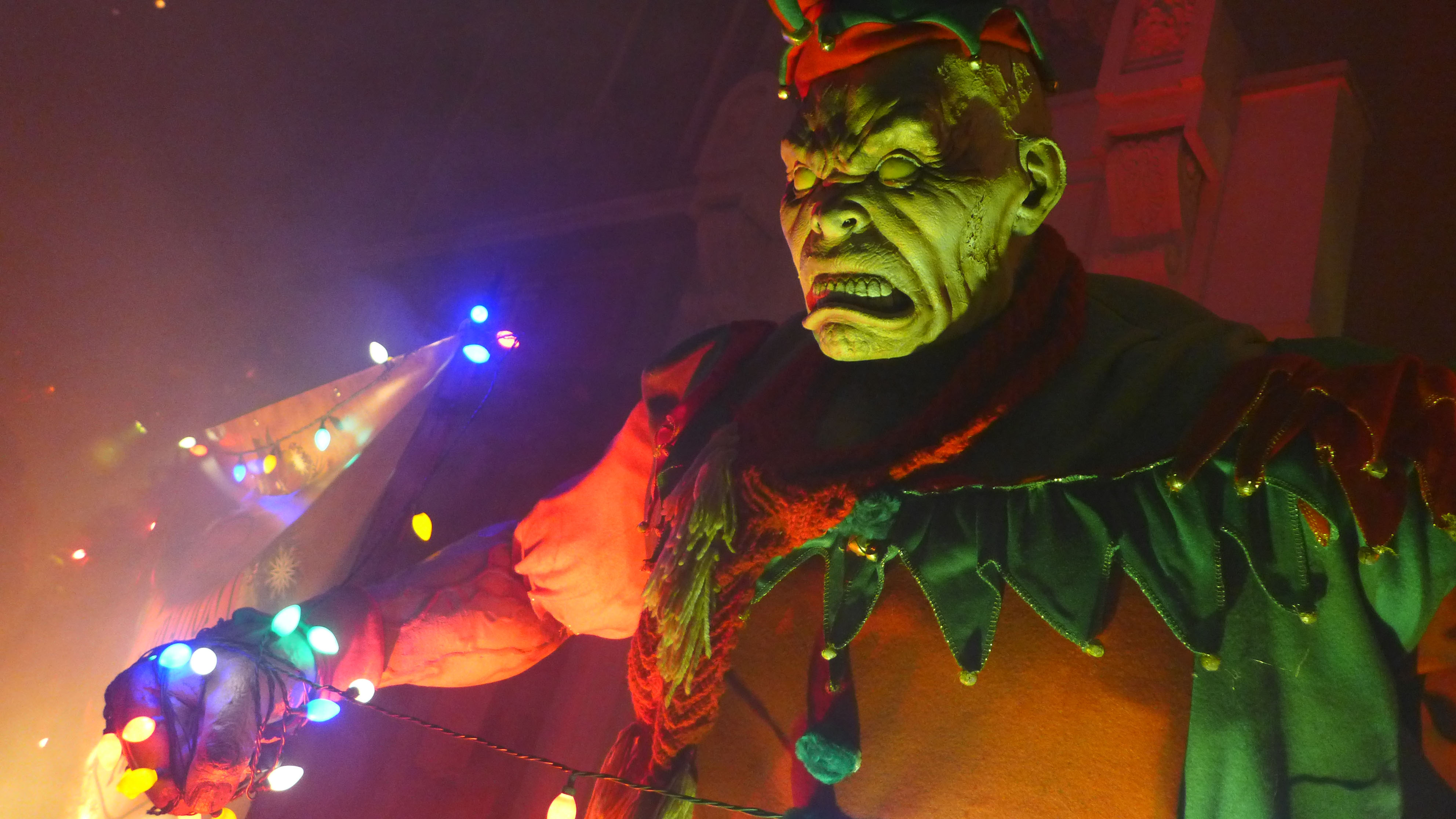 Last year the antics of Krampus, bad elves and all kinds of Holiday mischief was extremely popular. This year it's even more so, with many dark holiday films, and CD's coming out. Krampus will hit theaters later this year, and Midnight Syndicate just released their sinister new holiday album.
Video-Have you been naughty? Face

Corpz
World War II is definitely ripe for horrific images. Soldiers fought each other, and died in one bloody battle after the other. What if the soldiers didn't stay down, but rose once again on the battlefield? That's the concept of Corpz, where the dead rise again, and they still have a thirst for battle… and flesh.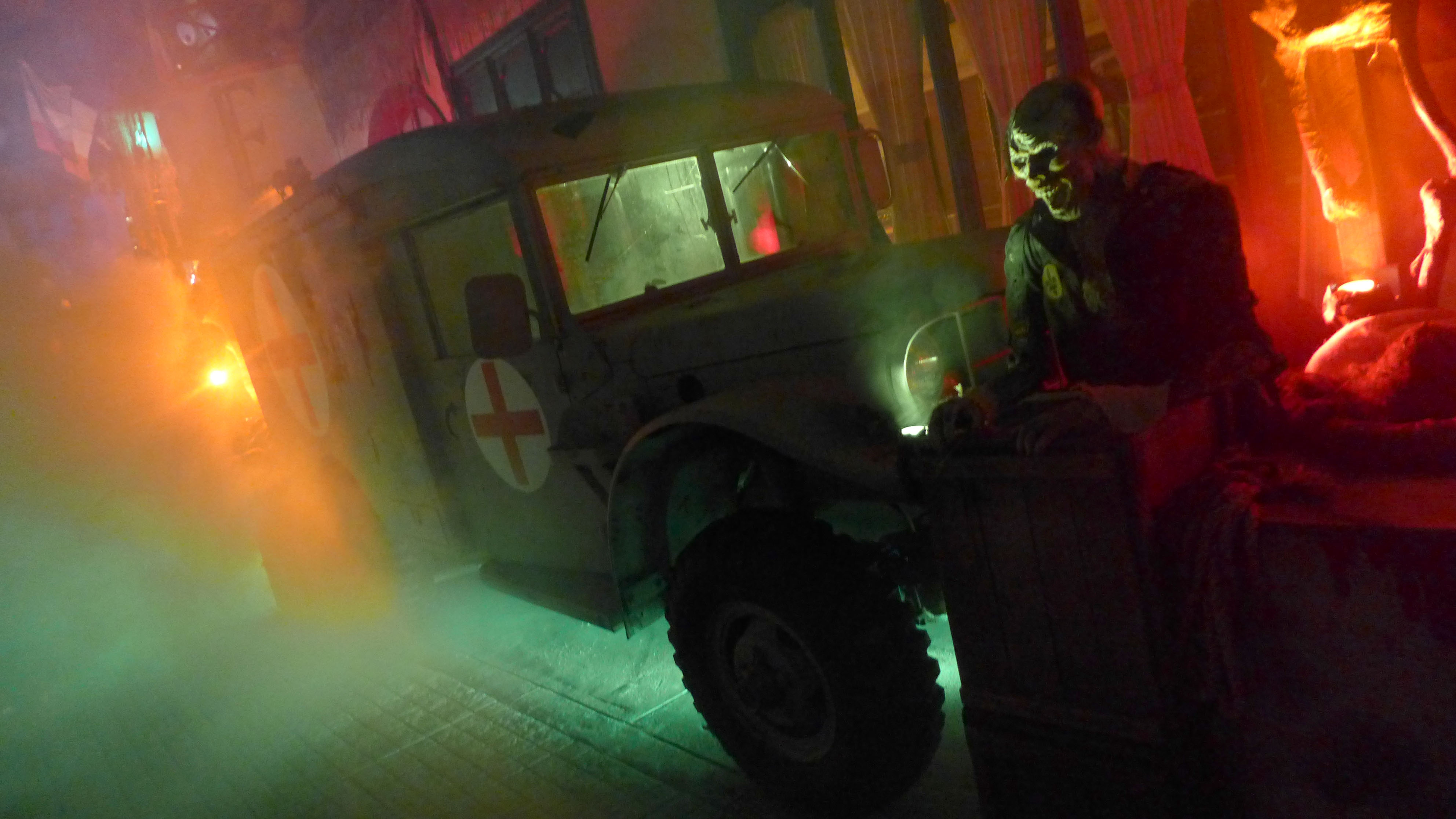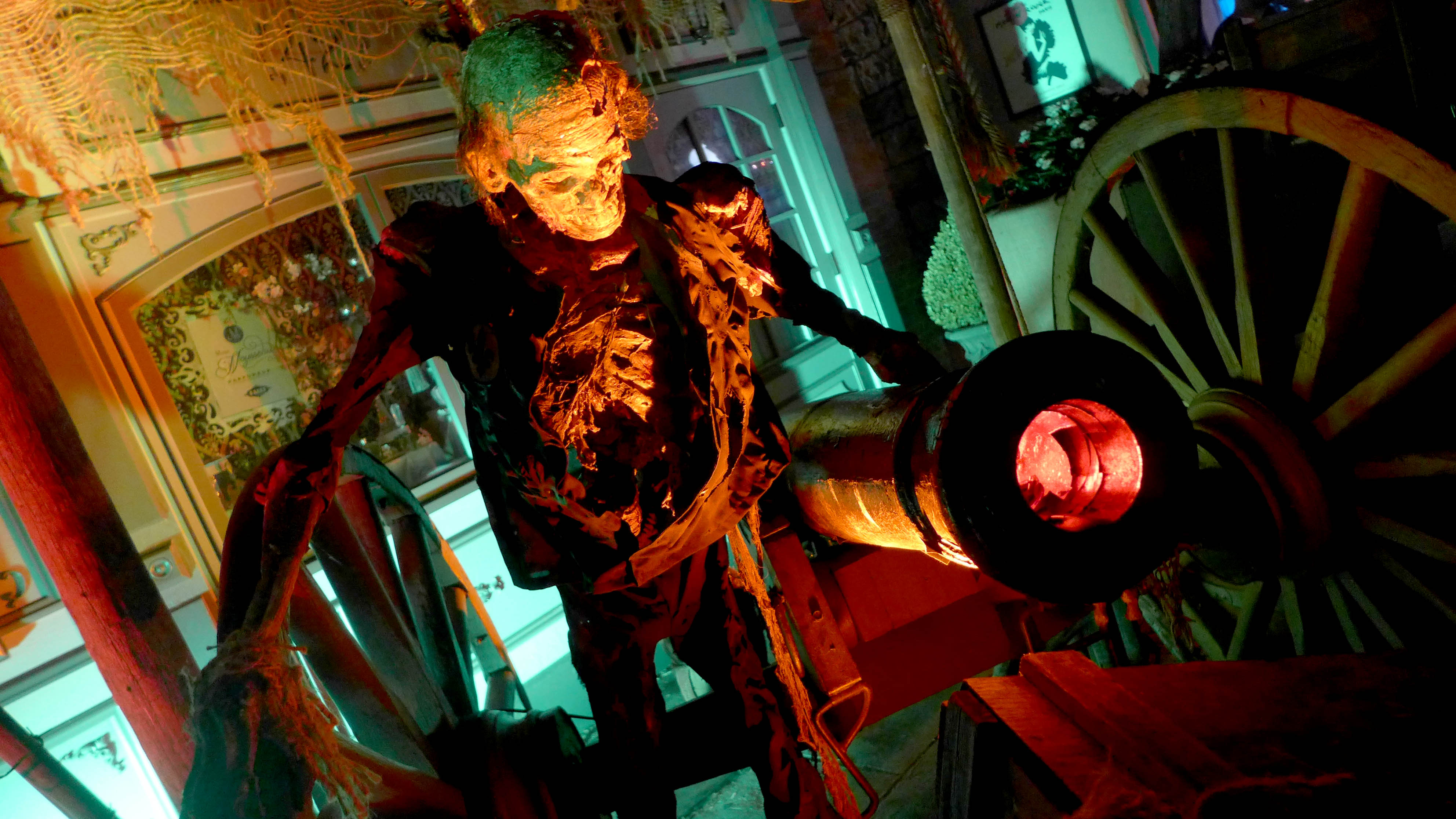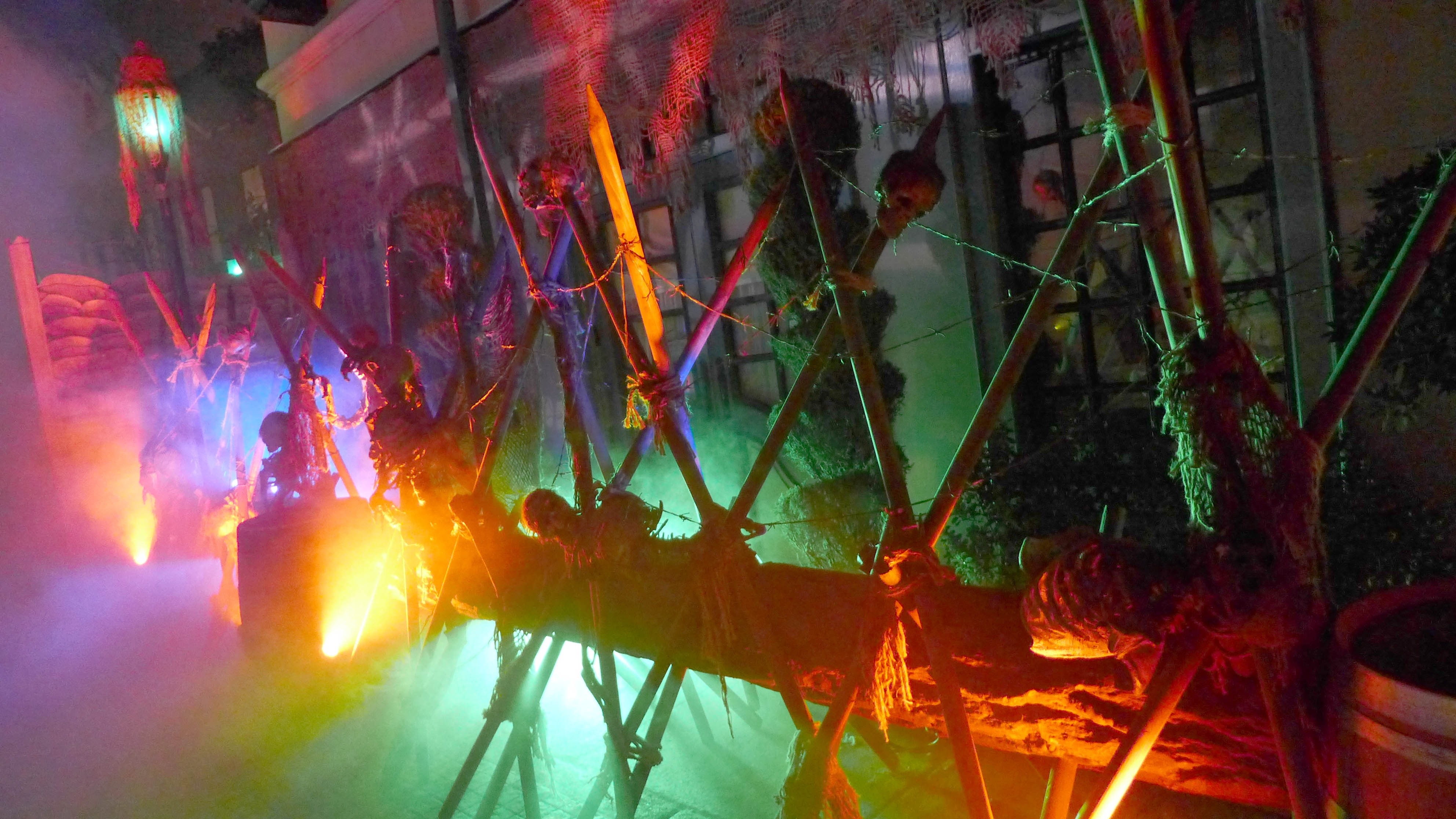 The Scare zone has every aspect of warfare, and will definitely be a favorite of war buffs. There are some amazing details in the scar zone, and it really helps to bring the nightmare of war to life.
Video-Do battle in Corpz
The Purge: Urban Nightmare
Go from anarchy to a nightmare as you are caught in the city during the annual Purge.

Video-Unleash the beast in The Purge: Urban Nightmares

Jabbawockeez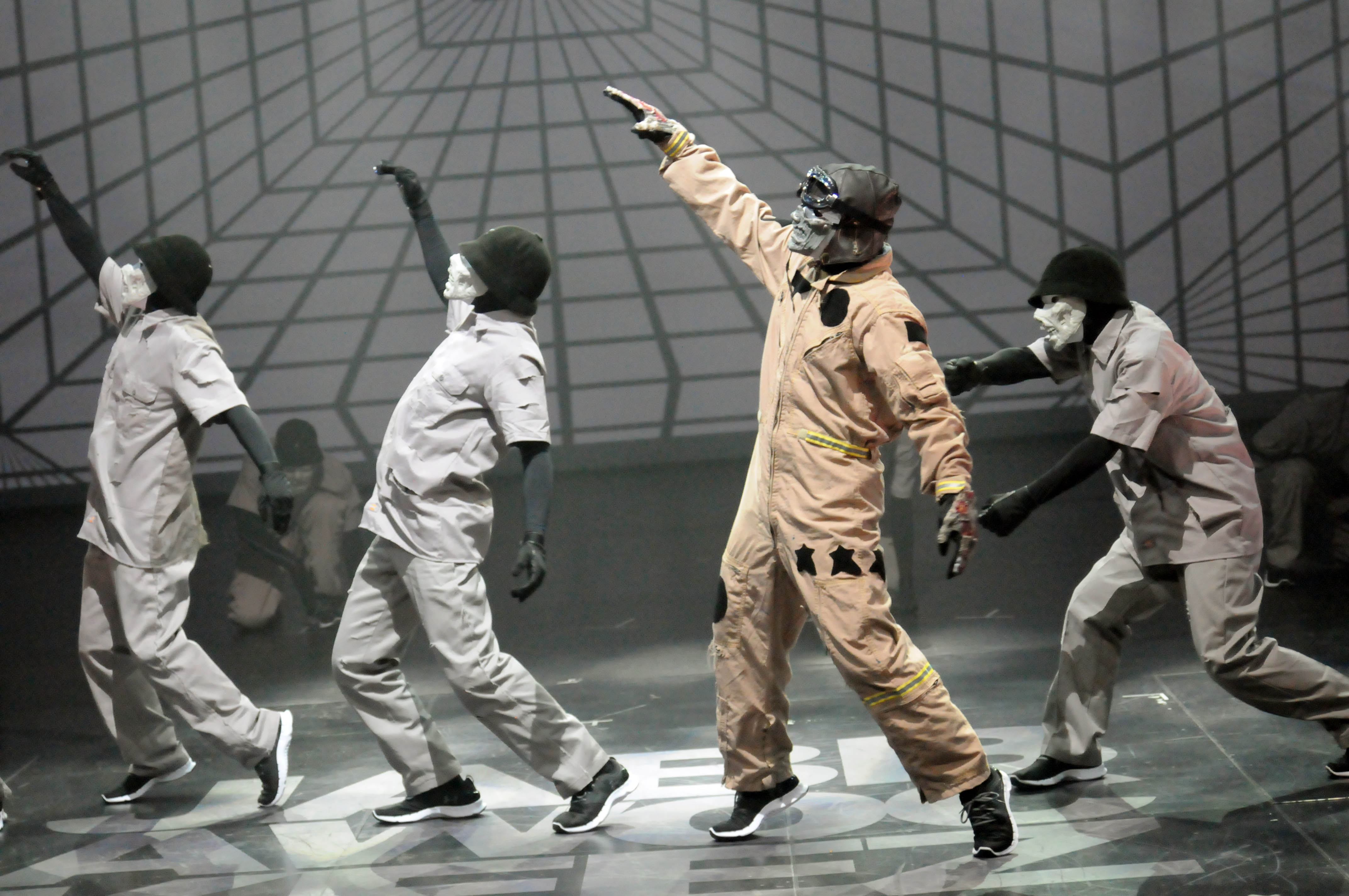 From the streets, to an all new show, Jabbawockeez marks the return of live shows to Halloween Horror Nights Hollywood. The last show was Bill and Ted's Excellent Halloween Adventure, which closed in 2013 after some controversy.
Now an all new show featuring a really cool dance troupe is blowing the doors off the theater.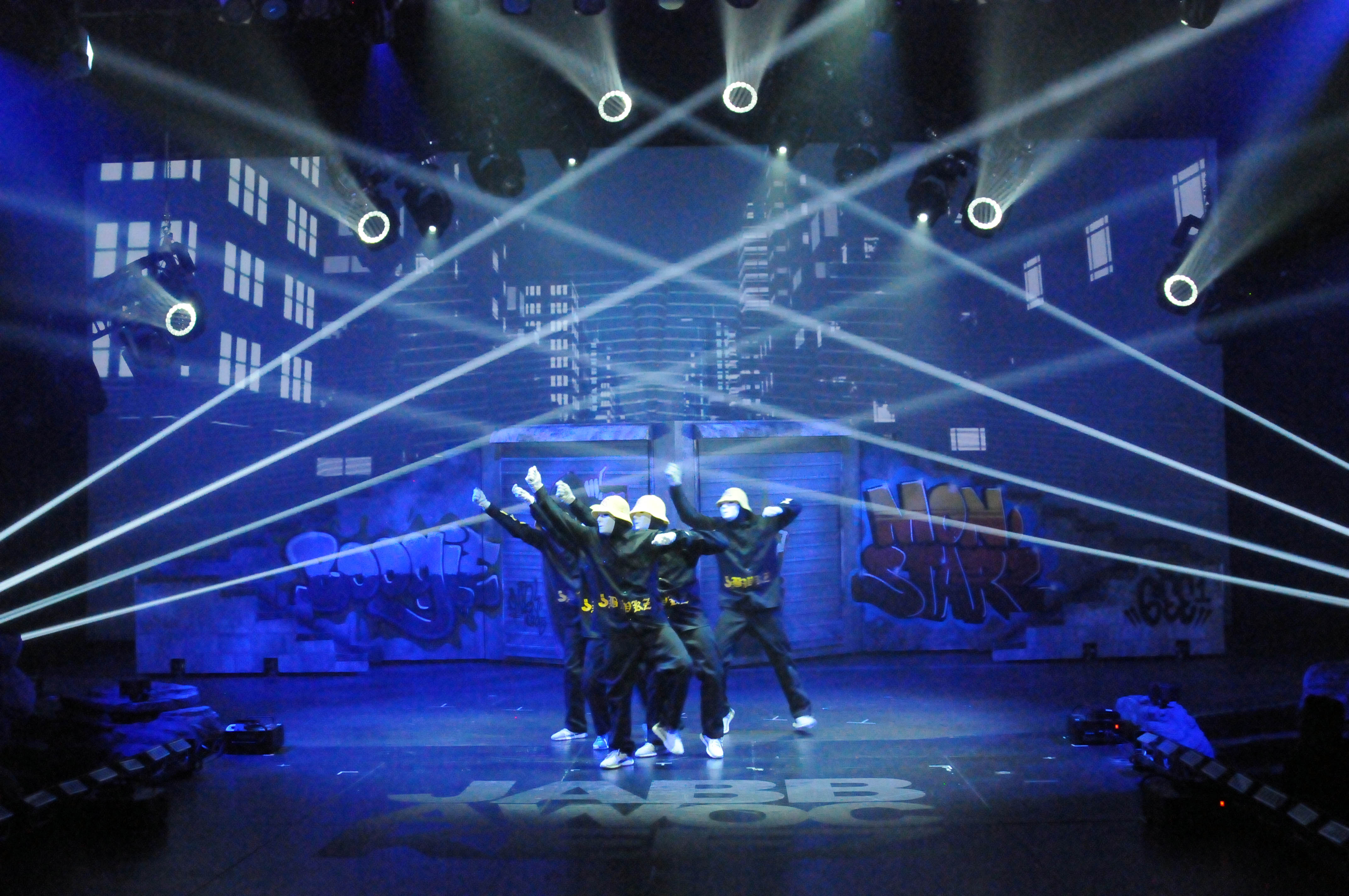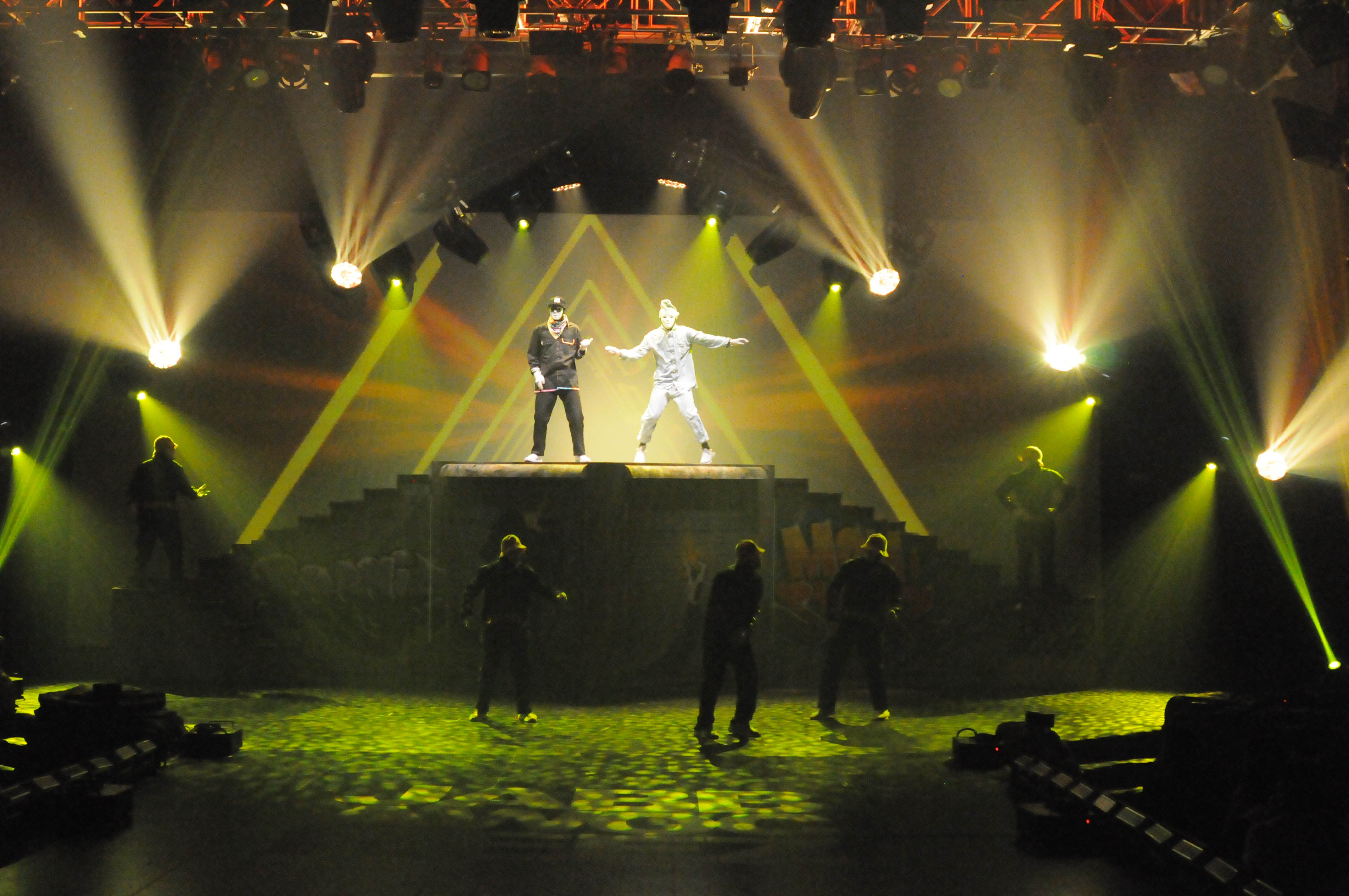 The show is a really a ton of fun, and is really a unique experience. While it's not necessarily Halloween related, it really doesn't matter. The music and moves are pretty captivating.
Video- See a glimpse at Jabbawockeez at Universal Studios Hollywood

The show is a welcome return to live shows, and provides a great break from the screams and chainsaws. It's also surprising how good the show really is. Watching a video clip really doesn't do justice to the moves and choreography of these amazing entertainers.
Slideshow-Check out even more pictures from HHN Hollywood!


Click here if you can't view the slideshow
Overall, Halloween Horror Nights feels like it hits really hard with a mix that is just strange. The strange is why it works so well. With the wide range of different subjects, there is quite a bit for just about every taste.
Stay tuned for more from Halloween Horror Nights, and be sure to get social with us on Facebook and follow along with us on Twitter @BehindThrills for the latest updates! For more awesome theme park videos please be sure to subscribe on YouTube!
For more information about Halloween Horror Nights at Universal Studios Hollywood, including tickets, visit the official website by clicking here!