Halloween Horror Nights is getting ready to roll out in just a few weeks. Of course that means that the excitement level is through the roof. There are still a few little details rolling out, with the biggest being some news, rumors and new items that will help you plan your visit. Everything from a new shop, to new billboards, maps and even a new rumor about Harry Potter has been surfacing lately. We'll take you through each one and help you plan, and get even more excited for the 25th year of fear!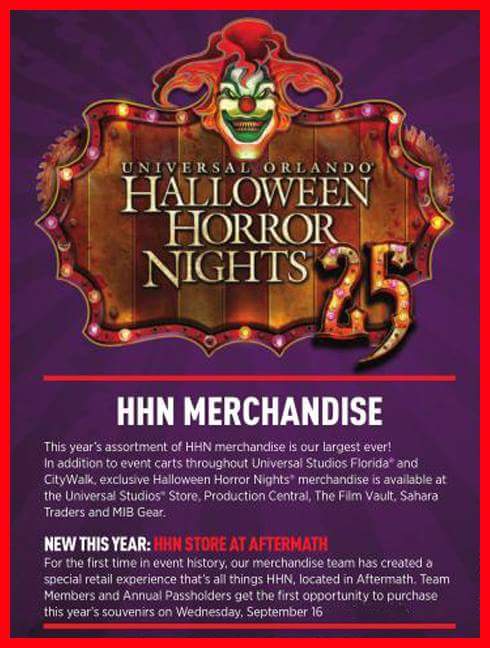 As we reported a few days back, Twister's gift shop-Aftermath, would be closing for an all new store showcasing just Halloween Horror Nights merchandise. That rumor has been confirmed, and we will definitely see the new shop open on September 16th, in a sneak peek for Passholders and employees. You can expect tons of new merchandise, including shirts and more. There is no word on whether or not this will definitely mean the end of Twister, but it definitely looks like it, as just about all of the merchandise in the store is being clearanced out.
Next up, we have the official map released to employees for the event. This map gives a good idea of where we'll see the houses, but it does have some typos on it. The exits, specifically will not be where they are located on the map. We'll have a full run down in the next few days about where the exits are, and what the best way to attack the houses will be. But this does give a good idea of the locations of the shows, scare zones and house entrances.
Finally, a huge rumor has popped up concerning The Wizarding World of Harry Potter. The area has never been opened during Halloween Horror Nights before, with last year being the premiere year of Diagon Alley. It appears that this year, Diagon Alley COULD be open to guests at Halloween Horror Nights, as employees are being told they will be scheduled until midnight. It's looking like Diagon Alley will open a few hours into the event, and will only be open until about 11:30 p.m. (ish) for Halloween Horror Nights. This is great news, as it will hopefully siphon off some of the crowds from the shows and houses, and could even provide a great get away place for those wanting to take a break from all the scares. We'll know more for sure when the event opens on September 18th.
Stay tuned for more from Halloween Horror Nights, and be sure to get social with us on Facebook, and follow along with us on Twitter @BehindThrills for the latest updates!
For more information about Halloween Horror Nights, including tickets, visit the official website by clicking here!