It's the most wonderful time of the year! Halloween Horror Nights at Universal Orlando kicks off in just over a week,and it will bring madness, mayhem, chainsaws, demented killers, ghosts and Jack. This year at Halloween Horror Nights, guests will face more fear, more characters, and more unique opportunities than EVER before. It's only proper that the silver anniversary of the event, also be the biggest.  Tuesday night we had the chance to get face to face, and nose to nose with all the terror that is coming to Universal Orlando this year. It's the 25th year, can you handle the fear?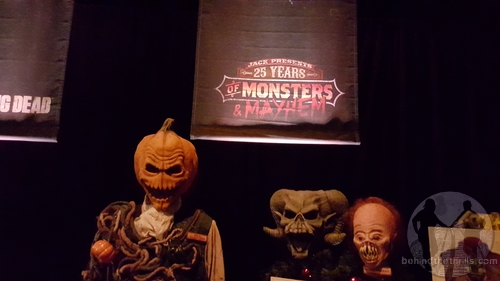 For the 25th anniversary, Universal Orlando is rolling out the best of the past, the best of the present, and celebrating now like there is no future. They've also brought back Jack, the Clown Prince of Blood, so there's a good chance that you will have no future. What started as a test, called Fright Nights way back when, morphed and has turned into one of the best haunted attraction experiences in the world. It sets a standard every year that other parks, and haunts, try to not only live up to, but outshine.
This year is the biggest year ever for the event, in terms of houses, actors and level of detail that the planners have put into the event. We'll take you into some of the bigger details about the event, as well as give you a chance to see some of the creations before they hit the streets on September 18th.
Video-Get a look at the entire HHN Media Preview as we take you through every inch
Streets
We'll start things off with a look at the streets, which have an extremely eclectic blend of unique characters and realms this year. Each scare zone will have a bevy of different characters, from familiar old faces, to all new creatures that you've never seen before. The entire theme of change is prevalent in every aspect of the streets, as different things are happening throughout the night. You never know just what you might be able to see.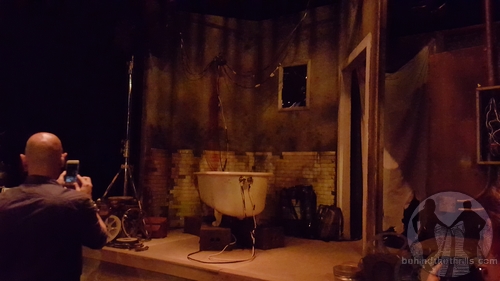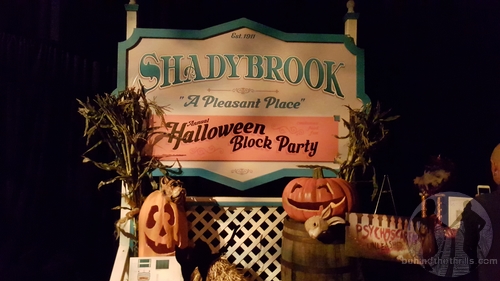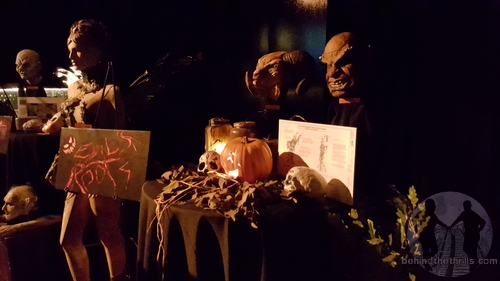 Evil's Roots will see the garden come to life with traditional Halloween characters, and events. Jack o Lanterns and spirit lights will be everywhere and guests will see things such as faeries, scarecrows, goblins, trolls and more come to life. The Icons of HHN will bring guests face to face with four of the biggest icons, as well as a collection of characters from the past. You'll see each icon on a stage, as they show you just what it was that brought them to HHN, and what made them take that step from being a normal, somewhat demented person, to an icon of evil.
All Nite Die-In will bring two separate scare zones to life, all combined into one, a double feature. Guests will see the gray scale characters as Universal's classic monsters come to life. They'll then transform into modern horror clasics, such as Freddy, Jason, Strangers, Purge, and many others. Even the music will change, as the night changes.
Then comes the blood, as the patients of Shadybrook Asylum escape, and turn a New York city burrough into a massacre, as Psychoscarepy floods the streets for the first time. Then, of course, Screampunk Scary Tales will take the very popular Scary Tales characters, and suit them up with tons of twisted features and gears.
Video-Chat with Lora Wallace about the terror coming to the streets of Halloween Horror Nights
Shows
This year there are two new shows, both with some returning favorites. Each show will bring something different to the table, from the comedy and pop culture of Bill and Ted, to the blood and guts of Carnage Returns.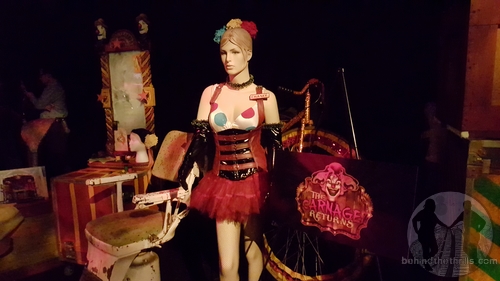 Carnage Returns promises to be bloody, and full of Jack and Chance. The original shown was comical, and essentially a magic show…a very gory magic show. This year promises to be more of the same.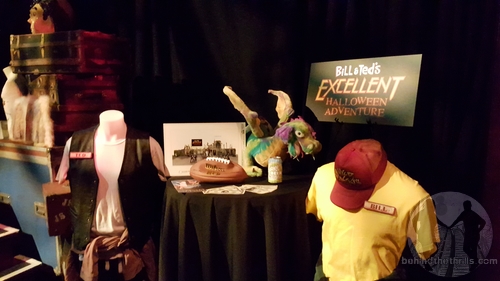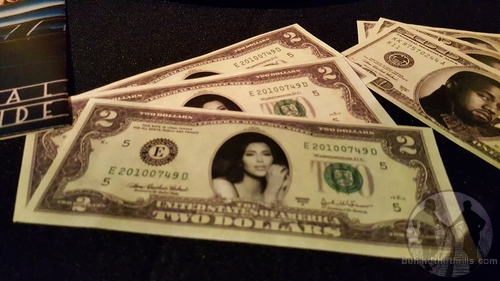 It's just not Halloween without Bill and Ted. We aren't really sure what the duo will be up to, but judging from the display, we know Kim and Kanye are on money (Kanye on the $100 dollar bill, Kim on tbe $2 dollar bill), Tom Brady's flat balls will be involved, and there will be a dragon, we can only hope that there's puppet dying. The show is irreverent, crude, and always fun.
Mazes
The maze line up is larger, and more insane than ever with nine massive new mazes. There is a huge variety of different elements, from slashers to supernatural, and everything in between. The line up is absolutely insane this year, with every house being bigger than ever.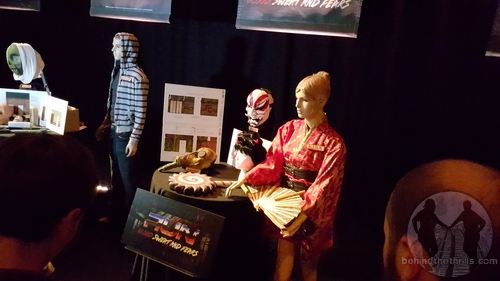 Run will go back to it's gameshow roots with a huge twist. It will take place in Hellgate Prison. Reapers will try to assassinate you as you try to survive. The house will have a very 80's Big trouble in Little China/Running Man vibe. The only question that wasn't answered is how much will Hellgate play in the house.
The Walking Dead will be huge, as the sets are pretty much reaching the ceiling in this year's house. The new house will also feature actors in waist deep water, as you trudge past Walkers in the food bank. The new house will take place through Season 5, from Terminus all the way to Alexandria.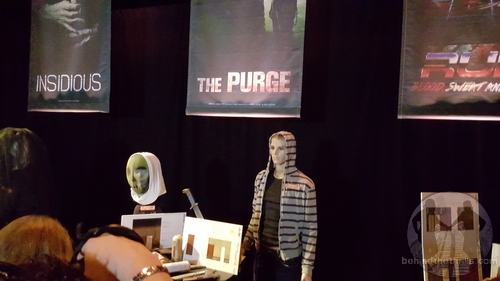 How do you top a scare zone where Anarchy reigned supreme? You take that energy and put it in a house. Several key moments from the films will be reproduced. It's not going to be a complete reproduction of either film, but something more or less based on the film, and the total chaos that ensues.
Body Collectors-Recollections will take guests into Shadybrook Asylum, where the Collectors have stumbled into Psychoscarepy. It will take place in the 1800's and will see the origin of the Collectors.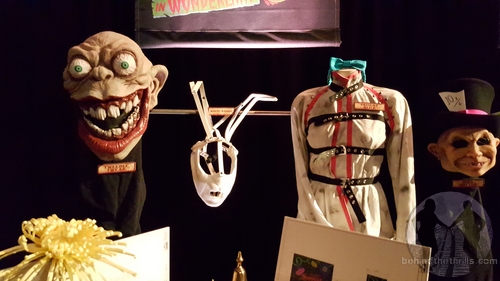 Asylum in Wonderland in 3D will feature all of the characters from Alice in Wonderland in a much more demented and twisted environment than you're used to seeing them in. The house will feature black lights, UV paint, and lots of gore. The house will also make us question whether Alice really went to wonderland, or if she's just insane.
An American Werewolf in London was the most successful and popular house in Halloween Horror Nights history, so it would make sense to bring it back just two years after the first incarnation. While the house is pretty much the same, there are some tweaks to it. The biggest tweak is that it will include one more werewolf. If you've been through the house, you know what kind of big deal that really is. The werewolf puppets are what made the house, and what made it amazing.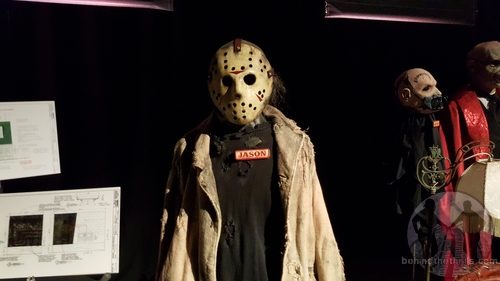 Freddy vs. Jason is actually going to be a three part maze. Guests will see Jason's realm of Crystal Lake, and his entire world. Then they'll see Freddy in his element, as he invades dreams and brings kids back to the boiler room. Then, the climactic last half of the house will see the final battle between the two. Who will win? That's the question.
Jack Presents 25 Years of Monsters and Mayhem will feature some amazing work from Halloween Horror Nights past. Of course Jack will be there, and so will some of the biggest and most popular houses from the 25 year history. We'll see Nightengales, and creatures from Gothic, the ship from The Forsaken…and did we mention Jack? Yeah, lots of Jack.
Insidious is the one house that we were able to actually experience. Unfortunately it was only about 80% done…BUT from what we did see, it was amazing. Full of the characters that you know and are terrified of from the film series, and full of that creepy as hell atmosphere. Read our full, SPOILER FREE review here!
Video-Chat with Charles Gray about Insidious and An American Werewolf in London

Finally, Jack is back. It's his show, and his game. You want the theme of this year's event? It's him. He is the most recognizable face of Halloween Horror Nights. Even those who have never been, are terrified of him. He's changed a lot since 2000 when he was brought to life. He's been a clown, he's been the ringmaster, he's been Jack. Now he's back as a ringmaster…just not the same fun loving ringmaster you might have known before. Now he's a little more…mean. He doesn't seem to care about the laughs as much as he cares about messing you up. We're actually pretty okay with that.
Video-Jack is back! The Clown Prince of Blood returns!

While we personally enjoy every year of HHN, it just seemed to have been missing something that we couldn't quite put our finger on. That something, I think, is the leadership. While the event, and the huge names that are now associated with the event sell themselves, it still needs a personal touch. Sure, audiences are going to come for Insidous, Freddy vs. Jason and the Walking Dead…you really don't HAVE to have an icon. Honestly, in the grand scheme of things, icons are kind of a waste. They were created solely to be the face of the event…why do you need to create a face if the event now sells itself?
Well, there's just something about Jack, and the other icons. Sure, they don't need him (or them), but it sure feels good to let someone else take the reigns. It feels good to have someone else getting their hands dirty. Let's hope the crowds think so too, because we sure do love our Jack.
Slideshow-Check out even more from Halloween Horror Nights!

Click here if you can't view the slideshow
Be sure to get social with us on Facebook and follow along with us on Twitter @BehindThrills for the latest updates!
For more information about Halloween Horror Nights at Universal Orlando, including tickets, visit the official website by clicking here!