If you ever get a chance to speak with, ornwatch John Landis talk film, life and remakes, that's an opportunity you can't miss. At this year's Halloween Horror Nights at Universal Orlando, John Landis returned to open the event and talk about his classic film "An American Werewolf in London". The last time John Landis was on stage in Orlando he brought down the house with hilarious stories of Hollywood, and bringing his films to life. This go round he was joined on stage by Walking Dead artist, producer, and all around great guy, Greg Nicotero and Chandler Riggs when plays Carl on The Walking Dead. While everyone on stage had great stories, including Nicotero who genuinely seems to love being a part of something like HHN, it was Landis who stole, and possibly spoils, the show!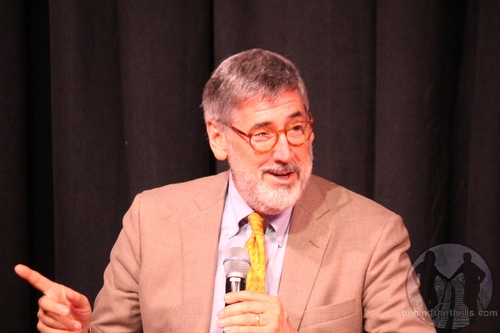 John Landis says he hasn't made any great films, which lead to a question from the audience about redoing elements of his films, much like George Lucas had with the Star Wars series. The answer that Landis gives is extremely funny (and long) and gives the audience something that they weren't expecting at all…and rumor about Star Wars.
John Landis casually talks about a director remaking his own movie, sharing his own experience about Coming to America, and he segues into Disney and George Lucas.
Video-John Landis talks Star Wars release
Wait, did he just say that Star Wars was going to get a release of the original theatrical version? All be told, we thought that was pretty much a foregone conclusion, but apparently it hasn't been officially announced yet.
Still, John Landis isn't the official herald, but if he says something is happening, it's a safe bet that it will.
We will have more from John Landis, Greg Nicotero and Halloween Horror Nights coming very soon, so stay tuned!
Stay tuned for more from Halloween Horror Nights 25, and be sure to get social with us on <a href="http://facebook.com/behindthrills" target="_blank">Facebook</a>, and follow along with us on <a href="http://twitter.com/behindthrills" target="_blank">Twitter @BehindThrills</a> for the latest updates!
<a href="http://halloweenhorrornights.com/orlando" target="_blank">For more information about Halloween Horror Nights at Universal Orlando, including tickets, visit the official website by clicking here!</a>