The Scarehouse is one of the top haunted attractions in the world. They use a building  that is over 100 years old to create one of the most frightening experiences in the country. The Pennsylvania haunt is constantly on or near the top of just about every single haunted attraction list every year. The haunt is a must for every Halloween, but this year not only do they have some great Halloween traditions, but they also will bring some Christmas traditions to life…and you may not like these traditions. It's all part of a huge partnership that is bringing huge theme park style haunts, to Pittsburgh.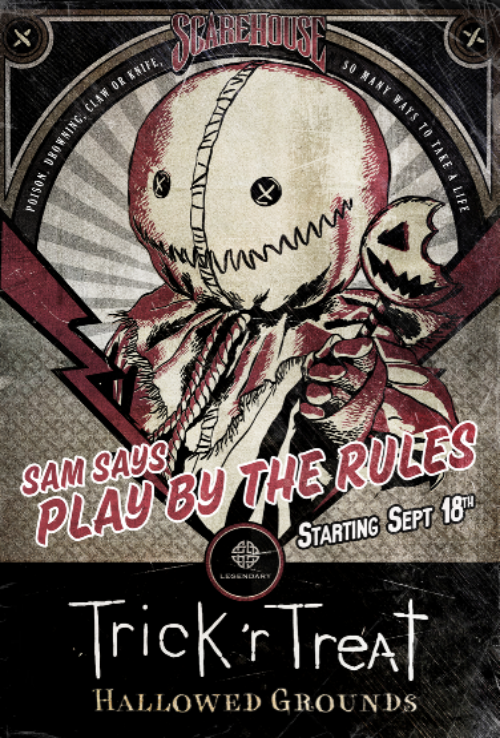 Beginning September 18th, Scarehouse in Pittsburgh, Pennsylvania will be opening their doors for one of their biggest attractions to date.
The haunt will feature four uniquely different houses under one roof. They're also partnering with Legendary Pictures to bring to life two massive new experiences.
Trick 'r Treat: Hallowed Ground
Based on the Halloween themed anthology film, Trick 'r Treat will take guests into a storybook where Sam, the spirit of Halloween  will guide them through a pop-up story in black and white. Break the rules of Halloween, and go against tradition, and you'll pay the consequences.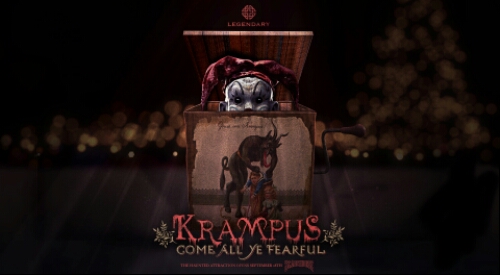 Krampus-Come All Ye Faithful
Based on the upcoming film by Trick 'r Treat director Michael Dougherty, from Legendary, Krampus tells about the dark side of Christmas…you know, if you've been bad. If Santa is all that is good, then Krampus is the polar opposite. ScareHouse's team of scenic and special effects artists have collaborated directly with Dougherty and LEGENDARY to bring many of Krampus' mischievous underlings from the upcoming film to life. The haunt will take scenes and creatures direct from the film, but unlike any other attraction, guests will be able to actually see the props, costumes, and practical creatures that were actually used in the film, before going into the haunt.
While other haunted attractions based in theme parks use large Intellectual Properties, on such a large scale, this could very well be the first time that an independent haunted attraction has used this level of immersion, and have created such a unique partnership.
There will also be two other, completely original and unique attractions at Scarehouse.
The Basement: Fear researcher and sociologist Margee Kerr, PhD brings the science of scaring to the creative team of the Basement. Building from research on what scares people from a social, psychological, and physiological perspective the Basement takes customers on an interactive journey built to push them outside their comfort zone, challenge their expectations, and scare the hell out them each step of the way. All guests must be 18 or older and must sign waiver before entering The Basement. Guests will be touched, blindfolded and restrained. This attraction contains high voltage effects involving electricity, very low lighting, tight spaces, strong scents, profanity, moments of  complete darkness, water, physical contact, violent situations, and high impact scares. Yes…it has the potential to really eff you up.
The Summoning:  A 100 year old secrets dwell inside Scarehouse, and you could very well end up as part of the secret, as you enter a world full of demonic visitors, sacrifice, and a secret society that has invited you personally.
The fun begins this Friday, September 18th, and runs until Halloween. Parking is free, and will be the home to food trucks, zombies and demons, as you enter the demented world from the very parking lot.
Stay tuned for more gory goodness, and be sure to get social with us on Facebook, and follow along with us on Twitter @BehindThrills for the latest updates!
For more information about Scarehouse, including tickets, visit the official website by clicking here!