Disney announced just days ago that it plans to bring an all new Frozen stage show to life at Disney's California Adventure. That means, that the other big Broadway adaptation of a Disney film is closing. Aladdin will shut it's doors for good, as Anna, Elsa and Olaf take over. This is the latest in the Frozen worldwide takeover, but it's not going unnoticed. An online petition is hoping to change the minds of Disney execs, and keep the show alive.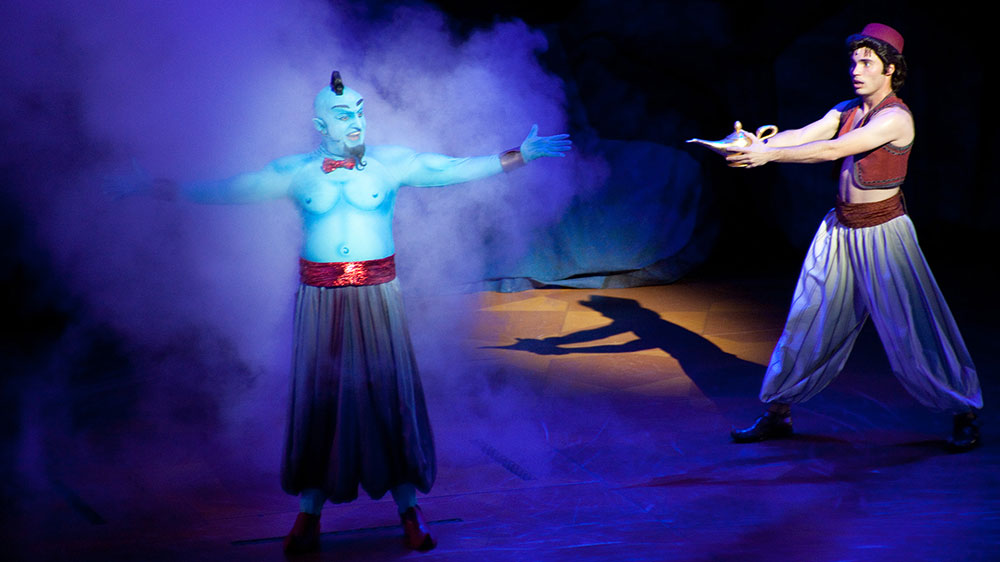 Aladdin the Musical is scheduled to close on January 10th, 2016. The new Frozen Show has very few details, such as if it will include new songs, or if it will just be a shortened version of the film.
A Change.org petition is looking to stop Disney from closing the long running show.
The petition reads:
Aladdin is the Fantasmic of California Adventure in that it has seen no real change in the past 12 years it has occupied our beloved Hyperion and the resounding impact this show has has on it's fans has sparked inspiration that has reached around the world. Filled with laughter and magic this show has assembled a cast of some of the most talented performers you will every get to see, the dedicated performers never fail to truly bring this story to life and you will never see the same show twice!! With all the antics that occur in the marketplace of Agrabah or the temperament of the guards, the level of sass of a fierce Princess or the playfulness of our young Prince always walk out of the theater with something to talk about!!! Some have said that this version of the story is better than the broadway version but the number of fans it collects can speak for itself. In a time when Disney is allowing it's older films to fade away it is nice to see this Diamond in the Rough shining brightly, as a tribute so some of it's more classic creations. I urge you to sign our petition to keep Agrabah in the Hyperion so that it may continue it's rule over California Adventure Park and be given the attention it deserves.
As of this posting, the petition has almost 10,000 signatures, and plans to send the results along with a letter to Disney Parks Execs.
Frozen has made over $1.2 billion dollars worldwide, and has been very successful for Disney Parks over the last few years. Fans flocked for over five hours to see the Princesses in a meet and greet at Walt Disney World. Crowds sold out just about every night of Mickey's Very Merry Christmas Party because of a Frozen makeover of Cinderella Castle. Epcot will more than likely see record numbers next year, when Frozen takes over the Norway Pavilion.
Will this petition change the minds of Disney execs? Probably not, but maybe if enough people sign, Aladdin can be saved…maybe.
Stay tuned for more from Disney, and be sure to get social with us on Facebook, and follow along with us on Twitter @BehindThrills for the latest updates!
For more information about Disney's California Adventur, including tickets, visit the official website by clicking here!