Six Flags has just made their 2016 announcements, and as promised, there's something new in every park. The parks are bringing four new "looping coasters" to the chain, but are they really coasters? The new rides are great additions for the parks, and in some cases, are just one of many new additions.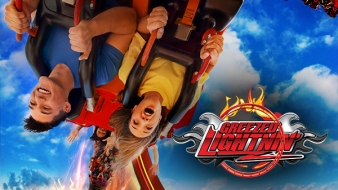 Six Flags is bringing all new "looping coasters" to four parks for 2016. The new rides will take riders upside down, and give them "hang time", all while going face to face with other riders.
Six Flags St. Louis, Six Flags New England, and Six Flags Fiesta Texas are all getting "Fireball", while The Great Escape is getting "Greezed Lightnin".  All four will take riders up about 70 feet, and spin them around in a full circle.
However, don't let the name fool you. They're not really coasters. A roller coaster must have the three basic principles in order to qualify. The first is a lift or launch mechanism, it has to be towed or pushed out of a station. The second is the track. The third, and this is where the "Looping Coasters" at Six Flags get disqualified, it must be primarily driven by gravity. It can simply go up and down, but it has to have a section of track where gravity takes over and does it's thing.
The looping coasters at Six Flags are all driven by a motor, all the way around. It's great for the advertising, but for coaster lovers, it's not a coaster at all. The rides are essentially Super Loop flat rides that you find at your local fairs and carnivals. They are still very safe, and a lot of fun. I guess for marketing purposes, if it looks like a coaster, it's better than saying "Come ride the super loop!"
Stay tuned for more from Six Flags, and be sure to get social with us on Facebook, and follow along with us on Twitter @BehindThrills for the latest updates!
Happy Six Flags Day!
For more information about Six Flags, including tickets, visit the official website by clicking here!