It's Six Flags announcement day! It's the day where coaster fans, and adrenaline junkies all over the country find out all the new insane adventures coming to their favorite coaster park chain, Six Flags! Six Flags Fiesta Texas is expanding their Fiesta Bay section, and with it, the park is getting three all new attractions.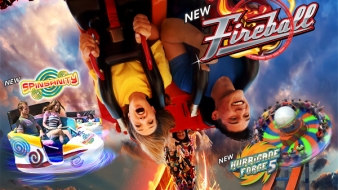 For 2016, Six Flags Fiesta Texas is getting three…that's right, three all new rides in the park. The park just opened up the mega successful, and mega fun Batman:The Ride which takes riders head over heels and upside down more times than you can count on a thrill 4th Dimension coaster.
The three new rides include a super loop, dubbed Fireball, as well as Hurricane Force 5 (an all new Disk-O) and Spinsanity. The three new attractions will be open in 2016 at Six Flags Fiesta Texas. All three rides will be part of the Fiesta Bay expansion in the park.
The new attractions will all be featured in the new Boardwalk section of the park.
"The entire Fiesta Bay Boardwalk area at Fiesta Texas will undergo a spectacular transformation in 2016. The three incredible new attractions will bring completely new types of thrills for our guests, as will our new culinary and interactive games offerings," said Park President Neal Thurman. "The new Boardwalk will have all the excitement and ambiance of a favorite seaside getaway."
Stay tuned for more from Six Flags, and be sure to get social with us on Facebook, and follow along with us on Twitter @BehindThrills for the latest updates!
Happy Six Flags Day!
For more information about Six Flags, including tickets, visit the official website by clicking here!