It's Six Flags announcement day! It's the day where coaster fans, and adrenaline junkies all over the country find out all the new insane adventures coming to their favorite coaster park chain, Six Flags! Six Flags New England just opened the amazing new Wicked Cyclone in 2015. So how do they follow it up? By bringing back a popular attraction with a new twist, and adding a super loop!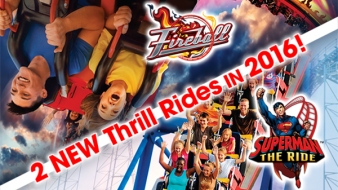 Six Flags New England is adding the all new "Fireball" a super loop flat ride. They're also getting rid of Bizarro…sort of, and bringing back Superman: The Ride.
Bizarro is being changed back to Superman: The Ride. We're not exactly sure what that will entail, but it will most likely mean that the coaster will get a new paint scheme and run like it was originally built.
"We take great pride in creating incredible, one-of-a-kind ride experiences for our guests here at Six Flags New England," said John Winkler, Park President. "Every year, we are excited to offer something new for our guests and this year is no exception. Our team is beyond thrilled to introduce our 12th coaster Fireball, opening in spring 2016."
Stay tuned for more from Six Flags, and be sure to get social with us on Facebook, and follow along with us on Twitter @BehindThrills for the latest updates!
Happy Six Flags Day!
For more information about Six Flags, including tickets, visit the official website by clicking here!