It's Six Flags announcement day! It's the day where coaster fans, and adrenaline junkies all over the country find out all the new insane adventures coming to their favorite coaster park chain, Six Flags! Six Flags Over Georgia is doing more than just a few flat rides, or a new coaster. The park is breaking ground on two huge new kids areas, both aimed at bringing something different to the new sections of the park.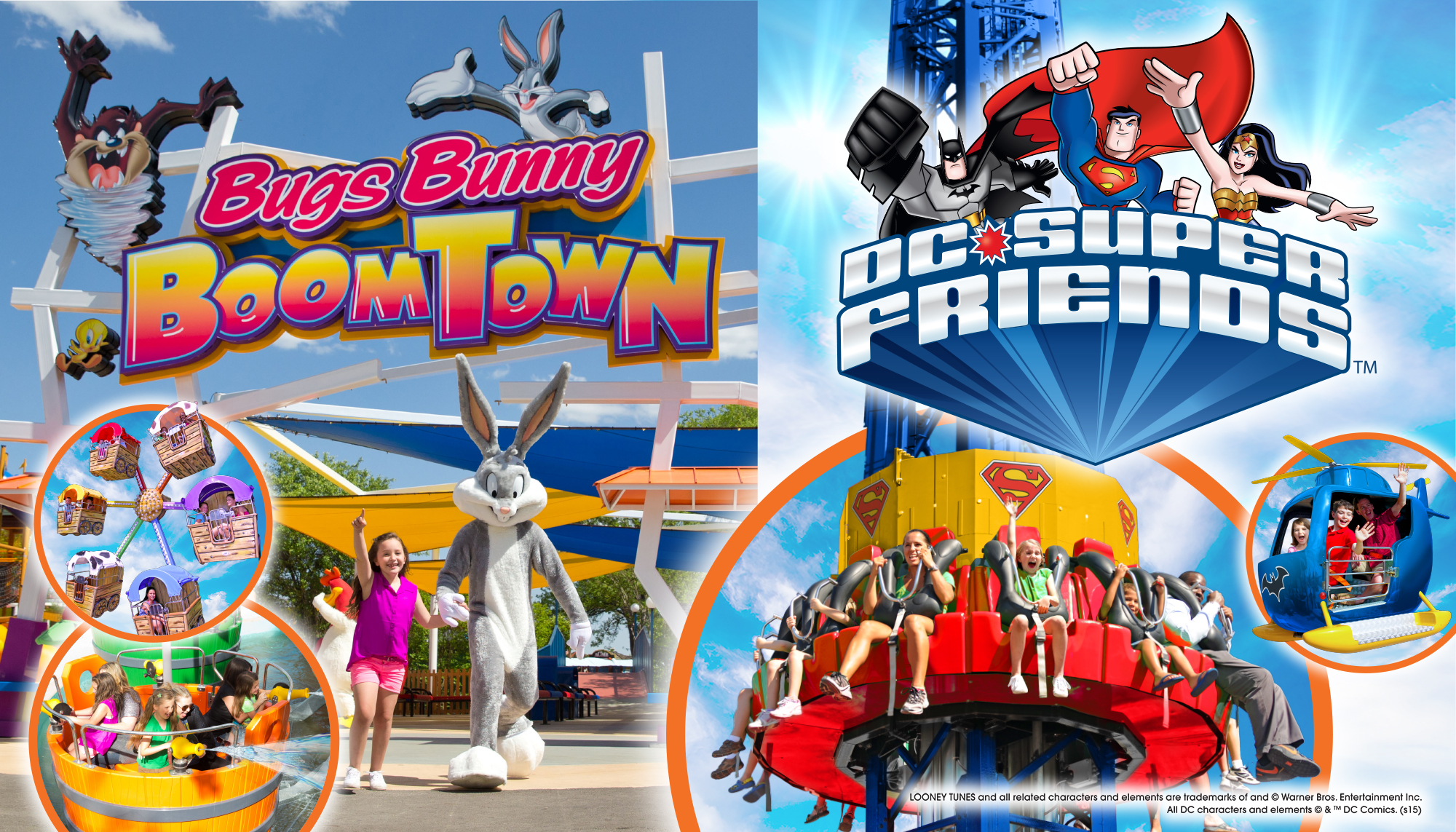 Bugs Bunny BoomTown will bring seven new attractions to the area, including a huge renovation to the Bugs Bunny World Theater. The new area will have new brighter colors, more seating and shade, more live shows throughout the day.
The new area will also include:
Daffy Ducks Bucket Blasters, a wild and crazy family water battle;
Speedy Gonzales Speed Boats, where guests will be screaming "Andale Andale" on six speed boats;
Bugs Bunny High Sea Adventure, a chance to fly through the air on a junior sea-worthy quest;
Yosemite Sam's Wacky Wagons, an old western spin on a junior ferris wheel perfect for junior cowpokes;
Looney Tunes Adventure Camp, an interactive playground with Bugs Bunny and all the Looney Tunes characters;
Acme Trucking Company, a monster truck driving voyage to help Wile E. Coyote try to capture the Road Runner; and
Tweety's Tweehouse, a 20-foot up and down journey into the little chirping bird's nest.
DC Super Friends will be the first DC themed kids area in a theme park, and will feature five new attractions. It will take over the original Dolphin Show area, and will include rides for just about every age.
Superman Tower of Power, which releases the dare devil in the bravest of souls throughout this 65-foot tall bouncing thrill ride;
The Batcopters, an opportunity to help save the City of Gotham by flying high in the sky;
Wonder Woman Flight School, where pilots can take flight and control their own invisible jet;
Harley Quinn Mirror Maze, filled with disproportioned mirrors and devious stares; and
The Joker Funhouse Coaster, the ultimate family thrill ride to show no fear and conquer the Super-Villain through 900 feet of track at 30 miles per hour.
"These two new sections of the park will offer families hours and hours of fun with attractions mom, dad and the kids can experience together," said Park President Dale Kaetzel. "This latest expansion continues our multi-year plan to provide thrills for guests of all ages and includes the addition of Hurricane Harbor in 2014, two new devious rides in Gotham City in 2015 and other additions planned for the future."
Stay tuned for more from Six Flags, and be sure to get social with us on Facebook, and follow along with us on Twitter @BehindThrills for the latest updates!
Happy Six Flags Day!
For more information about Six Flags, including tickets, visit the official website by clicking here!