It's Six Flags announcement day! It's the day where coaster fans, and adrenaline junkies all over the country find out all the new insane adventures coming to their favorite coaster park chain, Six Flags! Six Flags Over Texas is breaking out the villains from Arkham, and setting them free on you! Three all new attractions will come to the Gotham City section of the park in 2016!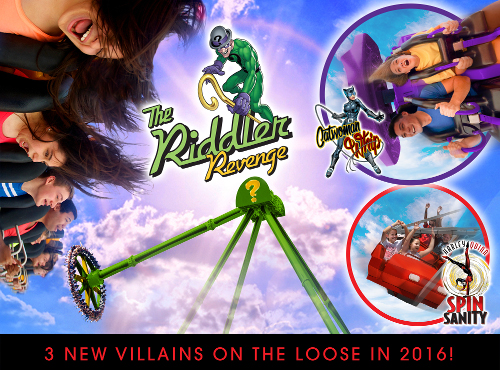 The Riddler Revenge, Catwoman Whip, and Harely Quinn Spinsanity will taunt and beckon guests as they make their way through Gotham City. Characteristic of The Riddler's flamboyant and unpredictable style, the intriguing and oversized pendulum shaped ride — The Riddler Revenge — will send guests on a dizzying journey by swinging them back and forth while rotating counterclockwise. The ride will propel 40 riders at speeds of nearly 70 miles per hour higher and higher until they experience a feeling of weightlessness at 147 feet in the air. On Catwoman Whip, 48 riders, sitting in rows of two, will spin and tilt in a circular motion, building up speed as the ride whips around, mimicking its namesake. Harley Quinn Spinsanity will have riders spinning, twisting and swirling around and around in a thrilling and classic ride experience for the entire family.
Stay tuned for more from Six Flags, and be sure to get social with us on Facebook, and follow along with us on Twitter @BehindThrills for the latest updates!
Happy Six Flags Day!
For more information about Six Flags, including tickets, visit the official website by clicking here!