It's Six Flags announcement day! It's the day where coaster fans, and adrenaline junkies all over the country find out all the new insane adventures coming to their favorite coaster park chain, Six Flags! The Justice League is coming to Six Flags Great American and Mexico in the hugely popular, and amazing Justice Leage: Battle for Metropolis. The attraction is an amazing interactive shooter ride, and will combine amazing animatronics from Sally Dark Rides.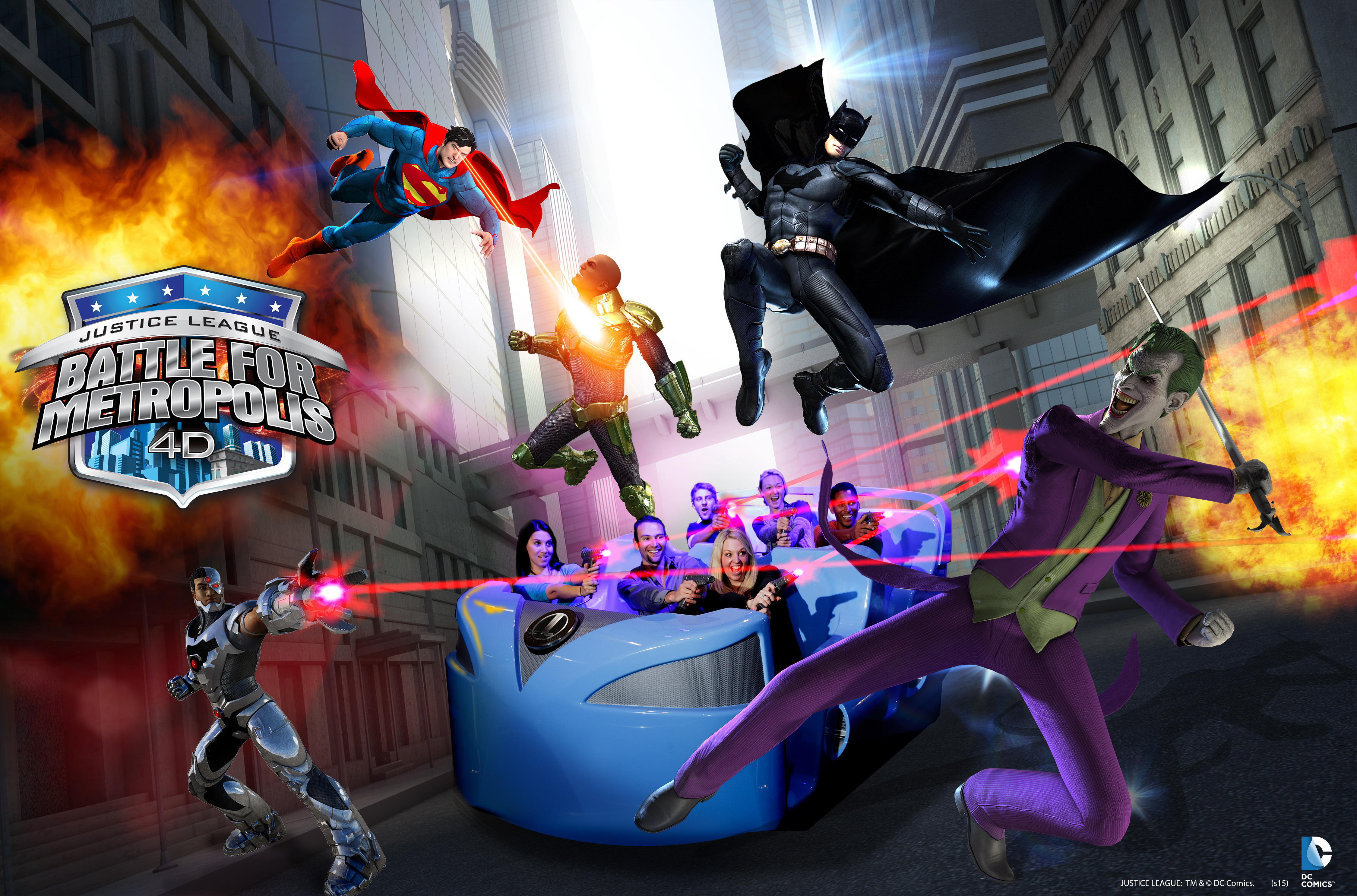 The ride was recently opened at Six Flags St. Louis, as well as Six Flags Over Texas, and is an amazing interactive dark ride, shooting game. The level of detail on some of the animatronics is flat out amazing, and it also has a really great re-ride factor.
"Introducing an attraction that combines this level of technology and the iconic DC Comics characters will bring an unmatched, interactive experience to our guests in 2016," stated Hank Salemi, park president. "The addition of JUSTICE LEAGUE: Battle for Metropolis is another example of our park's commitment to delivering new and innovative thrills every year."
JUSTICE LEAGUE: Battle for Metropolis will feature:
A 22,000 square foot HALL OF JUSTICE to house this full-sensory thrill ride;
A 4D ride experience with wind, fire, mist and fog effects, plus life-like animatronic characters;
A dramatic fight as the JUSTICE LEAGUE Reserve Team travels through laughing gas and flames in 10 high-intensity scenes;
One of the first-ever virtual loops, giving riders the feeling of going head over heels;
High definition 3D animation that fully immerses riders into the city of Metropolis;
State-of-the-art gaming elements;
6-passenger vehicles with multi-degrees-of-freedom to transport riders through all the exciting twists and turns without limitations.
Stay tuned for more from Six Flags, and be sure to get social with us on Facebook, and follow along with us on Twitter @BehindThrills for the latest updates!
Happy Six Flags Day!
For more information about Six Flags, including tickets, visit the official website by clicking here!