This year Howl O Scream at Busch Gardens Williamsburg and Tampa, as well as SeaWorld San Antonio, have unearthed evil. The three haunted attractions have an all new theme and house designed by Blair Witch Project producer, Robin Cowie. They also have an awesome new icon, and face for the event with Scarlett. Now, those wanting to dive into the story even more can, with a limited edition VIP Unearthed Box.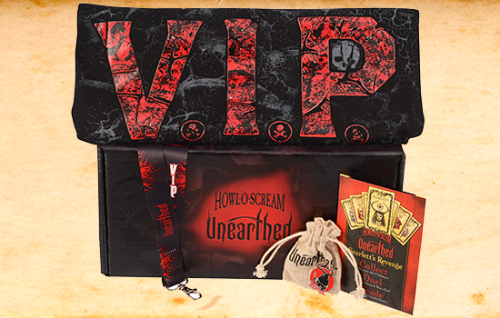 Howl O Scream is unleashing an all new VIP box ahead of their highly anticipated new theme and haunted house for this year's event. The event, and new maze will tell the tale of Scarlett, a healer who is wrongfully accused of being a witch, who's husband is killed. Turns out she is a witch who was imprisoned in her house, and buried alive.
Now, the house has been Unearthed, and so has the evil that has been buried with it.
Howl O Scream's VIP Box includes special merchandise, including a VIP shirt, lanyard, special collectible cards, and a collectible game that is to "die" for.
The VIP box is the beginning of all new merchandise opportunities tied to Howl O Scream, and apparently the games, and cards will grow over the years. The new cards that come with the box are part of a set of 13. The set is only complete if you get the box, which will include cards that you will not be able to get in the park.
The box is available for sale, on line only.

Scarlett will be front and center on all the merchandise, in the new house, and all over the park as the new experience spreads.
Stay tuned for more from Howl O Scream, and be sure to get social with us on Facebook, and follow along with us on Twitter @BehindThrills for the latest updates!
For more information about the VIP box, and Howl O Scream tickets, visit the official website by clicking here!