On October 25th, 1990 Universal Orlando pulled monsters, maniacs and mayhem out of the shadows and set them free on the world. This darkness was only supposed to be a three night test, but it ended up being so popular that the event has come back again…and again. Like any good maniac, you can't kill it, no matter how hard you try. Despite economic recessions, tragedy that struck the nation, and competition from several other nearby theme parks, Halloween Horror Nights has not only endured, but has come out on top as one of the top theme park Halloween Events in the nation. Tonight, we celebrate the terror, and we also count down the top Halloween Horror Nights Houses as voted by YOU!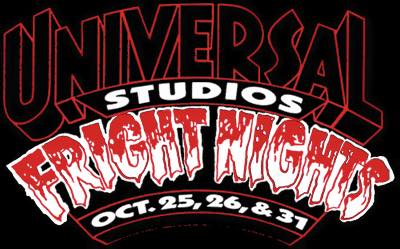 Halloween Horror Nights has morphed from one single house, to nine fully immersive mazes, five scare zones, and two shows. The event is attended by people from all walks of life, ethnic background, and from all over the world. In our thirst for terror, and mayhem we are united.
As haunt season began, we asked you to vote for the BEST Halloween Horror Nights House of all time. We have the top 25 houses, as voted by you. Which house has reigned supreme? We'll show you…but be warned, you may not like what you see. Over the past 25 years there have been a total of 130 different houses at Halloween Horror Nights. That in it's self is a testament to the dedication of the park to bring guests a fresh new experience every single year.
So what were the top 25?
25.Maxium Carnage 2002
24. Legendary Truth: The Wyandot Estate 2010
23.Hellgate Prision 2004
22. Giggles & Gore Inc 2014
21. Friday the 13th: Camp Blood 2007
20. Catacombs: Black Death Rising 2010
19. All Nite Die-In 2003
18. Winter's Night: The Haunting of Hawthorn Cemertery 2011
17. Toy Hell: Nightmare at the Scream Factory 1996
16. Saws & Steam: Into the Machine 2011
15. Saw 2009
14. PsychoScarapy: Maxiumum Madness 2006
13. The Walking Dead: End of the Line 2014
12. PsychoScareapy: Home for the Holidays 2007
11. Nightingales: Blood Prey 2011
10. H.R. Bloodengutz Presents: Holidays of Horror 2011
9. Dead Exposure 2008
8. Body Collectors 2005
7. A Nightmare on Elm Street: Dreamwalkers 2007
6.  Dollhouse of the Damned 2014
5.  Castle Vampyr 2004
4.  An American Werewolf in London 2013
3.  The Cabin in the Woods 2013
2. Scary Tales: Once Upon a Nightmare 2008
1. Halloween 2014
Halloween was just at HHN 24 in 2014, but the house was just about perfect in every way. It was a soundstage level house that was put in a tent, an area that was traditionally reserved for blacklight houses, and mazes that didn't have the same amount of detail. Halloween put guests right into the 1978 classic, and brought fans face to face with Michael Myers…several times.
Where will Halloween Horror Nights at Universal Orlando go next? HHN 25 has been a fitting tribute to the past, all while moving forward. We have reveled in the madness that Jack and his Maniacs has brought forth, but will we get to see something as sinister, and so much fun as the Clown Prince of Evil ever again? Is the "Age of Icons" truly over, or will we start to see some new faces? It's always fun to play in the past, but new fresh blood is what the event has been built on. What will be spilled next?
Congratulations to Universal Orlando, and Halloween Horror Nights for 25 years of the most maniacal mayhem this side of the Mississippi.
Stay tuned for more from HHN 25, and be sure to get social with us on Facebook and follow along with us on Twitter @BehindThrills for the latest updates!
For our latest theme park videos please be sure to subscribe to us on YouTube!
For more information about Halloween Horror Nights 25, including tickets, visit the official website by clicking here!