We at BTT would like to offer a brand new form of editorial to our readers. With the growing face of pop/geek culture we recognize that toys and collectibles are growing in popularity as well. Luckily we have just the guy to cover this sort of stuff! You may have read some of Kyle's articles in the past, he's in charge of covering Southern California theme parks and haunts alike. He also happens to be a huge toy collector and fan of everything geek. He started a YouTube channel in 2011 that focuses on his love of toys called TheTFReview, and we're proud to be joining with him for this brand new series. If it works well be expanding our coverage to theme park merchandise, high-end collectibles and more! So without further ado, please enjoy.
In our first BTT Toybox ever, we're going to be taking a look at the the newest role play toys from Playmates Toys ages for children 4 and up, the Teenage Mutant Ninja Turtles Power Sound FX Donnie's Combat Gear toy. While ages 4 and up is about 20+ under my age, we're all big kids here right?  While not the most important feature, the packaging is nicely done for something intended to be torn up and thrown away. A large blister card package offers a look a Donnie as well a look at each item that comes in the set. A bo staff, throwing star and mask all themed to Donatello.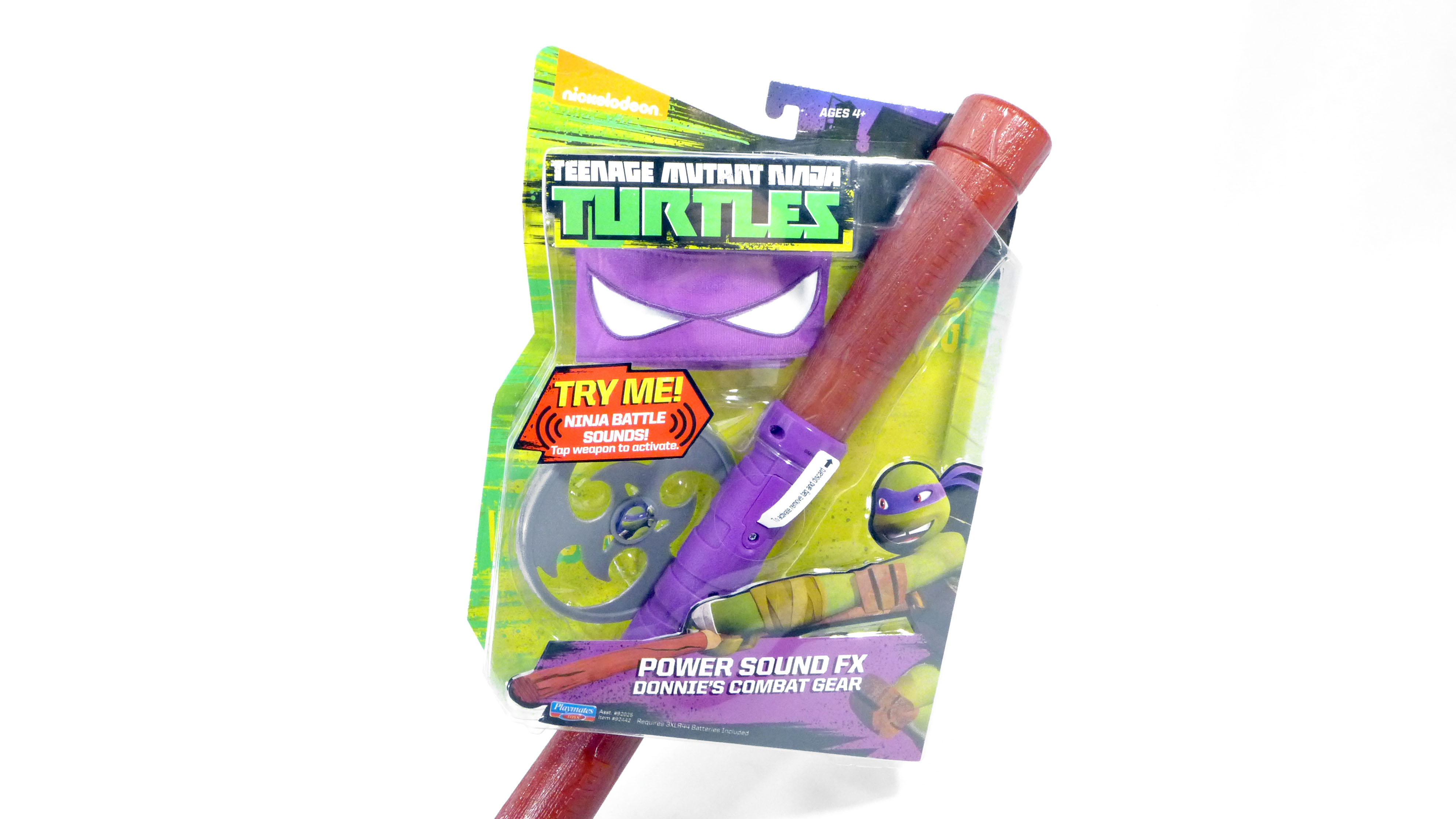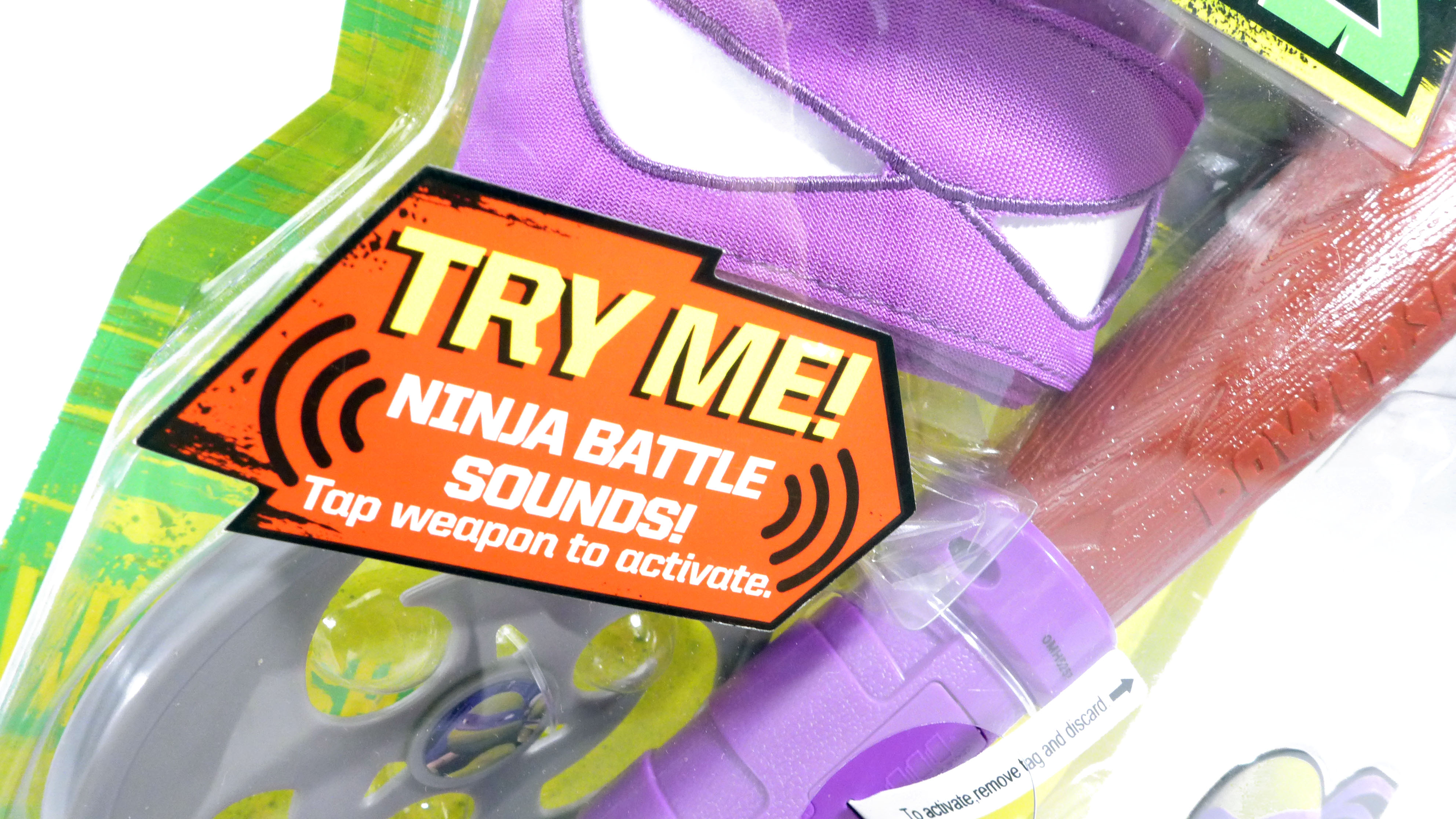 The back of the packaging offers an excellent look at each of the characters currently featured in the new Power Sound FX combat gear line. All the turtles are there as one would expect!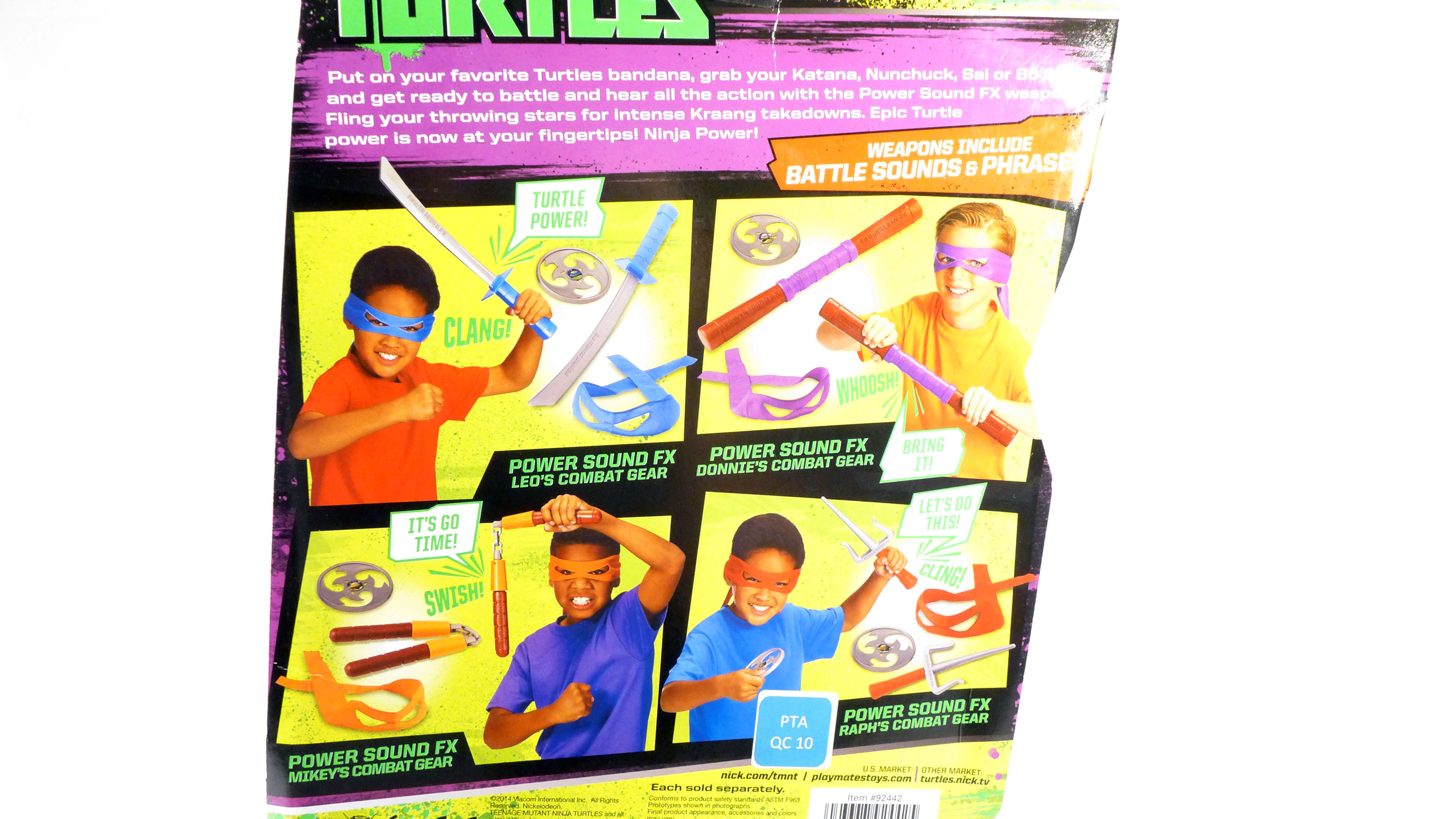 Once you've taken everything out of the packaging, it's worth noting that the moment you remove the battery tab, there is no way to manually turn off the sound effects. While that doesn't seem like a big issue, the toy itself is very sensitive to movement and the sounds are activated quite easily so get used to hearing them! If you wanted to, you could remove the battery on the back and physically take the batteries out.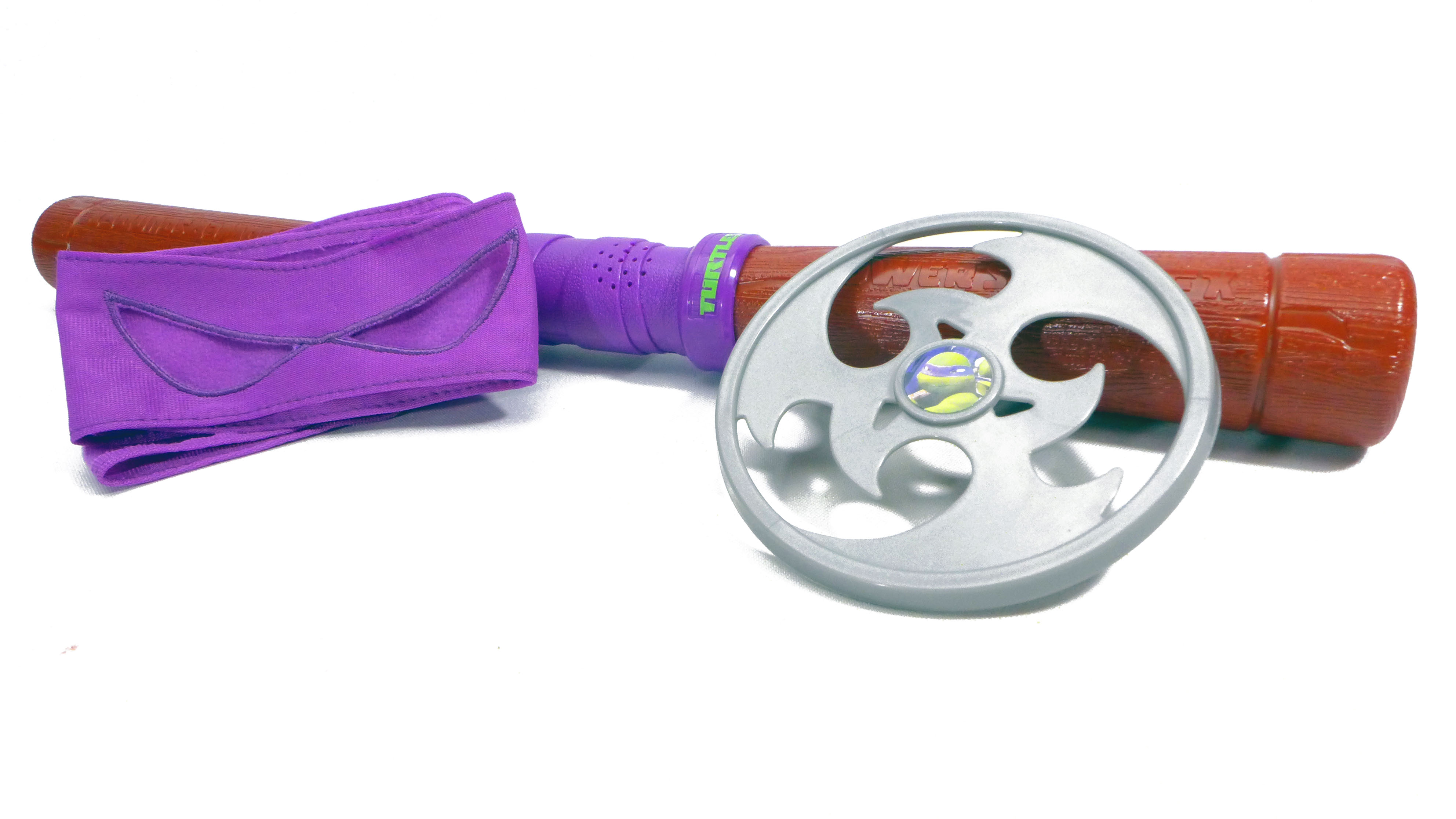 Each item in itself is very simplistic. The throwing star is just that, a single piece of molded plastic with a sticker of Donnie on it. It is a bit on the heavy side when considering this is going to likely be thrown at humans. So it's best to aim below the neck as it is a harder plastic used. The mask really caught me off guard as it's quite large. I have a huge head (and i'm a fully grown adult) and it had no problem fitting me. Once I tried the mask on it make it quite apparent that this simplistic role-play toy is not just aimed at kids, but is also perfect for adults to get in on the ninja action with their children and that's wonderful! It's a nice fit and has a thick sewn feeling that you would expect to find on a high quality costume.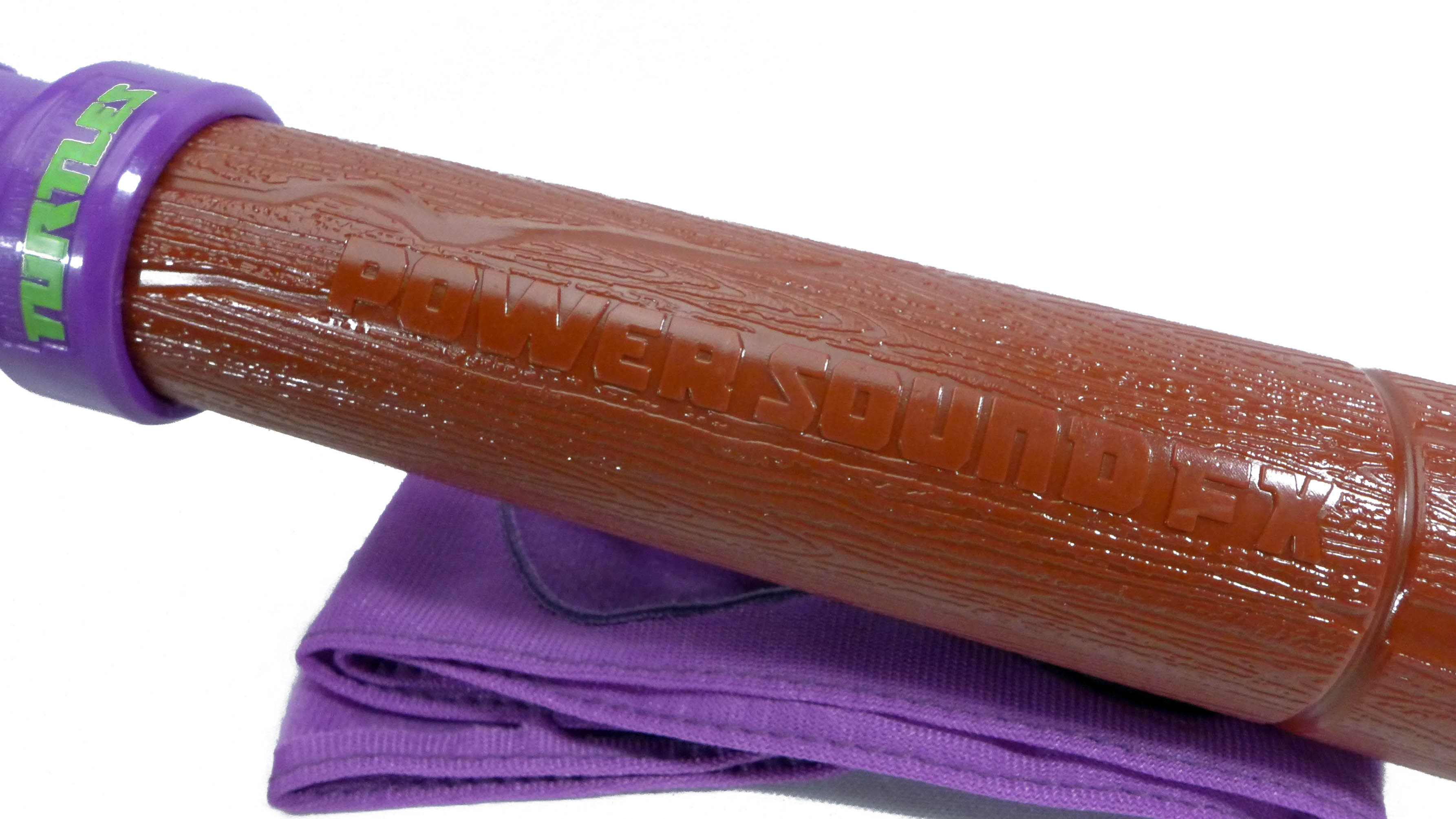 The Bo Staff is molded in a thin and pliable ABS plastic with sculpted wooden detail, and the words "Power Sound FX" molded onto each end.  It's got a solid feel to it though much like the throwing star, it is on the harder side. If used on furniture or walls there should be no issue at all and the toy is so much fun to swing around. The sounds are very responsive, almost too responsive. But the effects are loud, clear and very satisfying.
It's safe to say that the new Power Sound FX Combat Gear are a solid entry into TMNT roleplay toys, especially for young aspiring ninjas. The ability for the mask to fit on both adults and children make it a wonderful and affordable opportunity for even the biggest and oldest kid to become a Ninja Turtle themselves and fight the Kraang along side their kids.
The Power Sound FX toys can be found for around $12.99 USD at most major retailers.
VIDEO REVIEW:
For more information on Playmates Toys be sure to visit their webpage here!
And the latest news and tidbits on their social media pages:
FB: https://www.facebook.com/TMNTPlay
Twitter: https://twitter.com/PlaymatesToys
Instagram: https://instagram.com/tmntplay
YouTube: https://www.youtube.com/user/TMNTToys
Stay tuned for more from your favorite collectibles and BTT Toybox, and be sure to get social with us on Facebook and follow along with us on Twitter @BehindThrills for the latest updates!
For our latest theme park videos please be sure to subscribe to us on YouTube!