Great Scott! We are now living in the Future, we'll at least the future that 1989 predicted. Today marks the day that Marty McFly goes Back to the Future in Back to the Future Part 2. Universal Studios Florida brought out Doc Brown for the celebration, and fans flocked. There was even a few surprises as couples shared their love in park!
Fans came dressed as characters from the film, including Marty and Jennifer. Doc Brown drove around in the Delorean, and greeted guests with a great "The Future is what you make of it" from the film.
The film series is 30 years old this year, and is being celebrated all over the country. Pepsi has tried to honor the film with a limited edition "Pepsi Perfect", and Toyota Mirai decked out like the Delorean that uses fuel cells, not entirely different from Mr. Fusion.
Universal did have the huge Back to the Future Ride, but that closed in 2007 to make way for The Simpsons.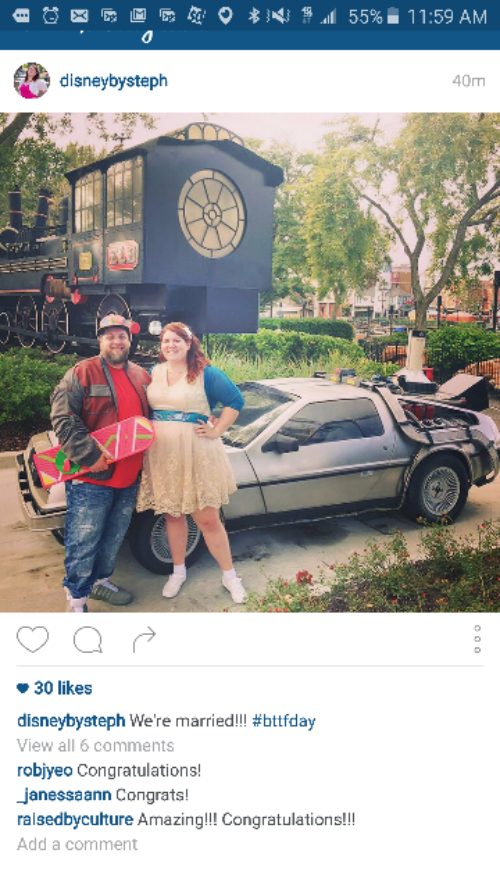 The day wasn't without surprises, however as a guest proposed right in front of Doc Brown and the Delorean. Even more touching was two fans who were married in front of the Delorean by someone who performed the ceremony in a double tie, straight from the film. The bride was dressed as Jennifer while the groom naturally dressed as Marty, complete with a hoveboard.
Today officially means that Back to the Future 2 is now a movie about the past, but that's okay. It still stands up as a great look at what we'd all love the future to be like.
Stay tuned for more from Universal Orlando, and be sure to get social with us on Facebook and follow along with us on Twitter @BehindThrills for the latest updates!
For our latest theme park videos please be sure to subscribe to us on YouTube!
For more information about Universal Orlando, including tickets, visit the official website by clicking here!