Details regarding the taping of the annual Christmas Day Parade at both Disneyland and Walt Disney World are starting to emerge. The taping is a huge affair at both parks, and usually has appearances by celebrities, tons of Disney characters, as well as musical performances. The show is taped earlier in the season, just as the park is decorated for Christmas, and shown on Christmas Day on ABC. The parade, which featured a Frozen theme last year, is also getting a new name and new theme for 2015.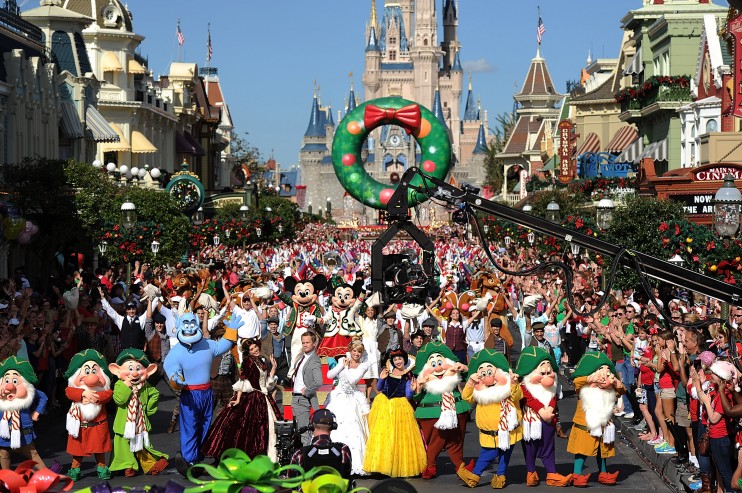 Anna and Elsa are out as the focus of this year's Christmas Day Parade on ABC, with Frozen being replaced by  "Disney Parks Unforgettable Christmas Celebration". The parade will be filming ultra early this year at Magic Kingdom at Walt Disney World on November 10th-13th. Disney is not offering special parade tickets to the public, but if you want to watch the taping, all you have to do is be in the park on those days.
At Disneyland, the parade will be taping on December 11th-13th which is a lot later for them than usual, normally the schedules are flipped. Again, special tickets are not available for these tapings either, but those in the park can take part in them simply by showing up and waiting.
There have been no official announcements on who will be performing this year, but we can probably expect to see Ne-Yo, Arianna Grande, Rascal Flatts and other artists that are featured on the "We Love Disney" album that is scheduled to hit on October 30th, just in time for the busy holiday season.
The parade is the grand daddy of all parades, as Disney rolls out all the stops for this once a year spectacular. It's the biggest parade that Disney does, and features tons of different characters, floats and props that it normally keeps stowed away. If you're in the park those days, and want to see something special, be sure to check it out, though they do several shots and takes, and it can be a little boring in between those takes.
Stay tuned for more from Disney, and be sure to get social with us on Facebook and follow along with us on Twitter @BehindThrills for the latest updates!
For our latest theme park videos please be sure to subscribe to us on YouTube!