The streets are running rampant with maniacs, chainsaws and twisted fairy tales at this year's Halloween Horror Nights at Universal Orlando, and it couldn't be any better. This year, HHN 25 is paying tribute to the past years in many huge ways…the biggest is by bringing out some fan favorite characters to be part of the streets in huge scare zone mash ups. It's a fun year with many different scares, and options lurking around every corner.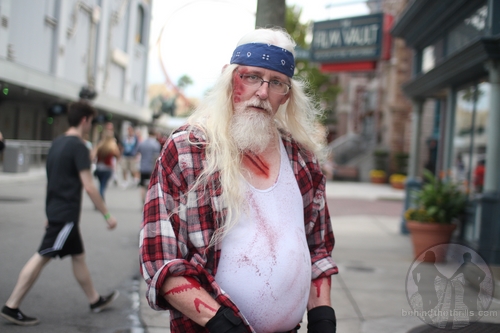 Chainsaws are a huge part of the history at HHN, and this year the Chainsaw Drill Team is out in full effect. There's your standard Chainsaw Drill Team, a group of escaped female convicts, and of course murderous clowns. The chainsaws can be heard roaming all over the park, but you really can't escape any of them.
Video-The Chainsaw Drill Team goes nuts at HHN 25
From chainsaws to an overgrown garden, Evil's Roots takes guests through a demented garden full of bats, mythical creatures, and lots of Halloween traditions. The scare zone is home to some of the most haunting and unique characters that the event has created.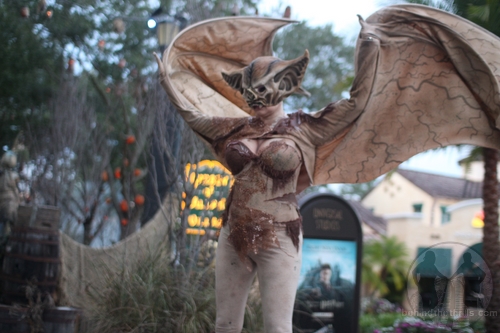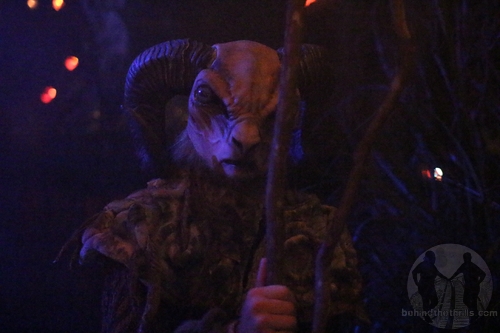 Jack o Lanterns, spirit lights and scare crows all decorate the area, as some favorite old world Halloween characters come poking out through the night.
Video-Walkthrough with the lights on at Evil's Roots
The All Nite Die-In is a unique double feature of classic horror films, and modern, as the cast changes every night. As luck would have it, every time we walked through, the cast would be in modern film mode. You can still see some of your favorites here like Chucky, his bride, Freddy and Jason.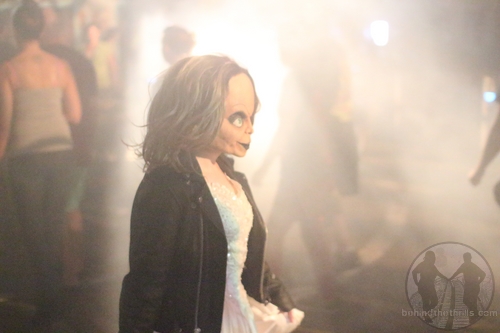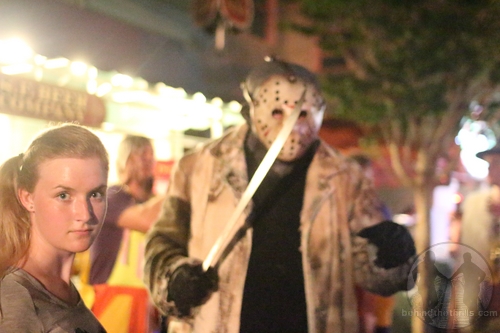 E verything in the Die-In changes from set to set, including the music. The classic monsters come out, and you see them in black and white, which is a very unique feat, but it's pulled off perfectly.
Video-Get a double feature of fear in All Nite Die-In
Besides Jack, another classic character that has returned to HHN is The Rat Lady. The Rat Lady is a character that is often overlooked, because she's in a case with live rats.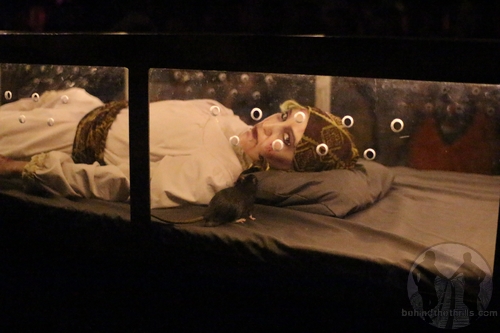 She has been a staple of Halloween Horror Nights for many years, and disappeared a few years ago. The Rat Lady has a simple job, just lay with rats. Just because it's simple, however, doesn't mean it's easy. She has anywhere from five to twenty rats in the case with her at all times, and they crawl everywhere. Let's not forget the fact that she is in a glass case, in what is essentially a coffin.
Video-The Rat Lady Returns!
If you like your characters more in the open, and free to chase you, then the HHN Icon Zone is right up your alley. The zone has four icons from the past, but more importantly a variety of characters from the past.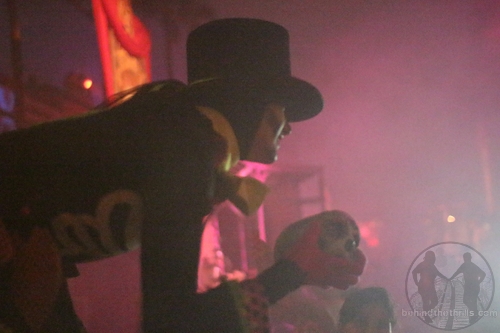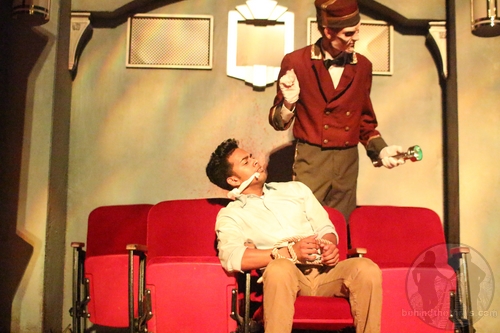 Of course, if you're lucky, you'll be able to check out the mini shows that happen occasionally throughout the night, when the icons show you just what made them so…iconic.
Video-Don't be rude! The Usher will make you pay
In the New York area, there's a party happening, including a "crazy" costume contest.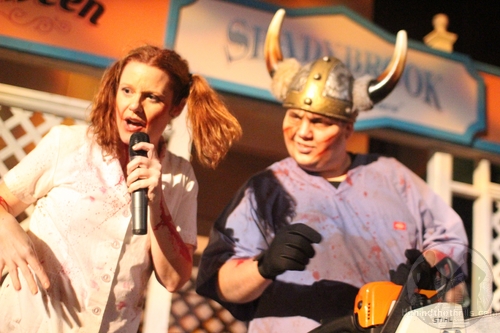 The inmates of Shadybrook Asylum have broken out and are holding a costume contest. It's the right amount of fun, and insansity.
Video-Check out the…insane…Pyschoscarepy Costume Contest!

The costume contest isn't the only craziness in the streets. Psychoscarepy Unleashed takes the inmates from the asylum for the criminally insane and sets them free in the streets of a New York City block party. The scare zone is full of criminals who have cracked. They are out enjoying freedom, and letting their criminal instincts fly.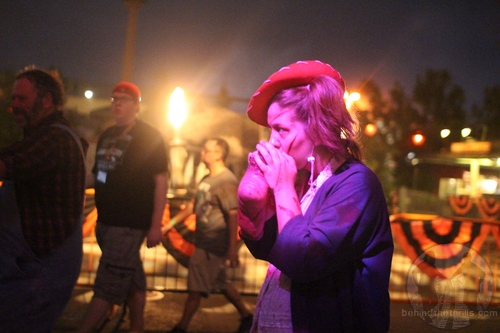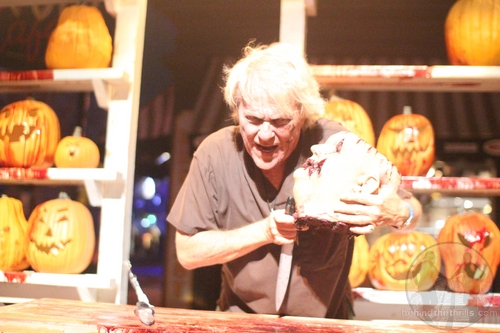 There are several great photo ops, and scenes in the scare zone, as well as tons of great characters running around scaring.
Video-Walkthrough the fun of Psychoscarepy: Unleashed

The terror also continues in a world where fairy tales aren't on fractured, but also steaming mad. Scary Tales-Screampunk takes your familiar fairy tale characters and turns them into steampunk inspired monsters.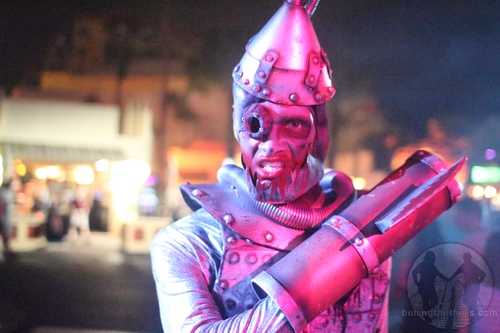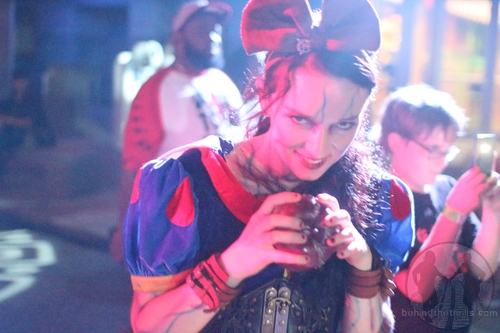 Our favorites are the tin man. He is clearly pissed odd and looking for a heart…any heart will do. It's a great scare zone where the scares aren't as impressive as the costumes, but it's a great mix.
Video-Get steamed in Scary Tales

This year marks a solid return to traditional streets, all with original content. While each scare zone is a bit of a throwback, taking familiar themes and mashing them with another familiar theme. It's all part of the biggest Halloween Horror Nights at Universal Orlando to date.
Slideshow-Check out even more mayhem from the scare zones at HHN 25!
Click here if you can't view the slideshow
The carnage goes on throughout November 1st on select nights.
Stay tuned for more from HHN 25, and be sure to get social with us on Facebook and follow along with us on Twitter @BehindThrills for the latest updates!
For our latest theme park videos please be sure to subscribe to us on YouTube!
For more information about Halloween Horror Nights 25, including tickets, visit the official website by clicking here!