Happy Back to the Future Day! There is so much going on about this movie right now, but all of it involves how the future has or has not been met by the film. Sure, we haven't gotten flying cars or hoveboards, but some of the tech we do have is amazing, but somehow still falls short of the reality that Back to the Future 2 set up. But, instead of talking about how the future is or isn't, we want to talk about how Back to the Future changed the future of theme park rides…in the past. Yes, we're talking about the now closed Back to the Future Ride at both Universal Studios Florida and Hollywood.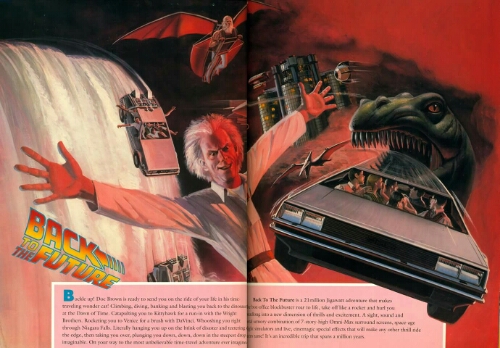 Back to the Future was directed by Robert Zemeckis, written by Bob Gale, and produced by Steven Spielberg and his Amblin Entertainment. The film had a shaky start, with Eric Stoltz slated to play Marty McFly. In fact, the film had been shooting for several months when the producers, directors, and Stoltz himself agreed to part ways.
Michael J. Fox was the original choice for Marty, and reworked his schedule on the show Family Ties, so that he would be able to film both the TV show and the movie.
The film also was originally slated for May, but was pushed back until August. Test audiences loved the film so much that producers pushed to get the film ready for July 3rd. The film was a huge succes, earning Oscar nominations for the film's songs and special effects.
Fast forward a bit into the future, and Steven Spielberg having a conversation with friend and fellow director of legendary films, George Lucas. Lucas had just shown Spielberg his new ride at Disney, Star Tours. When Spielberg told Lucas he was working with Universal to bring a new King Kong attraction to the Studio Tour, and possibly other attractions, Lucas famously told him "Universal will never be able to make rides as good as Disney". He reportedly also urged Spielberg to jump ship and partner with Disney.
Spielberg had a vested interest in Universal, so jumping ship wasn't an option. Instead he made a suggestion to Universal to create an attraction based on Back to the Future. At tba5t point, Universal Florida was pretty much a dead project. Spielbergs suggestion is believed to be what put Universal Studios Florida on track for opening.
The ride was originally going to be a roller coaster, but execs felt that a coaster would not be the best way to tell the story. Instead, simulators were created, using massive IMAX screens. The ride created a new story, and brought back Christopher Lloyd as Doc Brown, and Tom Wilson as Biff. The ride used stop motion animation to create much of the effects, since computer animation was still in it's infancy, and too expensive. The attraction opened to rave reviews, and became the standard to which many simulators and other attractions were created. In fact, it took riders out of the box that Star Tours had created. With that film, guests were (and still are) in an enclosed ride vehicle, looking at a screen. With Back to the Future, the ride was all around you! Sure, you were in a ride vehicle, but you could look around you in every direction and see the huge world that was immersing you with those giant dome screens.
Disney tried to something similar with Soarin Over California, where they immerse you in a world by putting you on top of a screen. Universal has integrated the screens several times in other attractions, such as Spider-man, and most recently the Harry Potter rides, though those rides have morphed a bit and have included real world set pieces, merged together with screens to make the most of it. Most recently, Universal used screens at Halloween Horror Nights in their Freddy vs. Jason maze to make the two killers fight in ways that two actors couldn't do realistically and on a minute by minute basis.
More importantly, Back to the Future was a prime example of an immersive attraction. Sure, Disney had great rides, but when you look at it…their older rides are just that, rides. You see a story, but you're only on the outside looking in. With Back to the Future, guests came to see an invention of Doc Browns at the Institute of Future Technology. You were actually in a story, and through three ride, thrust into and made part of a whole new adventure.
It wasn't the first time that Universal created an immersive attraction, but Back to the Future was a turning point that would lead to more immersive, more detailed attractions.
The way that Back to the Future has impacted the theme park industry is still present to this day, and continues to be a basis of comparison for new attractions.
Today the ride is gone from two of the three Universal parks, but it's legacy lives on.
Doc Brown still peddles through the street of Universal Studios Florida, where a Delorean and Train still sit.
For the big day, Universal Orlando has no plans to celebrate the movie or the ride. Universal Studios Hollywood is doing something special with the Studio Tour, but for the most part, the movie about the future will remain in the past.
What will the future hold for Back to the Future? We will have to wait and see, but for the most part, the future hasn't been written yet…so it's pretty much what we want to make of it!
Stay tuned for more from Universal Orlando, and be sure to get social with us on Facebook and follow along with us on Twitter @BehindThrills for the latest updates!
For our latest theme park videos please be sure to subscribe to us on YouTube!
For more information about Universal Orlando, including tickets, visit the official website by clicking here!