We knew that Disney's Hollywood Studios was going to undergo a huge transformation, but thanks to permits originally posted on Mousehub, we are getting an idea of just how much the park will transform. The construction permits show an increased area for the entire park, with Star Wars Land and Toy Story Land expected to take the majority of that space. It's all part of the rumored new theme that will take over Hollywood Studios in the next few years.
The new permits show new bridges, new borders and a new extended theme park, as Disney plans on using existing wetlands to expand the park, while creating new wetlands in another location.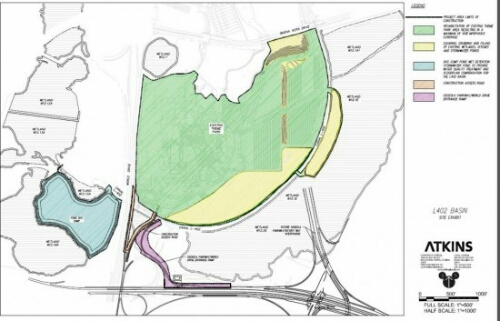 The color map gives a better look at what the proposed new borders will be. The yellow is the current wetlands, while the green is the current park. The Blue is the area that will be future wetlands.
Mousehub notes that the construction is scheduled to start in January of 2016, with the project completed by 2018. Does that mean that Star Wars and Toy Story will open in 2018? It could, but it's not likely. The only thing that the permit assures is that the actual expansion of the land will be completed by 2018. Star Wars land and or Toy Story land are most likely not going to be completed before 2020. The permit could possibly pertain to the groundwork needed to extends the parks borders.
Previously Disney officials have said that construction on Star Wars Land will begin in the first part of 2016. Star Wars mania should be in full swing after the release of the next film in the Star Wars saga, The Force Awakens.
Stay tuned for more from Disney, and be sure to get social with us on Facebook and follow along with us on Twitter @BehindThrills for the latest updates!
For our latest theme park videos please be sure to subscribe to us on YouTube!
For more information about Walt Disney World, including tickets, visit the official website by clicking here!