Jake's Beer Dinner is a great option that happens throughout the year. It pairs awesome beer samplings with great food choices. In October, however, Jake steps it up a few notches…like about 50, as they roll out with Jake's Beer Festival. The annual Beer Festival is happening on October 9th, and you're not going to want to miss it.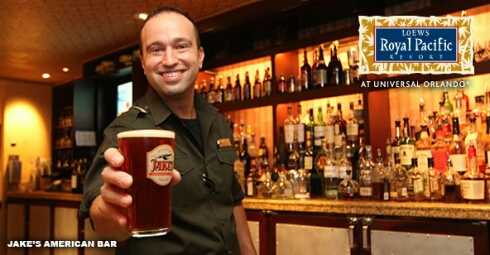 Over 50 beers, with six different food stations await guests at Jake's Beer Fest. The fun kicks off October 9th, for one night only. Guests will be able to enjoy great Wursts, delectable desserts and tons of German inspired food to get into the festive Oktoberfest spirit.
Then there's the beers…over 50 of them.
Ace Joker Cider
Ace Pumpkin Cider
Bell's Oberon
Bell's Octoberfest
Blue Point Oktoberfest
Blue Point Pumpkin Ale
Cigar City Florida Cracker
Cigar City Hard Cider
Cigar City Jai Alai
Cigar City Peach Cider
Crooked Can "Mr. Tractor" Kolsch
Crooked Can High Stepper
Crooked Can McSwagger's Own
Damm Daura Märzen
Erdinger Oktoberfest
Erie Johnny Rails Pumpkin Ale
Erie Oktoberfest
Florida Beer Conchtoberfest
Fort Collins Oktoberfest
Founders All Day IPA
Founders Breakfast Stout
Full Sail O'Fest
Funky Buddha Hop Gun IPA
Funky Buddha Sweet Potato Casserole
Goose Island Autumn Ale
Goose Island Oktoberfest
Hacker-Pschorr Oktoberfest
Highland Black Mocha Stout
Highland Clawhammer Oktoberfest
Jake's American Red Lager
Magic Hat Wilhelm Scream McKenzie's Pumpkin Jack Hard Cider
Mendocino Pumpkin Ale with Cocoa Nibs
New Belgium 1554
New Belgium Fat Tire
New Belgium Pumpkick
Oskar Blues Dale's Pale Ale
Oskar Blues IPA
Oskar Blues Mama's Little Yella Pils
Oskar Blues Old Chub Scotch Ale
Redhook Pumpkin Porter
Samuel Adams Boston Lager
Samuel Adams Fat Jack
Samuel Adams Octoberfest
Shipyard Pumpkinhead
Shipyard Smashed Pumpkin
Sierra Nevada Nooner Pilsner
Sierra Nevada Oktoberfest
Sierra Nevada Pale Ale
Southern Tier Pumking
Southern Tier Warlock
Spaten Oktoberfest
Spaten Optimator
Swamp Head Tropical Disturbance
Swamp Head Wild Night
Tucher Hefe
Unita Baba
Unita Punk'n
Victory Festbier
Woodchuck Fall Harvest Hard Cider
Woodchuck Pumpkin Hard Cider
Tickets are just $35 dollars and $45 dollars for VIP tickets.
The Royal Pacific Resort hosts not only Jake's Beer Dinner, but also the Wantilan Luau every Saturday.
Stay tuned for more from Royal Pacific , and be sure to get social with us on Facebook and follow along with us on Twitter @BehindThrills for the latest updates!
For our latest theme park videos please be sure to subscribe to us on YouTube!
For more information about Jake's Beer Festival, including tickets, visit the official website by clicking here!