Tuesday marked the soft opening of Universal Orlando's newest CityWalk venue, the NBC Grill and Bar. Universal also announced that the grand opening is set for October 23rd, and will see the restaurant kicked off in grand fashion. The new restaurant brings guests the same treatment that you would get from your own VIP suite at a sporting event. The new restaurant is the latest in a massive overhaul of Universal Orlando's dining and entertainment complex, which has so far seen nine new venues in the last year and a half.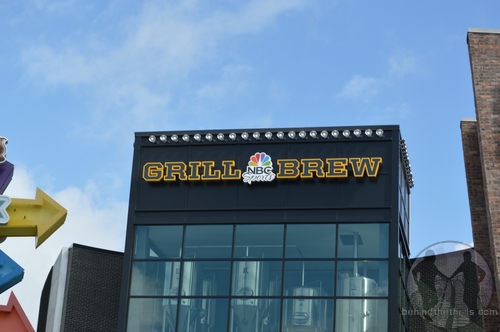 The hours of operation for the new Grill & Brew are from 4p.m.-1 a.m., but being that it is a soft opening, it could very well change. The full operating schedule, as well as the full menu will definitely be available on October 23rf. Soft openings are a great way for the restaurant to work out some of the kinks, and hiccups that might happen when you have a brand new venue.
The full menu will feature huge entrees, burgers, sandwiches and over 100 different types of beer. The October 23rd Grand Opening will see Bob Costas, and the crew of NBC Sport's Networks "Pro Football Talk" as they broadcast live from inside the new restaurant.
Stay tuned for more from Universal, and be sure to get social with us on Facebook and follow along with us on Twitter @BehindThrills for the latest updates!
For our latest theme park videos please be sure to subscribe to us on YouTube!
For more information about Universal Orlando, including tickets, visit the official website by clicking here!