Late last week, the Orlando Planning and Zoning Board voted against Skyplex, an all new entertainment venue which will boast the world's tallest coaster. In a 4-3 decision, the board rejected the proposal. While that is a huge setback, it is not the end of the project. Now, there is a petition in which would-be tourists can show support for the project, and show Orange County Commissioners that the project would be a value to the area.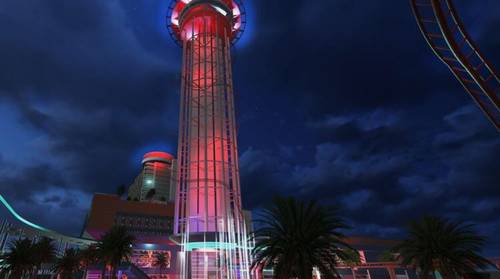 The next step in the SkyPlex project is to take the vote to the Orange County Commission in December. That vote will be the deciding factor of whether or not the project should be built in it's current form. Opponents of the project, including Universal Orlando, are pushing for a smaller height on the coaster, stating that "light pollution" would be an issue.
Why would Universal Orlando before concerned about the attraction that is well off property? Good question.
Many point to Universal not wanting to share the local area, but that really makes zero sense on the surface. The real question is, what does Universal have in store for the future? Universal is expected to close Wet n Wild Orlando in 2016. Work will quickly begin on the site for a new project, the details of which have only been rumored. The rumors go from a hotel, and entertainment district, to a new theme park. That new project, though still a good few blocks away, could be the reason for Universal Orlando's resistance. This is merely a theory, and is not backed up by any solid facts to support it.
The new petition is aimed at showing the Orange County Commission that there is enough support for Skyplex in it's current form, with a roller coaster that measures in at 570 feet tall, making it the tallest roller coaster in the world. The coaster will not be the only attraction on the property, which will also boast the world's tallest drop tower, 600 foot zipline, 350 room hotel and the world's largest Perkins Restaurant. Other large scale retailers are also expected to sign onto the project as well.
The petition is looking to garner over 1,000 signatures to show the Commission that this is a project that will have the support of tourists and locals alike.
To sign the petition, and show your support, click here!
Stay tuned for more from this story, and be sure to get social with us on Facebook and follow along with us on Twitter @BehindThrills for the latest updates!
For our latest theme park videos please be sure to subscribe to us on YouTube!