When it comes to theme park haunts, there are no bigger events than Halloween Horror Nights and Knott's Scary Farm. They are huge in scale, and budget, and provide some pretty immersive environments. They also provide some massive crowds. Who always said that bigger is better? Scarywood Haunted Nights is nestled away in Idaho at Silverwood Theme Park. While the park may not have the budget that the bigger haunts do, it definitely has the scares, and more. With several houses, scare zones and even a train ride that is part scenic tour, part raunchy Halloween comedy show, Scarywood is fast becoming an event that is not to be missed.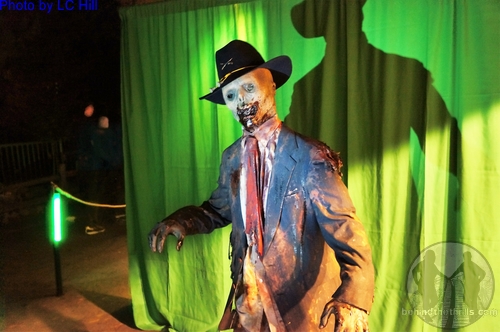 We had the chance to visit Scarywood Haunted Nights over the weekend. By day, the park is a rustic theme park with some world renowned coasters, and great shows. By night, Scarywood transforms the park into a playground for chainsaw wielding maniacs, zombies and a whole town full of demented clowns. What is it that makes clowns so scary? It's the face paint, to be sure, but Scarywood takes that fear and chases you with it.
We sat down with Mark Robitaille to talk about the event.
The main event, is naturally the houses. The park features four original houses, each one offering a little something darker and more demented than the last. 3Dementia is a 3D house gone terribly wrong, as you are chased, and tormented through a new dimension. Blood Bayou is a gorgeous haunt, with cannibals running through trying to eat you. Caved In is the all new house for 2015, and is just an exercise in trying to navigate your way through darkness and terror. Total Darkness takes away one of your senses, and messes with your other ones as you try to navigate your way through blackness.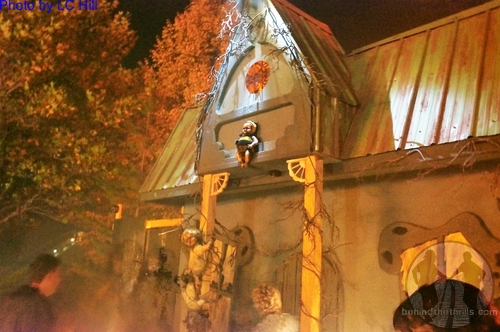 Our favorites this year were naturally Caved In and Blood Bayou. Caved In just had a way of making you feel trapped, as the walls literally close in around you. Also, the fact that you can't see much, and stumble into walls and actors also helps greatly enhance the experience.
Blood Bayou is just a gorgeously done house, which mixes a lot of great props with truly horrific actors. The house is a permanent structure, which helps with keeping the house in tact year after year, and making sure that the effects are top notch.
Video-Walk through Blood Bayou
3Dementia is quite possibly one of the most fun 3D houses you'll ever have the experience of walking through. It's twisted, bright, vibrant and has a great way of throwing you off, giving you a great scare. And yes…there is a Beatles reference in the house!
Video-Get twisted in 3Dementia
Aside from the haunted houses, are the scare zones. With seven unique experiences, they range from a zombie filled hot zone, to a terrifying crime scene, and of course murderous clowns…a whole town of them. Some of the areas are amazing, with tons of actors filling the streets with screams, some there just aren't enough to make the experience truly terrifying, but each area does offer something fun.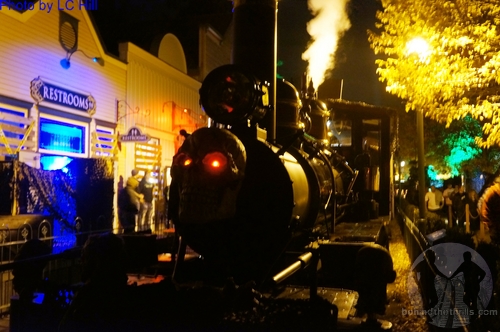 The other main attraction, which is hands down our favorite, is Zombiewood Express. It's a train ride, that's all it is…a train ride through the hell of a million zombies trying to devour your flesh! It's actually a great mix of a train ride, and a show…a raunchy Halloween Show. You join Sgt. Buzz and his gang of zombie killers, through a backwoods experience shooting and killing zombies. Actually, you don't shoot and kill zombies, Sgt. Buzz does, but the train goes through several areas, has lots of music, and of course foul language. My god, it's wonderful.
We'd like to show you this year's Zombiewood Express, but the park wants you to have a surprise, so here's last year's version.
The ride is a PG-13 show, and what makes it work is the fact that it's not about the zombies, or even killing the zombies, as much as it is the foul mouthed jokes of Sgt. Buzz and his crew. It's a total blast, and worth the price of admission alone.
Slideshow-Check out even more pictures from Scarywood

Click here if you can't view the slideshow
Scarywood is the perfect mix of old school charm, and pure terror. Also, guests can ride coasters in the dark, which is always a bonus. The event runs until Friday October 30th.
Stay tuned for more from Silverwood, and be sure to get social with us on Facebook and follow along with us on Twitter @BehindThrills for the latest updates!
For our latest theme park videos please be sure to subscribe to us on YouTube!
For more information about Scarywood, including tickets, visit the official website by clicking here!