SeaWorld announced Thursday that it would seek legal action against the California Coastal Commission's ruling that would allow new construction at the park, only if the park agreed to discontinue breeding of it's Orcas. The decision was applauded by animal rights activists, but according to several analysts, has no legal standing. Will the park easily overturn the decision, and if it does, will it continue to make plans to expand the park, even though the park has faced opposition every step of the way?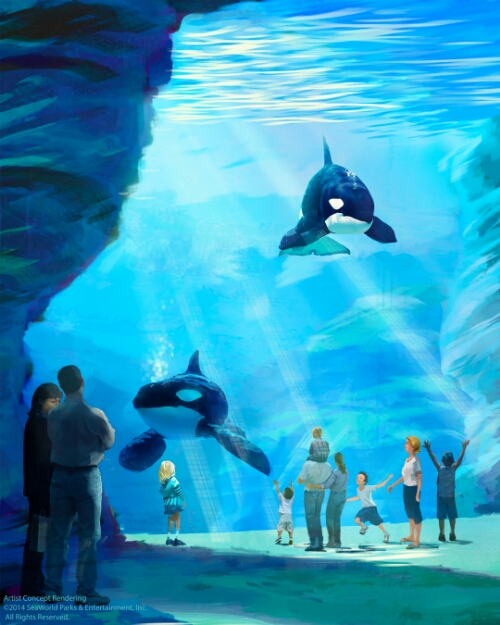 The proposed expansion, the Blue World Project, would expand the Killer Whale habitats in the park to a huge 10 million gallons. The California Coastal Commission voted to allow the expansion, on the condition that it would stop the breeding program. While the move was bold, it's not without precedent for the board. It's also not legal, as the board has no control over the welfare of the animals. That decision rests with state and federal laws, and are not within the jurisdiction of the Coastal Commission.
"As a regulatory board charged with managing coastal development and related land-use decisions, the Coastal Commission went way beyond its jurisdiction and authority when it banned breeding by killer whales at SeaWorld. By imposing broad new jurisdiction over all future SeaWorld marine animal projects, as well as aquarium projects elsewhere in the state, the Commission has overstepped both federal and California law," said Joel Manby, President and Chief Executive Officer.  "It simply defies common sense that a straightforward land-use permit approval would turn into a ban on animal husbandry practices – an area in which the Commissioners have no education, training or expertise. To say that this is a dubious decision with no legal basis is an understatement, which is why we must and will challenge the Commission's decision."
The Federal government regulates SeaWorld heavily, and performs random inspections on the park yearly. The park chain also voluntarily goes for American Zoological Association Accreditation, something that it is not required to do. The biggest complaint about SeaWorld's Orca habitat is that it "confines animals that swim hundreds of miles a day"…ironically, it is those same protesters that are against the expansion.
SeaWorld has been facing an uphill battle ever since the release of the anti-SeaWorld film, Blackfish on CNN in 2013. Still, SeaWorld has many other options, other than just a legal battle. If push comes to shove, the park could simply move it's animals, and close completely, investing in other areas rather than California.
We'll keep you updated as this story progresses.
Stay tuned for more from SeaWorld, and be sure to get social with us on Facebook and follow along with us on Twitter @BehindThrills for the latest updates!
For our latest theme park videos please be sure to subscribe to us on YouTube!
For more information about SeaWorld, including tickets, visit the official website by clicking here!